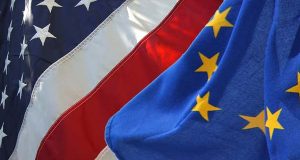 Lately, I feel like I've been the one trying to talk investors down from the ledge.  It's not normally my role to be a cheerleader for stocks.  I like to think that I'm pretty neutral on most occasions.
However, extreme circumstances often force investors to take sides.  And, at least for the time being, I'm staying bullish on the market.
Here's the thing…
Europe's landmark shift in leadership is a big deal.  It's absolutely no surprise, with the big changes we're seeing across Europe, that volatility has returned to the market.
But is it time to panic?
Of course not.  First off, it's never time to panic.  Repeat after me – Good Investors Never Panic.
More importantly, this recent pullback in stocks may allow us to find some great companies trading at bargain basement prices.
Besides, I believe the regime changes happening across multiple European governments (but most notably in France and Greece) could actually be a good thing.
Let's face it, whatever European leaders were doing up until now wasn't working.  Europe has fallen back into a recession.  And, the debt crisis may have been temporarily contained, but the core issues remained unresolved.
For example, as the second biggest economy in the European Union, France sorely needed a change.
Outgoing president, Nicolas Sarkozy, sat by while France's health care system and public schools deteriorated, all in the name of economic growth.  However, the French economy did nothing but decline during his tenure.
So, not only do French citizens have to pay more for health care and decent schools, but their economic prospects have been getting worse to boot.
Is it any surprise that the people wanted a change?
Now, I don't have any idea if the new president, Francois Hollande, is the answer.  I'll I do know is Sarkozy was not the answer.
Here's the important part…
The bond market, usually what we consider to be smart money, had no issues with Hollande's election.  If they were concerned about the regime change, bonds would've taken a hit.
Instead, they barely even moved on the news.  (Bond prices probably weren't going to go higher because of the already low interest rate.  As such, I could make the case that prices not moving is the equivalent to bond traders' approval.)
So what's that mean to us?
If the bond market isn't concerned about France, then the US markets are likely overreacting to Europe's regime change. 
With the recent downturn in stocks, now may be an excellent time to look for small cap and penny stock companies that have sold off.  Despite the volatility, it could be a great time to find first-rate companies at very reasonable prices.
Editor's Note:  I'm releasing my pick today to subscribers in my flagship penny stock service Penny Stock All-Stars.  Don't miss out on your chance to grab shares in this amazing company that could be the next big player in the agriculture industry.  Click here for more information about this exciting service.
Yours in profit,
Gordon Lewis
Category: Breaking News, Investing in Penny Stocks