Do You Own These 3D Printing Penny Stocks?
Did you know 3D printing is one of the most impressive and fastest growing technologies of our time?
3D printing creates a physical, functioning, three dimensional object from a digital file!   3D printers can create an impressive variety of items… from food to firearms.  In fact, one day, 3D printers will allow you to make anything you can think of!
Why should you care?
Look my friend, this technology has the potential to revolutionize nearly every industry and trade on the planet!
Think about it… You could order products online and have them instantaneously printed right at your desk.  Doctors could create essential medical supplies and prosthetics in the field.  Someday, massive factories could become a thing of the past.
The potential of this technology is astounding – from both an individual and a business perspective.  And there are a number of penny stocks poised to profit… we'll get to them in a moment.
The 3D Printing Industry's Growing Like A Weed!
While 3D printers boast some impressive capabilities, they aren't a household product… yet.  However, businesses from a variety of industries are eager to take advantage of this powerful technology.
Prototyping, product development, and innovation are the three biggest reasons why companies are investing in 3D printing today.
We are on the verge of RIDICULOUS Growth.  
As of 2013, the 3D printing industry was just over $3 billion… and it's expected to boom to over $21 billion by 2020.
Consider this:
Aeronautics – NASA has long been a proponent of 3D printing. This technology could give astronauts unprecedented access to mission critical tools and supplies.
Aviation – Back on earth, GE printed the first FAA approved engine part! GE could reduce the complexity and costs typically associated with manufacturing… making billions in the process.
Automotive – Early initiatives have already created 3D printed drivable cars and custom-made replacement parts. One day you might customize a car on a computer and watch its production right at the dealership!
Energy – In the energy field, 3D printing is being used to make energy storage devices and energy production equipment… Some technologists are using 3D printing to make solar cells!
Remember, 3D printing is just in its infancy… and as the industry and technology improves and evolves, it will become more widely available.
What's that mean for you?
EARLY investors in market leading companies stand to make millions as the industry grows and grows and grows!
So what do we do next?
3D Printing Penny Stocks To Watch…
3D printing is attracting a lot of attention.  Companies like Stratasys $SSYS and 3D Systems $DDD have already experienced dramatic growth.  Both companies have market caps exceeding $2 billion.
When these companies announce new developments, their stocks spiked… just look at these charts in 2014!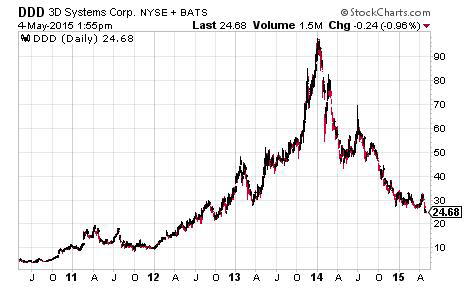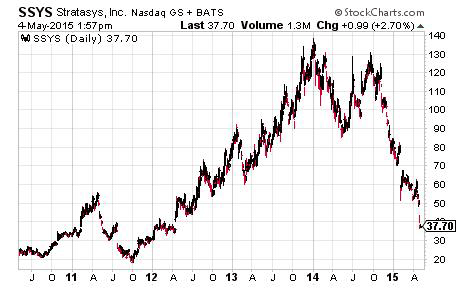 Don't worry… you haven't missed the big run.  Remember, the 3D technology is still in its "prototyping" stage.  That means there are plenty of opportunities for us to find other 3D printing penny stocks.
You might even consider these:  
Tinkerine $TKSTF is manufacturing 3D printers and developing software.
Sigma Labs $SGLB focuses on the development and commercialization of systems designed for 3D metal printing.
Zecotek Phototonics $ZKSPF.PK provides 3D printing to a variety of industrial trades, as well as the healthcare market. Their recent focus is in 3D printings use of metal powders.
Organovo Holdings $ONVO is focused on 3d printing of human tissues.
Cimatron $CIMT was recently purchased by 3D Systems for $8.97 per share.
Voxeljet AG $VJET, based in Germany, makes industrial 3D printers for the Automotive and Aerospace industries.
ARC Group Worldwide $ARCW has a 3D printing division, and a $120 million market cap.
Camtek Ltd. $CAMT has a small focus on 3D printing.
As you can see, 3D printing is ready to change the world… This new industry offers incredible opportunity for shareholders.
If you've got an interest in investing in 3D printing penny stocks… start your research with these companies!
Let me know what you think of 3D printing.  Leave your comments below.
Good trading…
Brian Kent
Note: Brian Kent has been trading the markets for more than two decades and now writes and edits for PennyStockResearch.com.  You can sign up for the penny stock research newsletter a trusted source for the truth about penny stocks! Sign up today and get a free research report – http://pennystockresearch.com/free-reports/.
Category: Penny Stocks to Watch