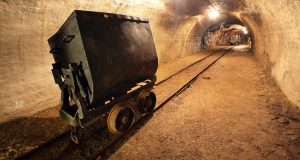 It's no secret that I'm bullish on gold.  I've written several articles over the last few weeks about a potential rally in the yellow metal.
And so far, gold has responded as expected, jumping from roughly $1,600 an ounce to over $1,700 in a matter of a couple weeks.
But keep in mind, I don't recommend buying the metal outright.  It's too expensive.  Moreover, even the most popular gold ETFs are priced too high for my taste.
That's where gold miners come in.
These stocks generally reflect the price of gold, but without the three and four digit price tags.  Plus, many gold miners are trading at penny stock prices.
Of course, there's more than one way you can use a mining company to get exposure to gold…
For one, you could choose to invest in a big player like Newmont Mining (NEM).
To say NEM is a large gold miner would be an understatement.  The company has assets and operations all over the world.  They have proven and probable gold reserves of approximately 99 million ounces – and land holding of roughly 31,500 square miles.
With such massive assets, the market values NEM at a whopping $24.6 billion, or nearly $50 per share.  That's not exactly cheap.
What's more, the stock's trading at a lofty 107x earnings.  They have over $6 billion in debt.  And, their quarterly revenue and earnings are both down year over year.  It doesn't really inspire a whole lot of confidence, does it?
Don't get me wrong, NEM is still a good company. But why not look for something priced more reasonably?
For instance, check out Brigus Gold (BRD).
Now, BRD is certainly a much smaller company than NEM.  The company primarily owns interest in just two Canadian mines.
However, with a $204 million market cap, BRD is trading at just $0.94 per share.  That's a far more attractive price to earnings ratio of 8.9x.  In fact, the shares are undervalued compared to the industry average P/E of 13.8x.
And that's not all…
Last quarter, BRD's revenues jumped 59% year over year.  Although small, the company's turning a decent profit.  They have a manageable $68 million in debt – not unusual for the mining industry.  And, their operating cash flow is strong.
Look, there's nothing wrong with buying a company like NEM to get exposure to gold.  However, why not take a chance on a first-rate, well run company like Brigus?  At under $1 per share, it's a great bargain.
***Editor's Note***  If you believe in the gold and silver story, then you have to check out the 2 stocks our colleague Robert Morris just released as part of his Penny Stock Breakouts service.  They're gold and silver miners that are trading for just a few bucks a share– but offer tremendous upside.  Click here for details.
Yours in profit,
Gordon Lewis
Category: Penny Stocks to Buy