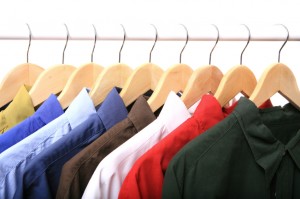 A company's brand name is important, but it's usually not a good reason to invest in a company.  Don't get me wrong, a popular brand can be part of choosing a certain stock.  But in no way, shape, or form should it be the only reason.
Take Sony (SNE) for example.  The extremely popular electronics company has seen its stock plunge over the last few months.  Just because they make many desirable products does not mean the company is well run.
Here's the thing…
Brand names couldn't be more relevant than in the apparel industry.
Here's an industry all about brand names.  In fact, I'm not sure there's anything more important in apparel than a company's brand recognition… with the possible exception of price.
But as important as branding is in the apparel industry, it doesn't make the investment decisions any clearer.
A popular brand doesn't imply a good investment.  Conversely, a clothing store shunned by the fashion conscience may provide incredible upside potential.
Here's a perfect example…
Gap (GPS) is a company with a very popular brand of clothing.  You'd be hard pressed to find any person in the US who hasn't heard of this well publicized brand.  Much of the company's success in brand awareness is due to their trendy advertisements – particular their TV ads.
Besides the Gap stores themselves, the company also owns the high end brand Banana Republic and the cheaper (but still trendy) Old Navy brand.  Clearly, management has done an excellent job of getting their name out to the masses.
But that doesn't mean I'd invest in Gap stock.
You see, the company has some issues.  For instance, the company is experiencing year over year negative sales growth and negative profit growth.  That's never a positive sign.  What's more, the company has got a hefty amount of debt… to the tune of $1.3 billion.
It isn't to say Gap is a terrible company, it's not.  But they have some definite red flags.  And more importantly, there are much better investment options in the apparel industry.
Like Stein Mart (SMRT)…
Stein Mart isn't nearly as trendy a place to buy clothes as Gap stores.  They cater to the discount shopper.  And I can't remember the last time I saw a Stein Mart ad on TV.
But when it comes to a stock comparison, it's no contest.  SMRT wins hands down.
Unlike Gap, Stein Mart is growing both its revenues and its profits.  Plus, the company has no debt whatsoever.  Even better, they're sitting on a cash hoard of over $90 million. So, management has the option to open more stores, make a strategic acquisition, or even buy back shares.
And here's the best part…
SMRT shares are dirt cheap.
At recent levels, SMRT is trading at just 7.3x earnings.  Meanwhile, the apparel store industry average price/earnings ratio is closer to 15x.  That means SMRT share price could double if it simply trades at the industry average.
Isn't that the kind of upside you'd get excited about?
When it comes to apparel penny stocks, brand names are important to shoppers.  But when it comes to investing, branding is only as good as the company behind it.  Gap may be a trendier name than Stein Mart.  But without a doubt, SMRT stock is the far better investment.
Yours in profit,
Gordon Lewis
Category: Penny Stock Alerts, Penny Stocks to Buy, Retail Stocks