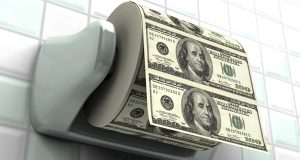 Welcome to Pump and Dump Friday, where every week we highlight a few of the "bogus" promotions that are going on in penny stocks.
If you don't know how these scams work, be sure to check out this free report that exposes the whole thing.
Without further adieu, here are this week's disasters waiting to happen:
AvStar Aviation Group Inc. (OTC PINK: AAVG)
Well, we start off with a company with 4 aircraft… no check that, they just borrowed a 5th one.  Now the fleet can really take off?  Yeah and go nowhere.  This midget company is a regional transport and repair facility.  It's not clear what they transport, but they do twist wrenches on Cessna aircraft.  Unfortunately, the aviation industry has been hard hit by the recession.  And many small companies have gone out of business.  AAVG's net profits have slumped to negative 20%… so I doubt this company will be flying high anytime soon.
eMax Holding Corp. (OTC PINK: EMXC)
Now this company isn't sure what they're good at… they sell older CD music titles, motorcycle accessories, and even own a poultry/produce farm.  But digging deeper into this enterprise showed me they are good at one thing… issuing stock to pay for everything from rent to salaries.  And with $12k in the bank, it's no wonder!  I'm thinking these farmers are going to keep laying lots of eggs!
Lehman Brothers Holdings Inc. (OTC PINK: LEHMQ)
These guys hold an incredible record… they can be proud of filing the largest bankruptcy in US history!  But really, they're just notorious "Financial Crisis" crooks… so what are they up to now?  Well, most of their time is spent arguing with their Bankruptcy trustee.  Sure looks like they don't do anything at all!
It's unclear why their company has recently been pumped up by Superbirdstocks.  This is a ridiculous effort, but "pushers" have tricked investors into buying over 3 million shares today – making a market for Lehman's skeletal remains.  WOW, making money from the dead… they should be ashamed.
Kore Nutrition Inc. (OTCBB: KORE)
Here we've got a Pump and Dump featured by OTC Picks.com – and they pocketed $37k for blowing lots of hot air.  The company makes an energy drink, targeting millions of poker players in the US – so they can stay up for hours – losing their money.
In March 2011, they posted puny revenue of $3,000, but have a king size negative operating cash flow of $1.08M.
Listen, this "Texas Hold'em" shill makes no money.  Even with all the hype and fluff, there will be no profits… ever.  This is one hand I wouldn't bet anyone's money on!
A final word (and warning).
So that takes care of this week's inglorious "pump and dumps".
Remember, there's a lot more of this going on each week than we highlight here.
As you know, penny stocks are a great place to invest your money.  You just have to do your due diligence to stay away from all the scams out there these days!
Until next time,
Brian Walker
Category: Pump & Dump Alerts