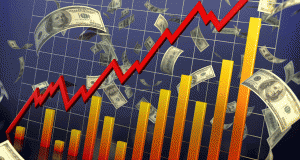 It's been a great ride lately, if you're one of the courageous investors who have actually remained in the market…
I'm pretty sure you're well aware of the rally underway on Wall Street.  It's been a virtual non-stop climb since December 21st of last year.  In fact, the S&P 500 is up over 10% since then.  It's been a really nice boost for most portfolios.
But for many investors, it's not the case.  You need a quick recap of market action to understand why…
I'm sure you'll recall, from October 2007 until March of 2009, the S&P 500 plummeted in a spectacular fashion.  From top to bottom, the loss was over 50%!
Many investors never got out, as they were advised to "stay in it for the long haul."  In the process, they watched their portfolios go up in smoke.   If they sold at the bottom and never returned, they made a huge mistake. 
But if they stayed invested… the market rewarded them for their patience. 
Soon after the market recovered, another calamity broke out.  2010 brought about the Greek debt crisis.  And that scared another group of investors right out of the market.  They weren't about to watch a repeat of 2008 all over again! 
But those that stayed invested were rewarded…
That is until last summer, when the market came crashing down in a blur.  I can recall 300, 400, even a couple of 500 point down days in the Dow Jones Industrial Average.  It was pure chaos! 
And once again, many investors bailed out… not wanting to see a repeat of 2008. 
But the investors who kept their money in place were rewarded… 
That brings us to our current rally.  Once again, many have missed the boat. 
For investors still weary of past events, the recovery from August wasn't to be trusted.  There was still the fear of how a Greek default would affect the US stock market.  Moreover, there was fear over the contagion spreading to other nations and causing more default risk.
But after a small correction late last year… the market headed higher.  (Do you see the pattern here?)
Here's the thing…
The Greek Parliament just passed their austerity-laden budget this past weekend.   And that will give Greece access to further bailout funds.  It also opens up the door to a restructuring of their long-term debt.
With the fear of a total market collapse alleviated, now's the time to get back in the market.
But if you're still afraid of buying near a market top, you should consider another alternative available to you.  That's where penny stocks come in…
You see, most large cap stocks move in close relationship with the market.  So when the market goes up, so do the majority of stocks.   If the market has a down day, many stocks struggle to move higher.
But it's not the case with penny stocks… 
That's the beauty of them.  Penny stocks may trade in line with the market some of the time.  But often times, high-quality penny stocks will move as a result of their own fundamentals.   And that provides you a layer of protection against purchasing large cap stocks near a market top. 
With what we've seen in the past, you can bet penny stocks will be a great investment, market top or not.  So now's a great time to go shopping for high quality penny stocks.  Consider adding some to your portfolio today.
Until next time,
Brian Walker
Category: Investing in Penny Stocks