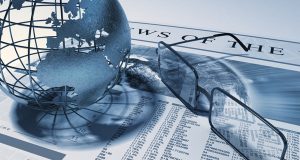 With Japan now one of the worst performing equity markets this year, BlackRock's Global Chief Investment Strategist Richard Turnill provides an updated outlook for stocks in the Land of the Rising Sun.
This week's chart shows how Japanese companies' inflation expectations have been steadily declining in recent quarters, amid an appreciating yen. Bank of Japan (BoJ) stimulus efforts this year – including an expanded quantitative easing (QE) program and a shift into negative interest rate territory– have failed to stem the yen's rise and boost inflation expectations.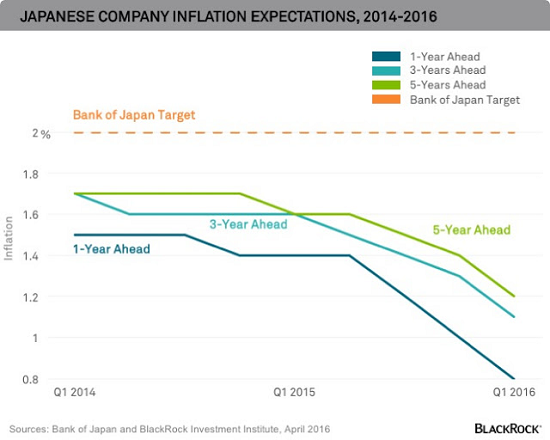 Deflationary pressures have weakened market confidence in the central bank, and hurt Japanese stocks. Japanese equities experienced record outflows in April, according to BlackRock research based on exchange traded fund (ETF) flows, and Japan is now among the worst-performing equity markets this year in local currency terms, with the TOPIX index down more than 13% year to date, according to Bloomberg data.
Recent support for the market appears to be coming largely from BoJ purchases, which amount to more than 200 billion yen since April 11, our research shows.
This all begs the question: Can Japanese stocks rise again?
There are reasons to like Japan over the longer term, even as a strong yen contributes to Japanese corporate earnings downgrades. The "short Japan" trade looks increasingly crowded, Japanese stocks appear cheap (around 13x forward earnings) relative to their own history and to other markets, and Japanese corporate balance sheets in aggregate have low financing risk, BlackRock analysis suggests.
We still hold a neutral view of the market, however. We believe monetary policy, the first arrow of Prime Minister Shinzo Abe's "three-arrow" economic plan, isn't enough to boost the local economy and market. The BoJ still has ammunition left to raise inflation expectations, including increased equity purchases, despite last week's inaction.
But we would need to see additional easing coupled with advances toward achieving Abe's second and third arrows, for us to adopt a more bullish view of Japan. In the near term, we are awaiting credible fiscal stimulus aimed at paving the way for structural reforms. Over the longer term, we want to see tangible progress in labor reform and in cutting red tape for local businesses.
Note:  Richard Turnill is the author of this article. Richard is BlackRock's global chief investment strategist. He is also a contributor to EconMatters.com.
Category: Breaking News