Buying Penny Stocks In Resilient Companies
I'm a little groggy as I write this.  I was up late last night watching the Royals win their first baseball championship in 30 years.  To do it, the victorious team from Kansas City had to get through the upstart New York Mets.
What's really interesting about this World Series is that if you didn't watch, you'd have no idea how close the matchup really was.  Yes, the Royals won the series 4 games to 1 – but just about every game came down to the wire.
For instance, the Royals had to come from behind in every single game they won.  Twice, they won in extra innings.  Three times, they didn't tie or take the lead until after the 8th inning.
That's about as close as you can get without going the full seven games.  It was a fairly evenly matched series, and the Royals were just able to find ways to win the close games.
So what does this have to with buying penny stocks?
If there's one word to describe the 2015 World Champion Royals, it's resilient.
No matter how bad the odds looked, or how far behind they were on the scoreboard, this Royals team did not quit.  They stayed resilient under every circumstance.
And guess what?  Resiliency is a great quality to have when buying penny stocks as well.
Take a look at this chart of American DG Energy $ADGE…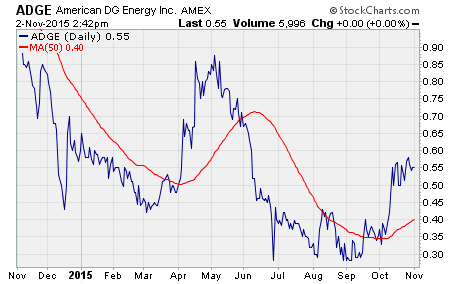 Without knowing anything about this company, you can see one thing right away… the stock has been resilient.
Like most other stocks, the share price plummeted during the August correction.  After the big drop, the price looked like it was going to breach $0.30 at several points.  But, it always held.  ADGE shares hung in there despite the selling pressure.
And finally, investors' patience paid off.  The stock spiked in October and has returned to early 2015 levels.  It's currently trading well above the 50-day moving average.
What makes $ADGE so resilient?
This is where your own research and due diligence come into play.
The Royals did there due diligence on the Mets and knew exactly when to take greater risks and when to be more conservative.  This behind the scenes research is one of the reasons the team remained so resilient.
Here's the thing…
If you were to do your homework on ADGE, you'd see the company has a lot of positives going for it.
First off, the company develops on-site energy systems which produce electricity, hot water, heat, and cooling at customers' facilities in the US and UK.  Basically, the company makes long-term contractual deals to supply individual customer sites with energy.
It's a good business model because the generators are run by natural gas… a super cheap, abundantly available commodity.  Certainly, that's a good strategy to help keep costs low.
Next, with a little digging you could see the company's current ratio is 2.7x.  That's well above the industry average ratio of just 0.8x.  In other words, management is doing a great job of keeping the company's balance sheet as healthy as possible.
Moreover, management has been aggressive at buying back shares.  That's relatively rare for a company this size.
In essence, ADGE doesn't behave like a penny stock, even if it's priced like one.  That's a big part of why the stock has been resilient in the face of selling.
And just like the 2015 Championship Royals, if you invest enough time and energy in a resilient business, it's bound to pay off at some point down the road.
Good investing…
Brian Kent
Note:  If you're interested in learning more about Brian Kent's Penny Stock All-Stars premium service… and learning about the stocks we're trading for profit… you can get the inside scoop on penny stocks here.
Category: Penny Stock Tips