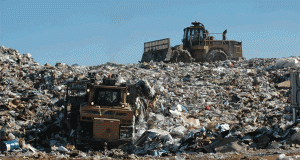 It's been a while since I've put two stocks head-to-head versus each other.  I know there've been many times our subscribers have written in to me asking for advice.
"If I'm not supposed to buy that pump and dump… what can I buy?"
My first response is always this… "Don't buy any stock you receive an email solicitation on."  That's usually a good start.  But that doesn't satisfy everyone… some of you want real-time examples.  And today is the day I'm going to offer you just that.
So, here it goes…
If you've been reading our Friday Pump and Dump Alert on a regular basis, you'd recognize the following stock as a pump and dump repeater.  Green Energy Renewable Solutions (EWRL) has been exposed in the past as a stock that's clearly been involved in multiple paid stock promotions.
The pumpers would have you think this penny stock is the greatest thing since sliced bread.  They tell you whatever they feel will get you to buy their stock.  Fortunately for many of you, you've seen our articles on the company and know EWRL has been pumped multiple times over the past year alone!
Most recently, Research Driven Investors was paid $35,000 to pump the stock (but if you read last Friday's article, you knew that.)
What the pumpers fail to tell you is EWRL just lost $4 million in the second quarter of 2012.  And the company generates $0 revenue through their "municipal solid waste, construction, and demolition" recycling business.
Bottom line…
No investor in his or her right mind should put a penny anywhere near this penny stock!
But let's say you really want to invest in waste management and/or recycling stocks.  In addition, you also want to stay focused on micro cap penny stocks… not mega caps like Waste Management (WM).
While the list of micro cap waste management stocks isn't endless, there are a few choices to pick from.  And one of the better ones out there right now is Perma-Fix Environmental Services (PESI).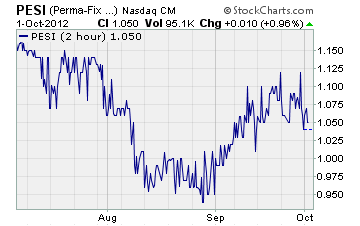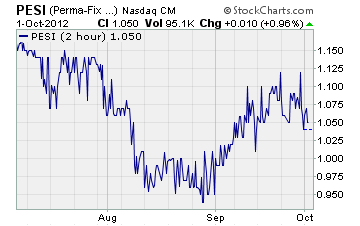 PESI is one of the waste management penny stocks you can buy that actually turns a profit.  They even reported strong revenue growth (whoo-hoo!)  In fact, the company just reported in August that sales grew by 17.5% in the second quarter of the year.
Compare that to EWRL's $0 revenue and we have a no brainer here…
And at $1.05 a share, PESI is reasonably valued with a PE ratio of just 7.5x.  If you look at the average S&P 500 stock having a PE of somewhere in the 13x range, shares of Perma-Fix start looking even more attractive.
Remember, PESI is just one example of a waste management penny stock that you can buy which is profitable.  There are more out there you can choose from.
But compared to pump and dump specials like EWRL, Perma-Fix is hands down a real winner that I'd choose over EWRL 100 times out of 100 for my portfolio (Disclosure: I don't own PESI shares).
Just be cautious about what you're buying and always, always, always… do your homework!
Until next time,
Brian Walker
Category: Penny Stocks to Buy