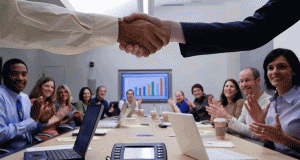 In my last column, I spoke on how M&A chatter has been increasing in the small and mid-cap names within the biotech sector. The derailment of the huge $150 billion merger between Pfizer (NYSE: PFE) and Allergan (NYSE: AGN) is leading many analysts to put forth a list of names these companies could target as they now to need to focus on new avenues for growth.
This is an important factor in the improving sentiment on this beaten down and oversold sector. So important, that I want to touch upon it in more depth. More buyouts could well trigger the next leg up of an emerging biotech rally which has already carried the sector almost 15% higher from the lows it touched in February.  Still, the sector is off some 30% from its last peak in July so if "risk on" behavior is returning to this lucrative but volatile sector of the market, significant upside could lie ahead.
This improvement in sentiment is a key reason the sector rallied on Monday even as oil fell during the day. Throughout 2016, when oil has fallen, the market has usually followed suit especially the high beta sectors within equities such as biotech. This did not happen on Monday as biotech shot higher as M&A chatter shot up around myriad firms.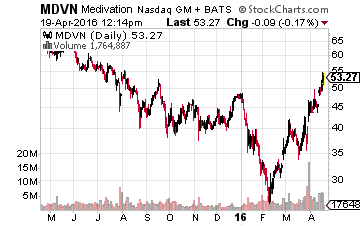 Medivation (NASDAQ: MDVN) continues to be the largest company receiving consistent buyout speculation. Over the weekend, the Sunday Times in London reported that AstraZeneca (NYSE: AZN) had held internal discussions about acquiring this oncology firm in what could ultimately be a $10 billion transaction. Last week, the company was up on rumors that Sanofi (NASDAQ: SFY) had put forward an offer but was rebuffed. A nice old fashioned bidding war on this type of visible mid-cap concern would do wonders for investor confidence in this space. As can be seen below, it certainly has not hurt Medivation's stock recently.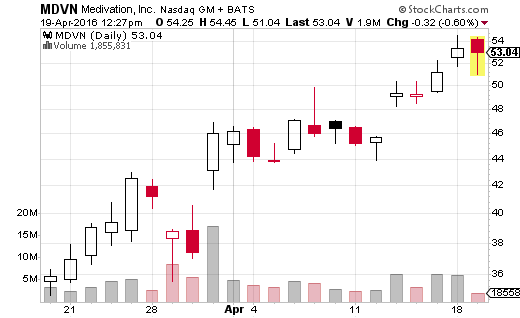 Medivation is not the only mid-cap that could receive attention from larger suitors. One reason is that there is a dearth of mid-cap plays in the biotech sector as the industry mainly consists of giants and small caps. Out of the approximately 190 firms in the NASDAQ Biotechnology Index, only five have market capitalizations of between $5 billion and $15 billion. So now that mega-mergers seem to be off the table, these firms could get some renewed attention from larger players looking to make a decent size "splash" instead of buying up a lot of minnows.
RELATED: "Strong Buy" issued for 3 stocks on the verge of massive buyouts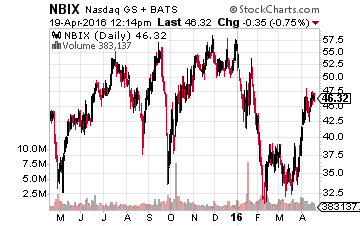 Neurocrine Biosciences (NASDAQ: NBIX) could get some momentum if interest in M&A continues to percolate, partly because of its $4 billion market capitalization. More importantly, the company has two promising and late stage lead drug candidates named valbenazine and elagolix which Piper Jaffray recently stated both have $2 billion peak sales potential when they reiterated their Overweight rating and $96.00 a share price target in early April. That target is double the current price of the stock.
Valbenazine is in Phase II trials as a treatment for Tourette's a Phase III development for Tardive Dyskinesia. Elagolix is being developed with partner Abbvie (NASDAQ: ABBV) and is in Phase III trials as a treatment for Endometriosis and Uterine Fibroids. The company ended 2015 with some $500 million in cash on hand so its development is well funded for the foreseeable future.
Allergan definitely looks like it is going to be a big player in the M&A market especially once its sale of its generic businesses to Teva Pharmaceuticals (NASDAQ: TEVA) is approved late this quarter as expected. This will provide it with over $40 billion in proceeds. Some will be used to pay down debt but some of those funds can be expected to be deployed into making smaller acquisitions. The company is rumored to be interested in some of the gastrointestinal (GI) product line up at Valeant Pharmaceuticals (NYSE: VRX) which recently brought in investment bankers to look at possible strategic asset sales as its struggles under a $30 billion debt load that was downgraded to junk status here in 2016.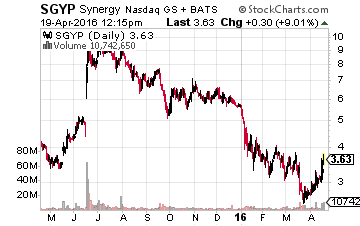 Late last week, Allergen was also rumored to be interested in a much smaller GI concern named Synergy Pharmaceuticals (NASDAQ: SGYP) with a market capitalization of less than $400 million. Earlier this year the company submitted a New Drug Application (NDA) for its first commercialized product called plecanatide and the drug should be approved by early summer.
The indication plecanatide is waiting for approval on is to treat of chronic idiopathic constipation. Ongoing studies for the use of plecanatide in irritable bowel syndrome with constipation (IBS-C) should have final results available sometime this year as well which is another potential lucrative indication.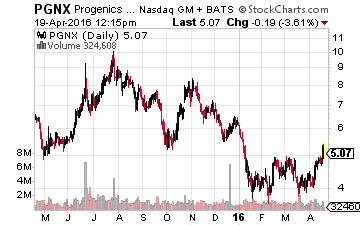 Progenics Pharmaceuticals (NASDAQ: PGNX) is another small cap concern that could draw Allergan's attention.
Its primary product is called relistor which is used to treat opioid-induced constipation and chronic non-cancer pain. The injectable version of this drug is showing good sales growth and its distribution and marketing partner happens to be none other than Valeant Pharmaceuticals. An oral version of the drug should be approved by summer and should exponentially boost sales of this compound. The two versions together should have $1 billion peak sales potential or better.
Progenics is getting a 15% royalty on all revenues and sales milestones. It will also receive a $50 million payout from Valeant upon the approval of the oral version of the compound. It might make sense for Allergan to just buy the rights to relistor from Valeant and purchase Progenics at the same time. That might be what the market is anticipating as the stock has been a strong performer recently.
"Strong Buy" Issued for 3 Stocks Poised to Break Out in 2016
Corporate America's takeover frenzy has put these 3 "Powerhouse Stocks" on the verge of a massive breakout in 2016. The last time I issued a report like this, we bo0ked 215% on Avanir and an outstanding 464.9% on Eagle Pharmaceuticals, and I have three more just like it ready to pop in the coming weeks and months.
Click here to check out my must-read research today.
Positions: Long AGN, PGNX, SGYP, ABBV, and TEVA
Category: Biotech Stocks