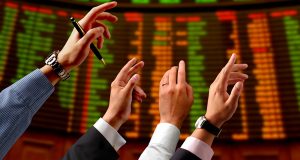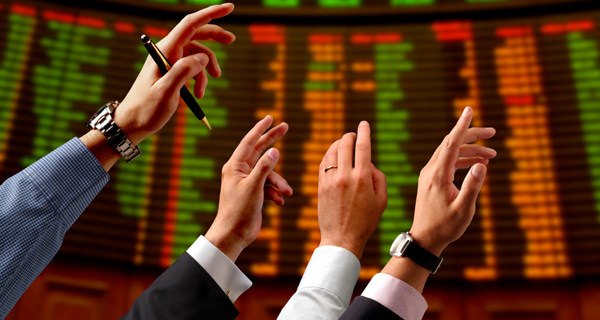 When insiders step up and put millions of their own dollars on the line to purchase company stock, investors should take notice. Don't wait to only then see these stocks on CNBC rocketing up double-digits, buy shares today.
After over two decades of successfully investing in the volatile and lucrative small biotech space, I have found discovering big winners is more than a matter of finding, researching, and investing in small promising businesses with positive risk/reward profiles. Regularly profiting from investments in this sector not only involves finding these undervalued gems but also getting the timing right. Otherwise, your investment can ebb and flow with whatever the prevalent investor sentiment on the sector is at the moment.
Therefore, I look for near-term catalysts that tell me the fortunes for my new investment could soon be on the rise. This could be an upcoming FDA approval date for a compound in the company's pipeline or soon to be released key trial results. Increasing and plausible buyout rumors can be another potential positive catalyst. Often times, what can tell you brighter skies will soon be on the horizon is simply significant new insider buying in the stock.
It is something I look for often in this area of the market. Drug discovery is a hugely complex endeavor with high failure rates. No one has a better handle on what is truly going on within a biotech company than the insiders, and this includes some highly skilled investment analysts some of which have PhDs in biochemistry that follow this sector. I have been "turned on" to more big winners in small biotech than any other sector of the market by far over the past two decades by positive insider activity.
In mid-August, I bought a small ocular biotech concern called Aerie Pharmaceuticals (NASDAQ: AERI). It had a couple of interesting compounds in late-stage development, some upcoming catalysts and strong analyst support. In addition, a beneficial owner had purchased over $4 million in new shares one month before with the first insider buy in the stock in almost a year.
I bought my stake at just over $19 a share. On September 6th the company filed for a New Drug Approval (NDA) on the first compound.  The following week, the second compound produced Phase III trial results that were much better than expected. The stock has doubled to just under $40 a share since my initial purchase.
Obviously, not all investments in this space will have as quick and lucrative rally soon after substantial insider buying, but this is hardly the first time I have seen this happen. So which small biotech stocks do I like right now that have seen recent insider buying? These three names are my favorites right now.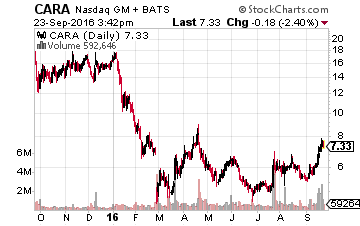 Cara Therapeutics (NASDAQ: CARA) is a name I have owned from just under $5 a share since late March. Two insiders had bought some $3 million worth of shares in the middle of that month and I liked the prospects of the lead drug candidate CR845 for pain management. I have had to be a bit more patient with this one that the immediate return on Aerie, but the stock has recently started to move and is now a bit over $7 a share. Given the shares 52-week high are just north of $20, and several analyst firms have price targets on Cara in the low $20s as well; I think this could just be the beginning of a larger rally.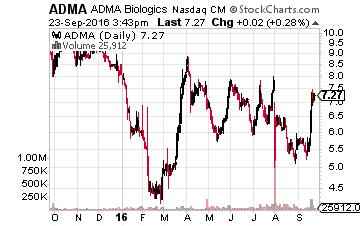 I have also purchased stakes in two small biotech companies recently with very similar ticker symbols. The first is ADMA Biologics (NASDAQ: ADMA) whose primary drug candidate got a complete response letter (CRL) on its NDA. However, the CRL was not because of problems with the drug itself but with the manufacturing process making the compound. I believe these concerns will be soon addressed and the company will have this candidate back on its way to approval. The company raised some funds for the rollout of its first approved product back in May. Insiders bought some $1.6 million of the additional shares, which I view as a good vote of confidence. The stock has climbed some 15% since I bought it six weeks ago to just over $7.00 a share. The median price target from the analysts that cover the company is $12.50 a share. If approval does occur as I suspect, the stock still has significant upside.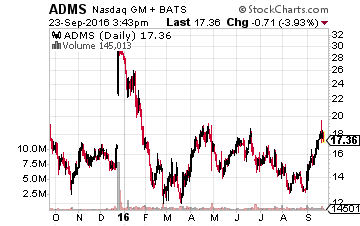 Two weeks ago I took an initial stake in Adamas Pharmaceuticals (NASDAQ: ADMS) after I noticed several insiders accumulating over $3 million in new shares so far in September. The company already has two products on the market that it developed with a subsidiary of Allergan (NYSE: AGN) which paid some significant upfront payments to market and distribute those compounds. Royalties from those two compounds will additionally start to flow to Adamis beginning in 2018 and 2020, respectfully.
More exciting is that the company's first wholly owned drug to treat a symptom of the most common drug for Parkinson's should be approved sometime in the first half of 2017. The shares have made a 10% move since I picked up the stock but still sell for just less than $18.00 a share. The company sports an approximate $400 million market capitalization and is significantly under the $28.00 a share median price target analysts currently have on the stock.
I have found that insiders are not infallible in this space, but more often than not they are right more than even the analysts that follow their stocks. Over the past 20 years, I have consistently found success investing alongside the people most in the know and in stocks I also find attractive for myriad other reasons.
Finding biotech stocks with upcoming catalysts for explosive growth like Xencor (up 87%), Artana Therapeutics (up 63%), and many more is a key component of my comprehensive strategy for massive profits in my newsletter, Biotech Gems.
Positions: Long ADMA, ADMS, AERI, and CARA
Category: Penny Stocks to Buy