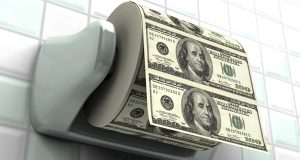 Welcome to Pump and Dump Friday, our weekly feature where we identify potentially "bogus" promotions going on in penny stocks.
Today we're exposing one of the most extensive penny stock pump and dump campaigns of the week:  Blueforest, Inc. (OTCQB: BLUF).
If you don't know how these schemes work, be sure to check out our free report that exposes the whole thing.
Without further ado, here is today's disaster waiting to happen:
Blueforest, Inc. (OTCQB: BLUF)
BLUF is one of the most heavily hyped penny stocks of the past week.  According to our sources, 28 promoters with 240 newsletters have been paid $395,000 to pump BLUF so far this month.
And the scheme's working like a charm…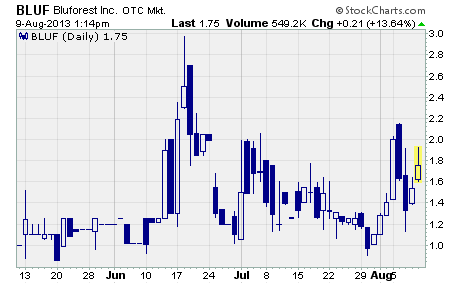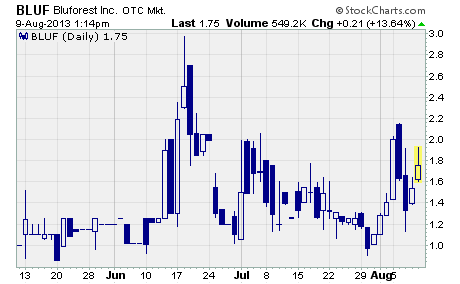 As you can see, BLUF shot up from around $1.00 at the end of July to a high of $2.15 on August 6th.  That move was good for a gain of 115% in short order.  However, the stock failed to hold that level when sellers rushed in to dump their shares.
BLUF plunged all the way down to a low of $1.16 on August 7th before finishing the day at $1.33. 
That vicious slide provided those buying at the top a hefty two-day loss of 38%.  And any top-tickers selling at the day's low lost nearly half their money before they knew what hit them.
Now that's a whipsaw!
But the massive pumping campaign continues… and the stock is rising once again.  After increasing by nearly 16% yesterday, BLUF's up more than 13% today as I write.
Here's the thing…
This story has all the components of a typical pump and dump scheme.
I've already described the colossal hype campaign mounted by the newsletter and email promoters.  But that's not all.  Blueforest has issued a couple of press releases this week extolling the company's bright future.  And two small cap research firms have each issued positive research reports on the company.
But don't be fooled by the hype.
Murphy Analytics and Goldman Small Cap Research are not necessarily providing an independent and unbiased opinion.  If you read the small print disclaimers on the reports, you'll find that Murphy Analytics was paid $6,500 for its report and Goldman received $5,000.
And then there's the company's story…
Blueforest is a development stage company.  It hasn't generated a penny of revenue in its history.  The company has just $43 in cash and $19,000 in total current assets but sports total current liabilities of $3.7 million.
And here's the kicker… the company posted a net loss of $277 million last year!
Those hefty losses were incurred when the company discontinued its prior business as an exploratory mining firm due to a lack of financing.  Now the company plans to sell carbon offsets against 135,000 hectares of Ecuadoran forest it has recently acquired.
However, as the company states in its 2012 annual report…
"If financing is not available on satisfactory terms, we may be unable to continue, develop, or expand our operations."
Finally, there is the recent lawsuit filed by former shareholder, George A. Sharp, against Blueforest for fraud, negligent misrepresentation, deceit, and violations of California statutes.  Here is an interesting quote from Mr. Sharp's press release announcing the lawsuit…
"The Defendants, then operating as Greenwood Gold Resources, Inc., and trading under the symbol 'GGRI', deliberately deceived him by issuing false and misleading press releases regarding the acquisition of the Summer Mining Property from Candorado Operating Company, Ltd. for the singular purpose of selling privately placed stock.  Mr. Sharp alleges that the Defendants conspired to profit from their holdings by retaining the services of several stock promoters in order to create a marketplace for stock at over-inflated prices, thereby defrauding the public, in what is commonly known as a Pump and Dump scheme."

Mr. Sharp commented, 'That the Greenwood Gold Resources operation was a scheme intended to defraud is unquestionable.  Just days after the end of the promotion, the company announced that it would not complete the acquisition, in spite of having just disseminated several press releases inferring that the exploration and production on the property were ready to commence.  Two reverse splits of the common stock, intended to wipe out the holdings of those taken in by that scheme, were then executed.'"
I don't normally like to include such large block quotes in my articles.  But I feel like you need to read Mr. Sharp's words for yourself.  I think you'll agree his allegations are a big red flag for BLUF.
Bottom line…
The company press releases, the massive stock promotion campaign, and the paid-for research reports all point to a carefully constructed pump and dump scheme for BLUF.  And now you have a former shareholder suing Blueforest for what else… perpetrating a pump and dump scheme on shareholders.
Stay away from this stock if you value your money.
Other Penny Stocks Being Pumped This Week
Dephasium (OTCQB: DPHS) – 48 promoters with 182 newsletters have been paid over $73,000 so far in August to hype DPHS.
Interactive Leisure Systems (OTCQB: IALS) – 35 promoters with 136 newsletters have been paid $139,000 in August to plug IALS.
As you know, penny stocks are a great place to invest your money.  You just have to do your due diligence to stay away from all the schemes and scams out there these days!
Category: Pump & Dump Alerts