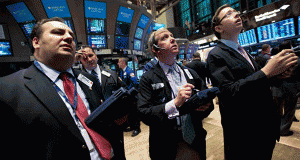 Tim Plaehn details why this stock deserves a spot in every income investor's stock portfolio. Just tuck it away and hold onto the company forever.
Few things are more All-American than a V8 powered muscle car. When I research the market, I find a lot of 4-cylinder powered stocks, a few V6's, and a lot of dividend payers that have cracked heads and needing a tune-up. The V8 powered, running on all cylinders, high-yield stock, however, is a rarity.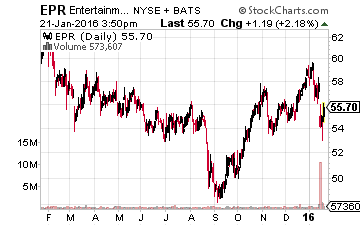 But, it's not so rare that a few of them don't exist in the market, and we can look at eight different reasons why EPR Properties (NYSE: $EPR) deserves a spot in every income investors stock portfolio and one that you should just tuck away and hold onto forever.
Cylinder 1: Turning niches into a moat.
In the real estate investment trust (REIT) sector a too-focused niche in the real estate market can lead to trouble if an outside force turns the niche into a trap. Consider the case of Medallion Financial Corp (NASDAQ: $TAXI), a business development company (BDC) that financed the purchase taxi medallions. The development of ride-sharing services like Uber has destroyed the value of those medallions and TAXI's business prospects. In contrast, EPR has built a knowledge base that allows it to be the premier owner of entertainment focused properties. The company began as an owner of movie theater properties and has now expanded to cover a range of entertainment types.
EPR is the owner, with operator clients as the lessees of the following types of properties:
Megaplex theaters
Retail Entertainment Centers
Family Entertainment Centers
Metro Ski Parks
Water Park Complexes
Golf Entertainment Complexes
Cylinder 2: EPR has developed a new niche, one that can generate significant growth for the company.
In 2007, the company started to develop public charter and private school facilities. Currently, EPR owns 86 education facilities which account for 21% of annual net operating income. An additional 21 properties are under development. EPR does not start building a new school unless it has a signed lease contract. The number of charter schools in the U.S. is growing by 11% per year and the number of students is increasing at a 15% annual clip. There are one million potential students on waiting lists for new charter and private schools. This will be a growth niche for EPR for years to come.
Cylinder 3: In 2012, EPR announced a resort development plan on property owned by the company.
Currently, the plan includes a casino, golf course, and indoor/outdoor water park facility. The resort is called Adelaar and it is just 100 miles from New York City. In December 2015, the New York gaming commission approved the construction and operation of the casino on the property. Gaming company Empire Resorts will build the resort while EPR will hold a long-term ground lease. Lease payments start this year. Base lease rental is about $9 million per year and EPR will also receive a percentage of gaming and entertainment revenues.
Cylinder 4: On the Adelaar property, the water park is a separate facility funded by EPR and expected to generate a minimum $10 million per year in revenue.
The park will be developed along with one of EPR's current entertainment property clients and will start operating in 2019. After the water park facility, EPR will still own 600 undeveloped acres at the resort complex.
Cylinder 5: EPR pays monthly dividends.
Not many top quality, high-yield stocks also pay out dividends on a monthly basis.
Cylinder 6: For 2015, the EPR dividend was about 75% of adjusted funds from operations.
This payout ratio is similar to or lower than more widely followed triple net lease REITs with lower yields. The EPR yield is 2.5 to 3 percentage points higher than the rates paid onRealty Income Corp (NYSE: $O) and National Retail Properties, Inc. (NYSE: $NNN).
Cylinder 7: Steady and above average dividend growth.
The EPR monthly dividend has been increased in January each year for six straight years, including 2016. Dividend growth has averaged about 7% per year. The growth rate is several percentage points higher than EPR's triple net REIT peers.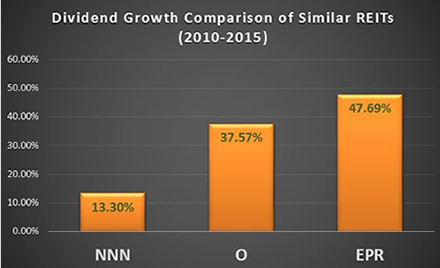 Cylinder 8: EPR currently yields over 7%.
This yield is about 2.5% higher than the cash return on Realty Income or National Retail Property shares.
With EPR, you get a quality company with an 18-year track record of growth. The shares have both a higher yield and higher dividend growth than the more widely followed triple net REITs. This is a stock that generates very attractive current income and will also produce very attractive total returns over time. It's a well-tuned V8 of a REIT.
New Report Reveals How to Safely Earn 16% Returns in 2016
Why settle for puny 1% yields on CDs when you can double your money in 4.5 years with a certain class of safe, dividend-paying stocks?
All you have to do is plug your portfolio into the Accelerating Dividends System.  This breakthrough investment tool works by identifying little-known stocks that consistently increase their payouts year after year…no matter what the market does.
Right now you can get access to this system for free.
Position: Long EPR
This article was originally published in Investors Alley on January 23, 2016.
Category: Breaking News