List Of 11 NASDAQ Penny Stocks… In Biotech!
Today I'm going to give you what you've been asking for…
A list of NASDAQ penny stocks… but not just any list… this is a special list.
It's a list of the Biotech stocks that trade on the NASDAQ.
But before I share this with you, I want to give you some advanced warning… Next Tuesday's article is going to be one of the most important articles of the year.
It impacts YOU directly… and it could hit you squarely in the wallet.
And despite the sour sounding mood, I promise to do something unheard of… I'm going to share something very personal with you… so watch out for next Tuesday's article.
Ok with that out of the way… let's look at why watching a list of Nasdaq Penny Stocks in the biotech industry is critical…
Why is this critical?
Because… well… just look at the chart: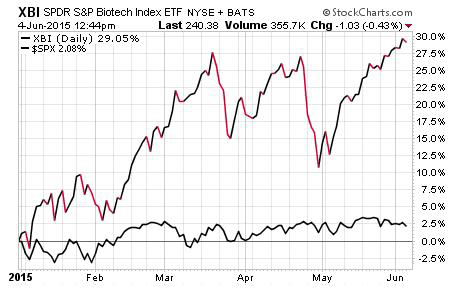 What you're looking at is the hottest part of the market today.
Biotech stocks are on FIRE – in a good way.
While the S&P 500 is up a decent 2.1% since the beginning of the year… Biotech is up 29%.
That's a staggering outperformance…
And that's why everyone wants to know what the best NASDAQ biotech penny stocks are…
How I Found A List Of NASDAQ Penny Stocks In Biotech
Here's a question – do you have a penny stocks lists?  I keep lists of my research and studies… and I recommend you do to… It will help you save time and money!  And the list below is being added to my master penny stock list.
Finding this list wasn't difficult.
Let me show you how I did it… so you can find a great list of penny stocks any time you want.  Then I'll give you what I found below.
The process isn't difficult, but you've got to get your settings right.
First, I started with my favorite stock screener.  When we started this fun little exercise, we had 7,115 stocks to look at… way too many.  So let's start cutting back.
I looked at the market as a whole and I said, "Let's kick out anything that's NOT a stock."
Get rid of the funds, the ETFs, the Trusts, etc…
That cut the list to 5,117.
I knew I only wanted stocks in the US… these are better regulated, they provide good information, and should provide a nice selection to pick from… that whittled the list down to 4,243.
I know from my market research that most emerging growth stocks are traded on the NASDAQ… that's where you find the hot tech and biotech companies…
So, I removed any stock not trading on the NASDAQ.  That got us down to 2,235 companies.
Once you eliminate stocks over $1.00 (down to 65 companies) and any industry but biotech… that's how we found our 11 companies!
Interesting Notes On This List Of Nasdaq Penny Stocks In Biotech
Now before I give you the list, I want to point out some interesting things…
First, these stocks have market caps that range from $5 million to $95 million.  That means they're a really small part of the market.  They might be susceptible to manipulation so be careful.
Second, none of them have earnings.  It's not a surprise as these companies are probably developing cutting edge biotech drugs.  Huge upside… but huge risks too!
Third, three of the stocks had decent insider ownership – over 10% ($DARA, $KBIO, and $CYCC).  Yet – all of the stocks reported institutional ownership… with $DSCO reporting over 58%!
I like to see stocks with strong insider ownership… but low institutional ownership.  Those institutional guys have to be buyers to drive a stock higher!
Finally, market volumes… if you're trading penny stocks, you've got to pay attention to volumes… and 5 of the companies had daily volumes over 1 million shares.  That kind of volume is great for trading.
Just a reminder… Do your due diligence before buying any of these stocks!
Your List Of Nasdaq Penny Stocks In Biotech
Ok… no more delays, here's the list of stocks you've been asking for.
1          $LPTN        Lpath Inc.
2          $RXII           RXi Pharmaceuticals Corporation
3          $DARA        DARA BioSciences, Inc
4          $ABIO          ARCA biopharma, Inc.
5          $KBIO          KaloBios Pharmaceuticals, Inc.
6          $CYCC        Cyclacel Pharmaceuticals, Inc.
7          $OPXA        Opexa Therapeutics, Inc.
8          $DSCO        Discovery Laboratories Inc.
9          $STEM         StemCells Inc.
10        $VICL           Vical Incorporated
11        $CYTX         Cytori Therapeutics, Inc.
Do you own any of these penny stocks?  Are you buying or selling?  What do you think about these companies?  Are they the Best NASDAQ Biotech Penny Stocks?  Leave a comment below…
And don't forget to watch for Tuesday's article… Remember, it WILL impact you directly.
Good investing…
Brian Kent
Note:  If you're interested in learning more about Brian Kent's Penny Stock All-Stars premium service… and learning about the stocks we're trading for profit… you can get the inside scoop on penny stocks here.
Category: Penny Stock List