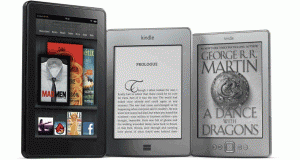 Despite focusing on penny stocks and small caps, I regularly follow blue chip companies as well.  After all, it's the big players that are typically leaders in a given industry.  An important part of stock analysis is understanding what the best-in-class companies are doing.
What's more, savvy investors can glean information from large companies and use it to find opportunities with small caps.
For example, I believe there are investment opportunities that can arise by looking at what's been going on with Amazon (AMZN) lately.
AMZN has always been one of my favorite companies to write about, despite not fitting into the value space I usually concentrate on.  With the stock trading at 88x projected earnings, it's far from a value play.
Of course, there's nothing wrong with investing in growth.  More importantly, I'm a big fan of investing in innovation.  And Amazon has that in spades.
You see, AMZN has always been on the cutting edge of technology and services.  It started over a decade ago with the company selling books online.  At the time, many people thought that business model was doomed to failure.
These days, no one sells more books than Amazon.  Brick and mortar stores can't compete.  In fact, Borders is bankrupt and Barnes & Noble (BKS) is hanging on by a thread (mostly due to their Nook tablet and e-reader).
And that's not all…
Many people also thought e-books would never replace the physical product.  Yet AMZN now sells more e-books than physical books.  And, their Kindle e-reader is one of the reasons e-books finally caught on.
Not only is the Kindle the market leading e-reader, but last year, the company took the Kindle to new levels with the Kindle Fire.
If you're not familiar with it, the Kindle Fire is AMZN's first tablet PC.  It's meant to compete with the iPad, though it's not exactly the same product.  In a nutshell, it's a smaller, cheaper tablet than anything on the market.
So far, it's been a huge success.  Millions of Kindle Fires have been sold in its first year on the market.
Here's the thing…
AMZN is once again raising the stakes.
Rumor has it the company has four new Kindle Fire products in the works.  The new versions will be more comparable to the iPad in functionality.  They'll include features like 4G, GPS, and a built-in camera.
What's more, all indications are that Amazon will be using their latest technology to enter the smartphone market.
Needless to say, I'm excited to see what innovations the company can bring to the smartphone space.
Now, here's where AMZN can pay off for small cap investors…
In order to compete with their new tablets and smartphones, Amazon is purchasing companies and technology.  Many of the companies they're looking at are small, up and coming businesses.
As a matter of fact, last week they purchased UpNext, a tiny 3D mapping company.  The mapping technology will presumably be used on the new devices.
In other words, good technology is sometimes all it takes for a company to hit the jackpot… regardless of size.  Don't forget, there are tons of penny stock and small cap tech companies.  And, the ones that are truly innovative could very well be the next targets for a major player like Amazon.
Yours in profit,
Gordon Lewis
Category: Technology Stocks