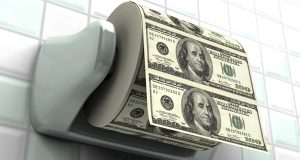 This week we're exposing these three popular Pump & Dumps:  AER Energy Resources (AERN), Buyer Group (BYRG), and AlumiFuel Power (AFPW).
Welcome to Pump and Dump Friday, where every week we highlight a few of the "bogus" promotions that are going on in penny stocks.
If you don't know how these scams work, be sure to check out this free report that exposes the whole thing.
Without further ado, here are this week's disasters waiting to happen:
AER Energy Resources (AERN)
Wow!  This pump and dump really blew me away today.
To get right down to it, Gladiator Stocks was paid $1.3 million… yes you read that right, they got $1.3 million to promote AERN for one month.
In the email I got, our pumper did say "the party is just getting started and it ain't stopping anytime soon!"  That's one hell of an analysis guys.  Great work!
This must be one great company right?
Well, not so fast.
I took a look at their numbers and what I found was a little concerning.  For example, AERN doesn't have any documents on file with the SEC.  Wait, that's not entirely true.  The last thing they filed was in 2002… and that document terminated their securities registration.
The company could use part of that $1.3 million being spent on the pump and dump to get their filings up to date.  A few good lawyers could set them on the right track in no time.
Unfortunately, the financials I did find online left a very bitter taste in my mouth.
So what's bothering me so much about the financials?
It's not the fact that the company has only $22,985 in cash on their books.  Or the fact that they owe people just over $1 million in notes payable and long term liabilities.
Nope… my problem centers more around the $811 in revenue they made last quarter.  Seriously, $811 total revenue.  I know some weekend garage sales do better than that!
Can anyone explain to me what's so special about a company with $811 in total revenue?
Or at least tell me why it's worth spending $1.3 million on pump and dump emails?  Couldn't that money be better used by the company?
This is one stock I'd stay away from.
Buyer Group (BYRG)
You know this company has one of those names that I just laugh at.  I wouldn't be a buyer of this stock… I'd be selling!
Here's why…
Today, our pumper Hot Shot Stocks, says "BYRG is a easy gainer here…"
How could it not be… I mean the company stock trades for two thousandths of a penny.  Let me put that in perspective.  This morning I bought a coffee for $2.38.  Instead of drinking my cup of joe, let's say I bought the stock instead…
I could have bought 11,900 shares of stock to be precise.
The problem is, I got more value from my coffee than you'll get from this stock.  I know because I dug into their financials.
Once again, we have a company that tried to do their filings with the SEC, back in 2008, but then gave up.  They now post their financials online.
That's where this gets really scary.
They say they have over 28 billion shares outstanding… sure, why not.  Exxon Mobil (XOM) only has 4.8 billion shares out.  They're practically the same company… 'er maybe not.
I kept digging for more dirt…
The company has no cash on their books.  None, zip, zilch, nadda.  But they do report a staggering $1.8 billion in assets.  When I read that I almost choked.
It's got to be a typo… or the people putting these books together are full of crap.
So I continued digging.  What kind of revenue did the $1.8 billion in assets produce?  Oh, a whopping $43,428.  Better yet, the company LOST $5,712 last quarter.  Clearly, $1.8 billion in assets should produce way more revenue than that.
I'm sorry… financial numbers like these throw up so many red flags I don't know where to start.  Let me put it simply.  Based on a little math, you could acquire ALL the common stock of the business for just over $5 million.
Then you could sell off these "Assets" for $1.8 billion, pay off the debt and pocket the rest.  You'd be a billionaire overnight.
Remember the famous saying, "If it sounds too good to be true…"  This is a perfect example.
Either these numbers are a complete fabrication or they're "phantom assets," assets only existing in the minds of accountants.
Either way, I'm staying far away from this company.
AlumiFuel Power (AFPW)
I'm skeptical.  This company is in the alternative energy space and their claims have me scratching my head.  How can you not be skeptical after the federal government gets taken for $500 million by an alternative energy company just last month!
Now the pump and dumpers are hyping this company called AlumiFuel Power.  They're an "…early production stage alternative energy company that generates hydrogen gas and steam/heat through the chemical reaction of aluminum, water, and proprietary additives."
Sounds exciting.  Sounds cool.
Smells fishy.
Sorry I'm not an engineer or a chemist.   Is it possible for "aluminum, water, and proprietary additives" to generate hydrogen and heat?  Maybe.
But I'm not willing to risk a single one of my pennies on this stock.
Here's why…
If they did have the holy grail of energy production, why would the company be paying Shamrock Stocks $5,000 to promote the company?
Besides, they have $8,000 in cash and no revenue.  How much longer can this revolutionary alternative energy company limp along?
It doesn't look good, or add up, and it smells fishy (and not in a good way).
Yet another company to stay away from.
A final word (and warning).
So that takes care of a few of this week's inglorious "pump and dumps."
Remember, there's a lot more of this going on each week than we highlight here.
As you know, penny stocks are a great place to invest your money.  You just have to do your due diligence to stay away from all the scams out there these days!
Until next time,
Brian Walker
Category: Pump & Dump Alerts