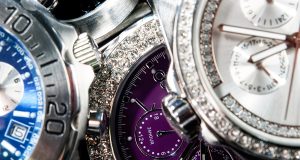 Investors can choose from bullion, collectible coins, mining claims, futures contracts, stocks, warrants, and more if they want to profit from price gains in gold.  But the most spectacular gains may come from the shares of a tiny retail jewelry store in Texas.
A lot of time can be spent researching gold investments to discover the best time to buy.  Technical analysts can look at the price action on charts hoping to find cup-and-handle or head-and-shoulder formations.  Fundamental analysts will try to discover if the proven and probable reserves are actually proven and eventually profitable.  Conspiracy theorists will watch the actions of central banks like a hawk for signs of the apocalypse.  Or, the investor could just buy shares of DGSE ($0.58).  Owning this stock allows the investor several chances to profit from the rise in gold.
DGSE is a small jewelry store out of Dallas, TX whose share price and fortunes have mirrored the price of gold for several years.  In addition to selling diamonds and fine watches, they also sell gold, silver, and other precious metals.  As you can imagine, their earnings have declined year over year since peaking in 2011.  It seems that jewelry is no different than the stock market.  Very few people buy stocks or US Golden Eagle coins when the market is down.  As a result, their earnings have gone from poor to just plain bad.  For veteran speculators, the last point is the most telling.  The bottom for the stock price usually occurs at this point.
Yet, there are a few signs of hope at DGSE for a brighter future.  Since October 2015, there have been changes in executives and directors at DGSE.  A major creditor agreed to exchange debt for equity in DGSE.  And the prices of gold and silver have moved higher in 2016.
Another way to look at a DGSE is as if it were a gold miner working a large gold deposit.  The inventory in the stores is akin to 'ounces in the ground'.  An improving economy provides higher incomes and the confidence to pay higher prices for jewelry.  As the price of gold rises, so does the margin on gold products, especially collectibles.   What's more, the lower price of gasoline means more spendable income for its customers.  Compared to Africa and Southeast Asia, DGSE is located in the politically mining-friendly USA.
So if you want the benefit of a leveraged play on gold without the use of margin or derivatives, look at DGSE.  If you like the ease of buying and selling a NYSE-listed stock, look at DGSE.  If you want to see and touch your investment, take a road-trip to Dallas and actually look at DGSE.
Note:  Brad Hartung writes the blog, Small Cap Pirate, and is the editor of the Left Coast Speculator.  You can see more of his stories at:  bit.ly/1Vlx0y3.
Category: Penny Stocks to Buy