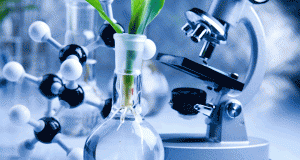 Big biotech is about to go on a shopping spree to replenish their pipelines as many small cap biotechs are selling for lows not seen since 2011. Here are three likely candidates that might get snatched up soon for big premiums.
Few sectors of the stock market have been hit harder in 2016 than the biotechnology space. Through the first week of February, the bellwether biotech ETF, iShares NASDAQ Biotechnology (NYSE: IBB) is down 27% and recently hit a new 52-week low. In contrast, the S&P 500 Index has dropped by over 8% during the same time period.
With unfettered panic sweeping the market over the past few weeks, many investors have been wringing their hands about risk and valuation which is why biotech stocks have been hammered so hard. Interestingly, the swift decline in the value of small cap and microcap biotech stocks in particular could result in an M&A run on stocks in this segment given that they offer a great value following the steep drop in stock prices. After all, Big Pharma could enhance its drug development portfolio faster and cheaper by acquiring select revenue-generating companies or those with drugs in the middle-to-later stages of development rather than spending years and potentially greater funds on its own development. With that in mind, I have identified 3 small biotech companies that could emerge as takeover candidates this year.
Inovio Pharmaceuticals Inc. (NASDAQ: $INO)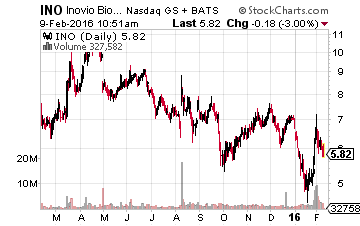 As a leading immunotherapy company, Inovio's treatments target cancer and as a vaccine developer, the company seeks to fight various infectious diseases. Inovio boasts many high profile partners and collaborators including MedImmune, Roche, University of Pennsylvania, DARPA, NIH, National Cancer Institute, the U.S. Military HIV Research Program, and others. The company has over a dozen studies in varying stages from preclinical to Phase II, most of which are funded with partner entities cited above.
With so many arrows in its quiver, it is easy to say why a potential acquirer would consider circling the wagons on this one. The stock is very active, trading over 1.5 million shares daily and on the strength of its portfolio, I could see INO potentially spinning off or selling the company in two pieces (cancer and infectious diseases) down the road or at the very least sell the licensing technology to two buyers thereby creating the greatest shareholder value. With a series of potentially favorable development milestones ahead, my near-term target price is $9, a 50% rise from current levels.
Pain Therapeutics, Inc. (NASDAQ: $PTIE)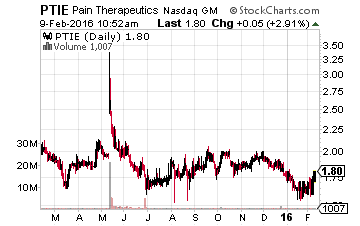 It is a true rarity to find a small cap biotech company that is on the cusp of generating even nominal revenue. Pain Therapeutics, however, is one of those companies.  Pain Therapeutics owns world-wide commercial rights to its lead drug candidate, REMOXY Extended-Release Capsules CII, a unique, twice-a-day formulation of oral oxycodone. The drug, which completed Phase III clinical trials and is a candidate for FDA approval in the coming quarters treats and manages moderate-to-severe pain when a continuous, around-the-clock opioid analgesic is needed for an extended period of time.
In my view, PTIE is a compelling acquisition to companies in the pain management space, and it carries limited risk. Not only could PTIE receive approval this year and generate up to $15 million in revenue (according to a Yahoo! Finance estimate), but the company has $35 million in cash along with other early stage drugs in its pipeline. With a paltry $80 million market cap, a buyer paying even $160 million would not be engaging in much risk given the cash position and low $4 million quarterly burn rate, plus the potential of a near-term product approval, which could result in revenue this year. Therefore, my target price is $3.50, which is essentially a double from here and just under the stock's 52-week high.
Raptor Pharmaceuticals Corp. (NASDAQ: $RPTP)
Raptor continues the theme of small, low valuation/revenue generating biotechs that could be ripe for a takeover by opportunistic buyers. The company is a commercial-stage, global biopharmaceutical firm that develops and commercializes therapeutics for rare and potentially fatal orphan diseases. Raptor has a deep portfolio including two approved products, PROCYSBI, and QUINSAIR. PROCYSBI treats a medical condition called nephropathic cystinosis while QUINSAIR, provides a rapid delivery of anti-biotic therapy for chronic lung infections. QUINSAIR is currently only approved in the EU and Canada but is expected to be awarded FDA approval in the U.S.
Wall Street forecasts sales to rise from $95 million in 2015 to $120 million in 2016. At a current market cap of roughly $300 million, RPTP trades for less than 3x revenue which is unheard of for a company of this size and accomplishment. Surely sales could be bolstered further by the U.S. approval of QUINSAIR. In my view, these shares could bring at least 5x revenue in a buyout, given the revenue run-rate, multiple patents, and pipeline of future products. As a result, my target price is $7.00 which is near a 100% gain from current prices.
Bret Jensen thinks differently from most investors, and he is asking you too as well. In his 3 newest reports, he reveals his top 5 biotech stocks to buy now and reveals compelling research why these stocks are imminent buyout candidates and are about to hand their shareholders massive paydays. There's still time left to invest and Bret is giving away the tickers for free. Just click the link below.
Click here for the names of his top 5 picks in the small cap biotech sector.
Category: Biotech Stocks