Right now, investors are snatching up retail stocks like hotcakes.  They simply can't get enough of them.  And it all has to do with the Black Friday sales figures…  
Amazingly, shoppers spent a record $52.4 billion.  And that's over 16% higher than last year according to the National Retail Federation.  It looks like Americans have been saving up to take advantage of all the big holiday discounts. 
But I'm not putting too much faith in the rally.  In fact, I think it will be short-lived.
With all of the huge discounts retailers offered up, it makes sense they did so well.  But as the year comes to a close, consumer demand will likely peter out.  A push this strong can't last forever… especially with the economy slowing down.
While the retail rally looks limited, there's another sector that's long overdue for a big pop… junior gold mining stocks.  
There's no doubt, gold is the hot investment of 2011.  In fact, the precious metal is up over 20% for the year.  That's much better than the S&P 500 index which is down around 5% on the year.
But junior gold mining stocks are not following suit.  Take a look at the chart below…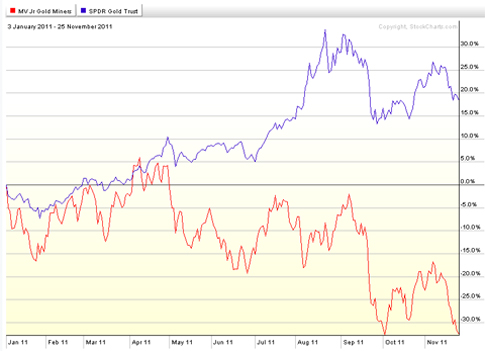 As you can see, the Market Vectors Junior Gold Mine ETF (GDXJ) is down by over 30% on the year.  And it's vastly underperforming the SPDR Gold Trust ETF (GLD) price!
It's quite curious why junior gold mining stocks aren't keeping pace with either the broader markets, or more importantly… the metal itself.  It only makes sense that these companies should.  They'll become more profitable as the value of the gold they unearth rises.  And as their profit rises, so should the value of their stock.
Why such a huge difference in GLD and GDXJ?
The thing is, gold is often used as a safe haven play these days.  It provides protection against fiat currencies and inflation.  So investors have been scooping it up left and right with all the debt concern in the US and Europe.
The problem for GDXJ is it's made up of small cap and micro-cap companies. 
Small and micro-cap stocks will always sell off faster than much larger companies.  And in the current market environment, many companies have been sold off without a good reason. 
It's just like throwing the baby out with the bathwater. 
But the fact remains, gold is stabilizing right now.  And the debt issues in the US and Europe are far from resolved… which will keep gold moving higher.  In fact, a number of experts are calling for gold to top $2,000 an ounce next year!
The bottom line… 
Junior gold mining stocks present an excellent buying opportunity right now.  As gold resumes its move higher, gold miners will receive higher prices and improve their bottom lines.  And as profits improve, these stocks should surge higher.
Consider adding some select junior gold mining stocks or GDXJ to your portfolio now.  You don't want to miss out on a golden opportunity…
Until next time,
Brian Walker
Category: Gold Stocks, Penny Stock Alerts, Penny Stocks to Buy