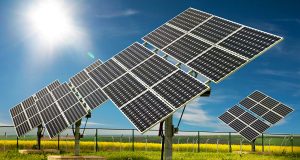 While it's been a tough year for stocks in general, for solar stocks, it's been even worse.  To put it bluntly, the solar industry has gotten demolished in recent months.
The Guggenheim Solar ETF (TAN), the most popular solar ETF, is down a whopping 62% year to date.  And at a current price of $2.76 a share, it's a far cry from the 2008 high of almost $30.
Clearly, investors have all but abandoned this once promising industry. 
So what gives?
The downfall of solar stocks is due to a combination of factors… basically all happening at the same time.  You could almost consider it the perfect storm. 
For starters, the global economy nosedived. 
That meant less money for individuals and companies to spend on non-essential items like renewable energy.  Even if the long-term cost savings from solar energy far outweigh the short-term costs, many could simply not afford the upfront investment.
What's more, the sluggish economy took (and is taking) its toll on government spending.  Subsidies and government purchases are seeing a serious decline as austerity measures have come to the forefront. 
As an industry which relied heavily on subsidies to get off the ground, this cut in government assistance couldn't have come at a worse time for solar companies.  In the US, the failure of solar company Solyndra – a recipient of large amounts of government cash – certainly didn't help.
And that's not all…
To make matters worse, the price of oil plunged. 
Renewable energy, like solar and wind power, is generally more expensive than traditional fossil fuels such as oil and coal.  But in recent years, oil prices had climbed high enough to justify a switch to greener forms of power.
However, as the economy slowed, oil prices also dropped… and so did one of the main incentives to switch to solar.
Finally, solar panels have dropped significantly in price. 
Wait, isn't more affordable solar power a good thing?  It is… in the long-term.  I'll get back to that in a minute.  In the short-term, cheaper solar panels mean less revenue and lower margins for solar companies.
You see, the slowdown of the economy led to a sizeable inventory surplus of solar equipment.  At the same time, solar technology continued improving, making products cheaper to produce.
As you can tell, the solar industry took a beating for good reason.  However, I think solar stocks have hit rock bottom.
And now's the time to buy.
Here's the deal…
As I mentioned above, cheaper solar panels are a good thing in the long-run.  It means more people and companies can afford them.  Moreover, oil prices are once again on the rise. 
In other words, we're entering a period of higher oil prices and cheaper solar equipment.  Sure sounds to me like a recipe for increasing demand. 
Many solar companies are penny stocks (for now), so there are plenty of options.  But a good way to gain broad exposure to the solar industry is through TAN.  At $2.76 a share, you won't get a much better entry point.  And if you're willing to be patient, the investment could pay off in a big way.
Yours in profit,
Gordon Lewis
Category: Solar Stocks