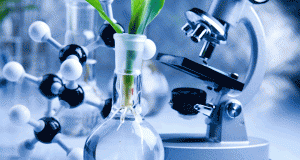 Biotech stocks took a tumble last week, but for the long-term investor these valuations are a gift. Snap up shares of these four promising stocks for a discount today and take advantage of these too-low prices.
Last week was brutal for biotech investors. The main indices dropped more than six percent just in Tuesday's and Wednesday's trading sessions. The biotech sector had spent most of the past two and half months trading in a relatively tight range since an over 15% gain in July. Once again, the 180-degree shift in sentiment was triggered by politics.
Specifically, worries around the impacts from Donald Trump's presidential aspirations imploding and what appears to be a civil war within the Republican party weeks before the election played havoc with this part of the market. Concerns have increased surrounding the likelihood of a "clean sweep" for Democrats in November. The market is interpreting that as meaning there will be more regulatory and legislative actions that would negatively impact both the pharma and biotech sectors.
I personally believe the Senate will now "flip" to the other side of the aisle. That will have impacts to the make-up of the Supreme Court for a generation. However, given how gerrymandered the House districts have become, the high negative ratings of both candidates and the fact that two-thirds of the nation think the country is heading in the wrong direction, a "clean sweep" is still only a one-quarter to one-third possibility in my view. Three to six months from now we may look back and realize this was a great buying opportunity in retrospect. In the meantime, investors will just have to sweat out the election results together and those of us intrepid enough will do some incremental accumulation during the run-up to the election.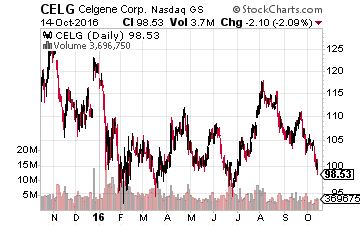 Here are a few names across a variety sectors of the industry I am not hesitant to add to during this pullback. For large cap growth names or "Tier 1" stocks, one has to like Celgene (NASDAQ: CELG) at around $100 a share. The biotech juggernaut should produce $11 to $12 a share in earnings by 2020 and is cheap given that growth trajectory. Mylan (NASDAQ: MYL) is also cheap at around $38 a share. The company has recently guided to $6.00 a share in earnings by 2018. The company has also quickly moved to put its recent EpiPen pricing scandal behind it by recently settling with the government. J P Morgan, Raymond James, and UBS all reiterated Buy ratings on this name last week. They peg Mylan's intrinsic value from the low $50s all the way up to $60 a share.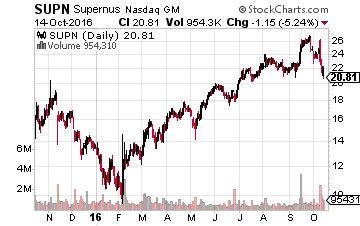 In the "Tier 2" category or smaller cap concerns that have achieved profitability, one has to like Supernus Pharmaceuticals (NASDAQ: SUPN) at current levels after a recent pullback. The company launched two drugs aimed at epilepsy in 2014 that are showing almost 40% year-over-year script growth. In addition, it has several products it receives royalties from that are marketed and distributed by larger players like Shire (NASDAQ: SHPG). The company also has two mid/late stage compounds targeting attention-deficit hyperactivity disorder (ADHD) which is at least a half-billion-dollar annual market, one of which delivered positive Phase II results last week.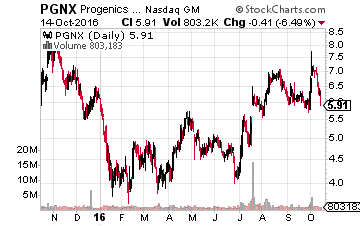 For "Tier 3" stocks, small companies with approved products but are not quite profitable yet, Progenics Pharmaceuticals (NASDAQ: PGNX) is a strong name to own. The oral version of its primary compound, relistor, was approved in July by the FDA. The compound does nearly $17 million a quarter in gross sales currently but was only available in an injectable version prior to this approval. Analysts expect approval of the oral version to at least triple sales of relistor over time.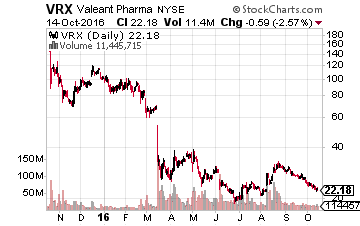 Approval also triggered a $50 milestone payment from marketing & distribution partner Valeant Pharmaceuticals (NYSE: VRX). Progenics earns between 15% and 19% on every dollar of revenue and is also eligible for $200 million in additional sales milestones. In addition, pipeline asset Azedra could soon be a positive catalyst. This is a late-stage drug candidate being developed for the treatment of malignant pheochromocytoma and paragangliom which looks like it is on its way to approval and could be on the market by late 2017. One analyst has estimated $300 million in annual peak sales for this compound. The company has just a $450 million market capitalization with some $120 million in cash and marketable securities on its balance sheet.
For "Tier 4" stocks, or strictly developmental firms with no approved products as of yet, Redhill Biopharma (NASDAQ: RDHL) stands out currently. The stock has withstood this recent pull back very well, is seeing progress with its pipeline and has upcoming catalysts. This Israeli-based biopharma should have two important Phase III readouts out for its compound to treat Crohn's disease over the next few quarters. It should also resubmit its compound to treat migraines as a New Drug Application (NDA) in the first half of 2017. A Phase II readout for its drug candidate for Multiple Sclerosis should also be out before the end of this year. Three analyst firms have reiterated Buy ratings on Redhill in October with price targets ranging from $26 to $36 a share. The stock currently trades around $14 a share.
Those are a few ideas for long-term investors with "dry powder" to deploy while we all hunker down and await the outcome of the presidential election, which cannot come soon enough. The one thing the market hates above all else, after all, is uncertainty.
The human race sits at an inflection point right now regarding the future of medicine and our quality of life. Never before have we been on the verge of eradicating so many different kinds of debilitating diseases than we are today.
Groundbreaking new treatments are on the verge of curing cancer, Alzheimer's, diabetes, and the worst of diseases we face today.
And it is these miracles of science that are making the biotech sector one of the hottest long-term investments on Wall Street that you can invest in right now.
Investing in this sector, however, is no cakewalk, and I have learned that lesson over decades of successfully investing in this sector. That's why I decided to put my strategy down into a newsletter and help the investing community join me as we ride the wave of technological innovation in this sector.  
My service, Biotech Gems, will give you a roadmap to navigate the most technologically advanced and promising companies in the biotech and biopharma sector.. the kind of companies that lead to triple-digit gains and more.
Positions: Long CELG, MYL, PGNX, RDHL, and SUPN
Category: Biotech Stocks