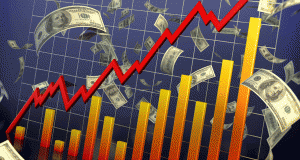 Offering compelling value and rich upside, two increasingly rare qualities now that the market flirts with all-time highs, these four stocks should either be on your watchlist or in your portfolio. Overpaying for stocks is one of the surest ways to limit your returns.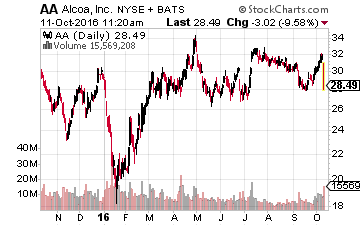 Alcoa (NYSE: AA) opened up third quarter earnings season this week. Going into quarterly reports, analysts were expecting that earnings would be down a little more than two percent within the S&P 500. Profits should come in slightly better than the consensus as they do almost every quarter. However, the third quarter should be the sixth one in a row that profits within this benchmark are lower than the same period a year ago.
With oil prices firming lately and domestic GDP growth projected to bump up to at least two percent through year-end, maybe we will actually see earnings advancing in the fourth quarter. For right now, equities remain firmly locked in a "profit recession". With stocks trading at some 19
With stocks trading at some 19 times earnings and above historical norms, the market feels at least slightly overbought here. This is especially true in some areas of equities like Consumer Staples and Utilities.  These are two sectors that are showing little to no growth but have been bid up to very stretched valuation levels by income investors desperate for any sort of yield.
Although I feel the overall market has probably hit its highs or is close to them for the next six months or so, there are still pockets of value within equities. Biopharma is one such area of the market that seems significantly undervalued here. This industry usually trades at a premium to the overall market but currently trades at a discount thanks to strong rhetoric around drug price gouging as well as uncertainty with the upcoming election.
A good portion of this should be resolved within a month. As of right now, it still appears the most likely outcome after November is a divided government which will not be able to make meaningful legislative changes on the industry when the new congressional session adjourns. In addition, political focus should shift to other subjects like needed additional infrastructure spending to repair roads, bridges and other areas of need which is one of the few areas that both parties mostly agree on tackling early in 2017.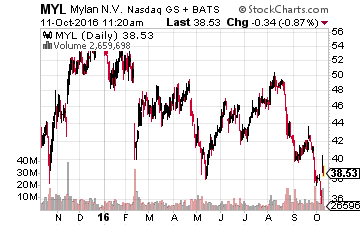 Let's start with Mylan (NASDAQ: MYL), one of the cheapest stocks in the S&P 500. The company just agreed to a settlement with the government for not giving the proper amounts of rebates on its EpiPen products which have drawn scrutiny recently. The company did lower guidance somewhat to account for these recent challenges but still should make between $4.70 to $4.90 a share in earnings this fiscal year, a nice boost from last year. The company is also projecting that it will earn $6.00 a share by 2018. Given that earnings growth, its stock price of around $40.00 a share is way too cheap.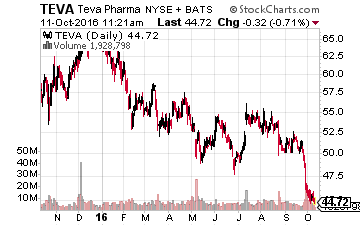 Teva Pharmaceuticals (NASDAQ: TEVA), the largest generic drug maker in the world is also very cheap here after a recent pullback in its shares. The stock goes for under nine times this year's earnings or half the overall market multiple. The shares also yield three percent.  The Irish drug giant
The Irish drug giant Allergan (NYSE: AGN) also looks like a good growth play at current levels. The company sold its generic business for some $40 billion to concentrate on its faster-growing branded drug portfolio. The company is also investing some of that money into making small acquisitions to expand its pipeline and bolster future growth. Earnings and revenue growth will be basically flat this year as the company transitions. However, earnings next year should advance some 20% on nearly a 10% advance in revenues. The stock is attractively valued at 15 times those forward earnings.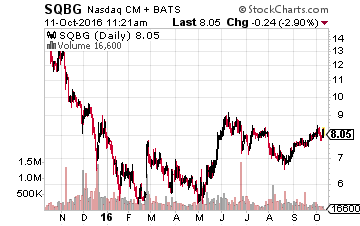 The retail space is starting to become more attractive to me recently. Sales should be bolstered as the economy picks up speed from the anemic pace of the past three quarters. The holidays are just ahead, wage growth is improving and consumer confidence is quite solid. One of my favorite retail plays continues to be brand management company Sequential Brands Group (NASDAQ: SQBG) which has gotten stronger recently as we head into fall.
The company doubled its sales footprint in 2015 by buying the rights to the likes of Martha Stewart and Jessica Simpson branded products. Earnings should come in relatively flat this year at 45 to 50 cents a share as the company consolidates these recent purchases into its overall operations and rolls them out to new channels and markets. Next year will be the start of the payoff as earnings per share are expected to jump more than 50% as the company posts between 70 and 85 cents a share in profit in 2017. The stock is cheap given that earnings trajectory at just over $8.00 a share.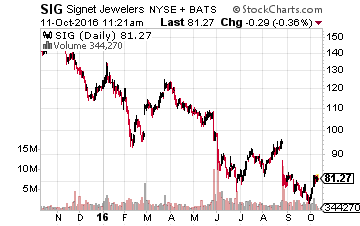 Finally, Signet Jewelers (NYSE: SIG) is starting to recover from a deep decline caused by poor jewelry sales across the sector over the past few quarters and a scandal that appears limited to few of its stores. Insiders also bought a significant amount of new shares over the summer. The stock sells for 11 times this year's profits, a significant discount to the 15 times earnings multiple the shares have averaged over the past five years.
In an overbought market, these names still offer plenty of value at current prices. As I said above, I believe that the biotech sector still holds the most potential out of any other sector in the market.
The human race sits at an inflection point right now regarding the future of medicine and our quality of life. Never before have we been on the verge of eradicating so many different kinds of debilitating diseases than we are today.
Groundbreaking new treatments are on the verge of curing cancer, Alzheimer's, diabetes, and the worst of diseases we face today.
And it is these miracles of science that are making the biotech sector one of the hottest long-term investments on Wall Street.
Biotech Gems exists to help you capture gains from breakout stocks developing new treatments, near-term announcements from the FDA, and overlooked drug trials that can lead to huge gains in the market.
Positions: Long AGN, MYL, SIG, SQBG & TEVA
Category: Breaking News