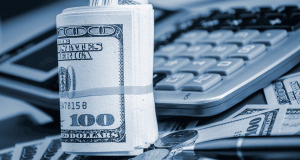 Buy shares in these three companies about to rally from their undervalued lows. Trading for under $10 each, these stocks are much too cheap for their growth prospects.
In my last column I noted that I am becoming increasingly cautious on equities after the recent rally in the market. My cash allocation is up to 15% of my overall portfolio and the majority of my holdings are in large cap blue chip stocks trading at attractive valuations and paying solid dividend yields. That does not mean that my entire portfolio is chock-full of holdings that look set to hit "singles." There are some great values in the small cap part of the market after many sectors have undergone their own "stealth" bear markets over the past six months, particularly biotech. Here are three small cap stocks that currently sell under $10 a share, but are deeply undervalued within the current market.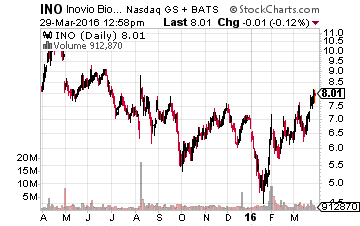 Let's start with small vaccine maker Inovio Pharmaceuticals (NASDAQ: INO) that has held up remarkably well given the over 40% decline in the biotech sector since late July of last year. The company has been in the news recently as it is one of several firms trying to develop a vaccine to the Zika Virus. That, however, is not its main attraction. First, the company has an extensive pipeline of emerging vaccines that are moving along in development. Second, more than 25% of its roughly $575 million market capitalization is represented by net cash on its balance sheet. It is well funded for all of its development at least through 2018. This is important given how demand for secondary offerings for small biotech concerns has almost completely dried up in the past couple of months, pushing down the stock prices of most companies that need to raise funding in the foreseeable future.
Inovio has numerous trial milestones in 2016. One of the more intriguing vaccines the company has in its pipeline is its INO-3112 immunotherapy compound. It reached a collaboration deal with larger MedImmune around this focus area in the summer of 2015 which granted Medimmune is exclusive rights to INO-3112 immunotherapy. Inovio received $27.5 million dollars as an upfront payment and will receive performance milestone payments up to $700 million dollars upon reaching development and commercial milestones. In addition, Medimmune will also fund all development costs associated with the study and has agreed to pay Inovio double-digit tiered royalties upon commercialization of INO-3112. Inovio plans to initiate human trials in 2016. Inovio currently trades for right around $8.00 a share. The four analysts that cover the firm have price targets ranging from $13.00 to $31.00 a share on the stock.
RELATED:  Safeguard Your Money By Creating Your Own "Set It and Forget It" Investment Plan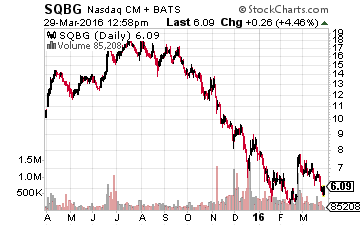 Sequential Brands Group (NASDAQ: SQBG) continues to be severely undervalued by the market. Sentiment has been fairly dismal on this brand manager primarily due to problems at competitor Iconix Brand Group (NASDAQ: ICON) that have caused that stock to fall some 75% over the past year. However, Iconix's issues are company specific including some accounting irregularities.
Sequential, on the other hand, had a transformational year in 2015 buying up the licensing rights to Martha Stewart's brand, Jessica Simpson's apparel lines, and Joe's Jeans. The company doubled the amount of total sales of its brands under management to some $4 billion a year of which Sequential takes a small royalty. In return, the company has little to no inventory or manufacturing risk as it does not perform production.
Sequential is a master of ramping up sales by more effective marketing through various channels like the internet. 2016 should start to see these acquisitions start to pay off in a significant way. EBITDA should grow some 60% this fiscal. At $6.00 a share, the company is selling for approximately four times this year's projected EBITDA. The stock had a big rally after it crushed earnings expectations and raised guidance during its last quarterly report late in February. That rally has since completely faded, offering another opportunity to get the shares on the cheap.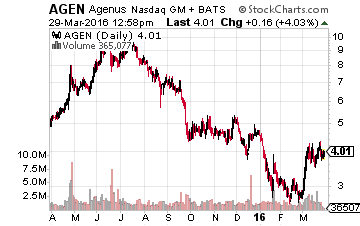 Going back to biotech, beaten down Agenus (NASDAQ: AGEN) has moved up some 30% over the past month but still is 60% below 52-week highs. This company has everything an investor should want in a promising but speculative development concern. It has a deep and evolving pipeline including more checkpoint inhibitors in development than any other play in the immunotherapy space. The company has numerous trial milestones in 2016 any one of which could be a potential positive catalyst to the stock.
The company also has some $170 million in net cash on the balance sheet – approximately half of its overall market capitalization at this time. Agenus will not be coming back to the till to fund development any time soon. In addition, it has major collaboration deals with both Incyte (NASDAQ: INCY) and Merck (NYSE: MRK) which provides development expertise as well as further alleviates any need for development funding. Finally, it has solid analyst support with the five analysts that follow the company having $7.00 a share to $15.00 a share price targets on the stock. Agenus, even with its recent rally, sells at right around $4.00 a share.
Bret Jensen thinks differently from most investors, and he is asking you too as well. In his new report, he reveals his top 3 safest blue chip stocks to buy now and reveals his proprietary, step-by-step research for building a recession-proof… crash proof… fool proof system to make every dollar invested work harder for you. See what all the hype is about for America's first "set it and forget it" investment plan.
Click here for the names of his 3 Buy and Hold Forever Stocks for 2016
Positions: Long AGEN, INO, SQBG
Category: Penny Stocks to Buy