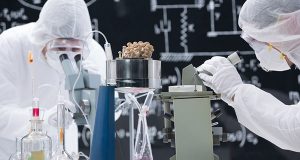 New drug approvals and the rollout of just-commercialized products will be the catalysts that send these undervalued stocks rallying. Negative sentiment has dropped their prices so low that any rally from these prices could return investors explosive gains.
Despite four straight weeks of gains in the S&P 500, the biotech sector continues to be mired in its deepest and longest bear market since the financial crisis ended in 2009. The industry has not been helped by all the election-driven focus, tweets, and congressional hearings on drug price "gouging" as well as a dearth of IPOs and Merger & Acquisition activity so far in 2016 compared with previous years.
I continue to advocate that 50% to 75% of one's overall biotech holdings should be in the large cap names within the sector, depending on an individuals' risk preferences. This will lower the overall volatility of your portfolio and make it easier to weather this type of downturn that occurs frequently in this lucrative but volatile market of the market. This is especially true now as large cap names are selling at a discount to the overall market and are at their lowest valuations since at least 2011.
The small cap portion of the biotech sector has absolutely been decimated over the past six to seven months with many names down 50% to 75% simply because sentiment has gone ice cold on concerns in this most volatile part of the biotech complex. I am finding some great values here with much more attractive risk/reward profiles than have been available since the last bear market around biotech in the first quarter of 2014. I am primarily focusing on small cap companies with upcoming catalysts that could substantially trigger a rise in their stocks. Here are a few I have either purchased or added to core stakes in recent months.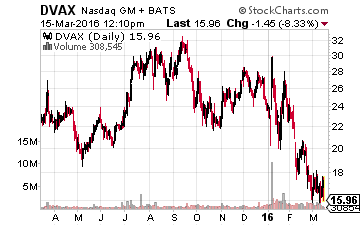 Let's start with Dynavax Technologies (NASDAQ: DVAX). The company should file a New Drug Application (NDA) with the Food & Drug Administration any day now for its hepatitis B vaccine HEPLISAV – B. The company has stated previously this would be submitted by the first quarter of this year. This is a superior treatment to the current standard hepatitis B vaccine which is marketed and distributed by drug giant GlaxoSmithKline (NYSE: GSK). Not only did HEPLISAV-B clearly demonstrate superior protection levels in a recent over 8,000 subject trial but it is also administrable in two doses instead of the three doses for Glaxo's product. I expect the treatment to be on the market by the end of 2016 and to eventually garner the lion's portion of the $600 million to $700 million annual market.
But Dynavax is hardly a one trick pony. It has an asthma drug it is developing with partner AstraZeneca (NYSE: AZN) that is in Phase 2 trials as well as a promising oncology compound "SD-101" in mid-stage development. The company has a market capitalization of just $650 million. This is much too cheap given its pipeline and upcoming catalysts; especially given it has some $200 million in net cash on the balance sheet.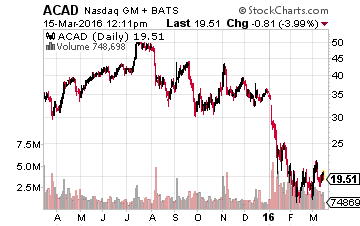 A higher-risk bet is ACADIA Pharmaceuticals (NASDAQ: ACAD). It has a PDUFA in May with the FDA on its compound NUPLAZID™ known also as Pimavanserin. This is potentially the first drug that may be approved in the United States for psychosis associated with Parkinson's disease. This compound is currently in regulatory review after successful Phase 3 trials. This condition afflicts approximately 40% of the nearly one million Parkinson's patients in the United States. There are four to six million people with Parkinson's globally. Approval is highly likely in early May of this year. This compound is also in trials for other treatment indications.  This stock traded north of $50.00 a share before the big downturn in biotech started last July. It now trades at $20.00. The median price target by the 11 analysts that currently cover the company is $47.00 a share, some 135% above its current price.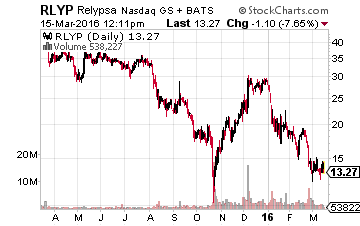 Finally, we have Relypsa (NASDAQ: RLYP), a stock that has gone from $35.00 a share this summer to currently under $15.00 a share despite nothing but good news from the company. Late last year the company's first product "Veltassa" was approved for the treatment of Hyperkalemia by the FDA. This is a condition where too much potassium builds up in the blood and is found in patients with a variety of cardiovascular conditions.
This is the first new approved treatment for this condition in several decades and it is a potentially lucrative market of some $2 billion in annual sales. Initial sales have been solid but the stock has been hurt by concerns the company may have to raise capital to expand the rollout of Veltassa despite some $300 million in cash on hand. These concerns are overblown and should dissipate as the company continues to show accelerating sales of Veltassa in the weeks and months ahead.
The company's primary competitor in the space is ZS Pharma (NASDAQ: ZSPH) which still has not gotten its product for the Hyperkalemia market approved by the FDA. That did not stop AstraZeneca from purchasing it at a substantial premium in early November of last year. Relypsa has also been a frequently mentioned buyout target as these two firms are expected to eventually split the lucrative Hyperkalemia market. Folding Veltassa into an existing sales force would be hugely accretive to a larger player even with a substantial purchase premium. Either as a standalone entity or part of a larger concern, the stock is much too cheap at just a $600 million market capitalization. The median price target by the 10 analysts that cover the stock is $43.50 a share, more than triple its current level in the market.
The three stocks that I detailed today have great potential, but there is one such opportunity right now that I cannot be more excited about and that I would like to share with you. It could be my most lucrative investment yet, and there is still time for you to join me. This company is revolutionizing how heart disease is treated and cured throughout the world, and in a few years could be flush with $10 BILLION a year in sales from this just approved drug.
An opportunity like this does not come around often, and all the signs are pointing to this being the kind of investment that could change your life. This isn't some high-risk small cap investment either. This company has flourished throughout bear markets, recessions, and more for the last thirty years and is just now tapping into a goldmine that will propel its stock to new highs.
I invite you to click the link below to learn more about this once-in-a-lifetime investment opportunity.
Click here to learn more about this $10 BILLION opportunity.
Positions: Long ACAD, DVAX, and RLYP
Category: Biotech Stocks