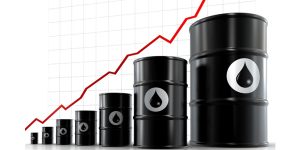 The doom and gloom crowd is at it again.  I swear, these people look for any excuse to call for a severe market downturn, economic collapse, alien invasion, and – well you get the picture.
This time, the bears are out in force because of the rising price of oil.
Now don't get me wrong, high oil prices are a problem.  They can be a serious drag on the economy.  And since the economic recovery is still in its early stages, any setbacks would be particularly bad news.
However, I'm not all that worried.  I still think we're in decent shape for economic growth in 2012.  What's more, we may even be able to profit off this short-term spike in oil prices.
Here's the story…
Iran is looking to destroy the world… or something.  And since Iran is a major oil producer, the threat of war is causing the price of crude oil to spike.
In fact, after trading in a fairly tight range between $95 and $100 per barrel since November, the price of oil has surged over $105.  Gas prices have also risen in step, reaching $3.58 per gallon on average last week.
Clearly, higher gas prices aren't a good thing for the economy.  More money spent at the pump means less money spent on other goods and services.  And, it makes transporting goods more expensive… which shows up as higher prices on those products.
But as I said earlier, I'm not all that worried.
Iran has a history of saber rattling.  I don't think they're really looking to go to war.  Keep in mind, most of the world is aligned against them.  This recent spat should blow over in the not too distant future.
In other words, the price of oil won't stay elevated long enough to derail the growing economy.
In the meantime, there are ways we can profit from higher oil prices.
You see, there are a host of small companies engaged in oil production and exploration.  And most of these penny stocks benefit from higher oil prices.  Basically, their costs stay the same but revenues from oil increase.
If the price of oil remains elevated in the coming weeks, small oil production companies could turn in better than expected quarters.  And that's clearly a good thing if you own those stocks.
Take a look at penny stock oil producers if you want to cash in on rising oil prices.  But, don't worry about the economy.  We're still on the path to recovery.
Yours in profit,
Gordon Lewis
Category: Commodity Stocks, Energy Stocks, Oil Stocks