What You MUST Look For In Top Penny Stocks… And WHY!?!
Over the weekend, I was at a horse show – Yes, my significant other was showing off her riding skills.  (If you're curious, she placed Second and Third overall on her two horses… so yes, she's good!)
One of the joys of these events is being a spectator. (That's my roll.)
A lot of time is spent "in the back" by the stalls.
The riders are putting on and taking off gear, and caring for and grooming horses.  The non-riders like me sit around drinking wine (in the afternoon of course…), eating snacks, and socializing.
It's a day long happy hour!
Well of course I get asked about investments all the time… One fellow spectator started talking about the markets… and she asked, "Where do I find a Top Penny Stock?"
Interesting question…
Finding the Hot Top Penny Stocks of the day is a great way to identify exciting penny stocks.  You'll be exposed to new ideas… and hot stocks.
Just so we're clear, a top penny stock to me is a stock making a new lifetime high (or 52-week high).
But not every stock reaching a new high is worthy of your hard earned investment dollar.
Don't Get Fooled By FAKE Top Penny Stocks
You may not realize it but there are FAKE top penny stocks out in the market.
Fake penny stocks are all over the place… these can be horrible companies… companies with Zero business prospects… or even penny stocks being hyped by Pump & Dump Scammers!
Let me give you an example…
In 2014, if you were searching for Top Penny Stocks, you would have seen this company… Med-Cannabis Pharma $MCPI.
Just look at this crazy chart.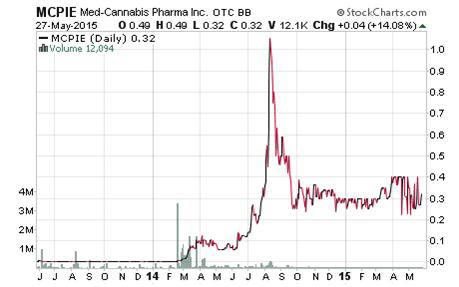 I know what you're thinking… What the heck happened there?
This was a stock that got caught up in the medical marijuana craze from 2014.
The problem is… this business is CRAP.
Sorry – I had to sugarcoat my true feelings!  Look, do a bit of research on this company… It took me five minutes to find their public filings on SEC.GOV.
Here's the details… In 2014, the company had a whopping $14,763 in cash.  Yep, $14 grand.
Liabilities were $361,197… that's more than $350K in debt.
Hmmm… sounds like a company is upside down to me.
I kept digging.  This top penny stock also had ZERO revenue… Yes, I had to check it a second time… Zero revenue, yet a whopping $299,000 in expenses.
So… Here's a top penny stock with no business, no sales, no assets, and a boat load of expenses and liabilities.  That's what I call a fake company… and despite this stock being up some 30,000% in 2014, I call it a fake top penny stock.
So obviously sidestep the fake companies and … I'm sure I don't need to say it… but if you see a stock being promoted… a pump and dump in action is something to stay far away from.
Now that I've scared you… I'm sure you're wandering…
How Do I Identify Real Top Penny Stocks?
This is a great question.  We know what to look for in fake penny stocks.  But, how do we find real ones?
There's an easy way to tell the two apart…
Look for these three hot tips:
First… look for revenue growth.
No revenue?  Then it's not a real company (at least most zero revenue companies aren't real in my mind).  If they have revenue, great.  Now ask yourself how fast their revenue is growing.
The companies with the biggest revenue growth are top stocks to focus on.
Tip Number 2… look for real financials.  
If the company's not posting results and filings with the SEC… then you probably want to pass.  If they have tiny amounts of cash and huge debts, be wary.  And if the top penny stock is losing money… that's ok, but they shouldn't lose too much.
The Final Tip… number 3 is to look for solid management.  
Does the CEO and CFO have a track record of success?  Have they worked in well known businesses and shown some solid success?  Or, were they convicted felons… (That's a red flag by the way!)
Looking at these three areas will help eliminate most of the garbage stocks, and what's left over will be a top penny stock to dig deeper into.
So, that brings me to the next question…
What To Do Once You Find A Top Penny Stock…
You do your due diligence.
You've found a top penny stock and you know it's not a scam or fake company… and it's not a pump and dump… now the heavy work begins.
You've got to start that due diligence process… learn about the industry, the players, the business, and the financials.
After clearing those hurdles, you buy the penny stock of course.
Too many investors are frozen at this point.  They do the research… they identify great stocks… but they freeze up when it comes time to buy.
Shake off the frost and make your move…
Have confidence in your research.  When you find the right penny stock, it's time to buy!
Good investing…
Brian Kent
Note:  If you're interested in learning more about Brian Kent's Penny Stock All-Stars premium service… and learning about the stocks we're trading for profit… you can get the inside scoop on penny stocks here.
Category: Penny Stock Tips