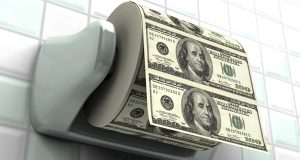 Today we're exposing one of the most popular Penny Stock Pump & Dumps of the week:  Transfer Technology International (PINK: TTIN).
That said, welcome to Pump and Dump Friday, where every week we identify at least one of the many potentially "bogus" promotions going on in penny stocks today.
If you don't know how these schemes work, be sure to check out our free report that exposes the whole thing.
Without further ado, here is today's "disaster waiting to happen":
Transfer Technology International (OTC PINK: TTIN)
Transfer Technology is like a phoenix rising from the ashes. 
The company has tried and failed at several businesses over the past 15 years.  But every so often it regroups, changes its name, and takes a shot at a new business opportunity.
The company was initially formed in Nevada in 1997 under the name DP Charters, Inc.  Since then, the company has changed names five times and tried at least three different businesses.
It's not clear what business DP Charters attempted.  But SEC filings indicate the company has tried and failed at selling golf equipment, developing software, and commercializing intellectual property.
Most recently TTIN was engaged in the sale of pest control products through its subsidiary Organic Products International.  The company's main item was Xt2000 Orange Oil for termite eradication.
However, it looks like this business suffered the same fate as those before it. 
A review of the SEC website reveals Transfer Technology failed to adequately address the agency's concerns about several filings made in 2011.  And the stock was delisted from the OTC Bulletin Board in December 2012 for failing to timely file financial reports.
TTIN now trades on the Pink Sheets.
The stock had been essentially dormant from October 2012 through February 2013.  But like a weed, it has come back to life to spoil unsuspecting investors' gardens.
In March, Transfer Technology began an extensive public relations campaign in an attempt to rebrand itself.  The company issued a series of press releases explaining it's going into the property maintenance business. 
Going forward, they plan to provide pest control, landscaping, lawn care, pool maintenance, and air conditioning related services.  My favorite press release is the one claiming Transfer is "poised to capitalize" on the $80 billion landscaping services market.
However, their most recent financial statement filed for Q3 2012 shows…
The company has a paltry $383 in cash and $2 million in current liabilities.  What's more, the company generated just $10,000 in quarterly revenue, posted an $8,000 quarterly net loss, and has racked up an accumulated deficit of $48 million.
I'm not sure how this company is poised to capitalize on anything!
In addition to the press release barrage, the company has mounted an extensive stock pumping campaign through various penny stock promoters.  According to StockPromoters.com, TTIN has been touted by 34 different promoters through 135 different newsletters since April 2nd.
A quick review of the site shows that many of these pumpers have been paid handsomely to promote the stock. 
For example… Growing Equity Reports, Equities Awareness Group, and Greatest Stock Picks have each been paid $10,000 for their pumping services.  And there are many more getting paid to pump TTIN.
A quick look at the chart shows the campaign is working…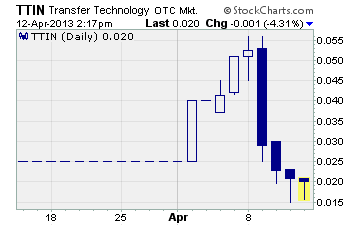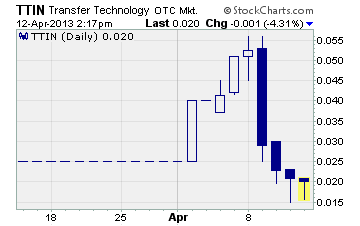 After months of inactivity, TTIN surged over the first week and a half of April.
On February 25th (the last day the stock traded prior to April 2nd), TTIN closed the day at $0.025 per share.  On April 2nd, the stock soared 60% to close at $0.04.  And it continued moving higher over the next few days.
On April 8th, TTIN hit a high of $0.056, for a five-day gain of 124%!
Looks like a hot stock right?
WRONG!
The dumping phase started on April 9th, and has continued in earnest over the past few days.  TTIN has traded as low as $0.015 this week and is currently holding on by its fingernails at $0.02 as I write.
That's a 64% plunge in four days… and today isn't over yet!
Do yourself a favor and don't get sucked into this obvious pump and dump.  There are plenty of penny stocks out there with real businesses and the financials to succeed.
Other Penny Stocks  Being Pumped This Week
Tranzbyte Corporation (OTC PINK: ERBB) – 65 promoters through 315 newsletters with compensation of anywhere from $0 and $50,000.
Massive Dynamics (OTCQB: MSSD) – 24 promoters through 144 newsletters… with compensation of anywhere from $0 to $55,000.
As you know, penny stocks are a great place to invest your money.  You just have to do your due diligence to stay away from all the schemes and scams out there these days!
Profitably Yours,
Robert Morris
Category: Pump & Dump Alerts