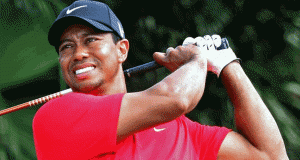 Whether you love or hate Tiger Woods "the man"… you have to respect Tiger's golf game.  For the past two and a half years, the golf world has waited for the return of the once mighty Tiger Woods.
Prior to this weekend's victory, we watched as Tiger lost so much in his life.  His fall from grace cost him a flawless image, mental well-being, a healthy body, his beautiful wife, and of course… multi-million dollar endorsement deals.
And that's a costly mistake…
At one point, Tiger's endorsements tallied over $100 million a year.  As you might guess, things have changed quite a bit since then.
After his embarrassing public sex scandal in 2009, Tiger watched as corporate giants AT&T (T), Gillette, Accenture (ACN), and Gatorade all eventually severed ties with him.  In all, it's estimated that Tiger lost over $40 million a year in endorsement deals.
But not everyone left him twisting in the wind…
Throughout this dark chapter of his life, two big brand names remained loyal to Tiger… Nike (NKE) and Electronic Arts (EA).   And while some companies have moved on to other athletes, several other companies were excited at the opportunity to snatch up a deal with the top winning PGA Tour player.
So what does this mean to us?
As penny stock investors, we now have an opportunity to invest in a company Tiger Woods is endorsing.  I'll tell you who they are in just a moment.  First, take a look at the roster of companies currently endorsing Tiger.  This is right off Tiger's website…
Nike (NKE)
Ea Sports (EA)
Net Jets (A Berkshire Hathaway Co.)
Rolex (Private)
Kowa (Private Japanese Pharmaceutical Co.)
TLC Laser Eye Centers (Private)
Upper Deck Company (Private)
Tatweer: The Tiger Woods Dubai (Tiger-designed golf community)
PGA Tour
Obviously, many of these companies aren't in the penny stock realm… and the majority of them are privately-held.
Our opportunity lies in the fortunes of nutritional supplement maker, Fuse Science (DROP).
Late last year, DROP signed a deal with Tiger just before the Chevron World Challenge (which he happened to win).  In addition, the company has signed other marquee athletes such as NFL stars Arian Foster and Ronde Barber.
So why is DROP signing such big name athletes?
In the world of sports supplements, top-name athletes add to sales… period.
What's more, Fuse makes an energy gel designed to fight muscle fatigue.  Obviously, if their athletes are winning tournaments and games, the company can boast the effectiveness of their products.
Moreover, investors have historically bought big ticket companies such as Nike in order to capitalize on the success of Tiger Woods.  That's why Tiger's endorsement deal with Fuse Science is such a big deal.
So if you think Tiger is set to make a big impact on the PGA Tour this year, you might just want to pick up some shares of DROP.
Editor's Note:  While DROP offers a great opportunity to capitalize on Tiger's success, there's no guarantee.  However, our in-house penny stock expert Gordon Lewis is on fire… picking an amazing 12 consecutive winning penny stocks!  Click here to check it out.
Until next time,
Brian Walker
Category: Investing in Penny Stocks, Penny Stocks to Buy