Three MAJOR Penny Stock Ideas For This Year…
The Penny Stock Market has been on a run… and it doesn't take a genius to see a lot of money is being made by savvy investors.
As a matter of fact, I see three distinct trends that are shaping up.
I expect them to continue running for the next few months… if not the rest of 2015.
If we catch these ideas and trends just right, we can make some serious money in penny stocks.
So what are the three Ideas?
Biotech, Oil & Gas, and Tech… Let me explain.
Penny Stock Idea #1 – Biotech
This shouldn't be a surprise to anyone.  A few weeks back we surveyed our readers and the number one industry traders thought they'd see the biggest gains… biotech.
36% of everyone answering the survey had flagged Biotech as the hottest industry for 2015.
You can see it in the values of the big cap stocks in biotech.
Amgen $AMGN – is trading near its three year highs!  Just look at the chart!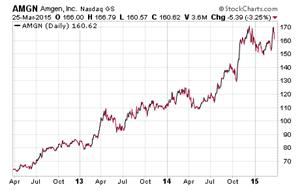 Biogen $BIIB is trading near its three year highs…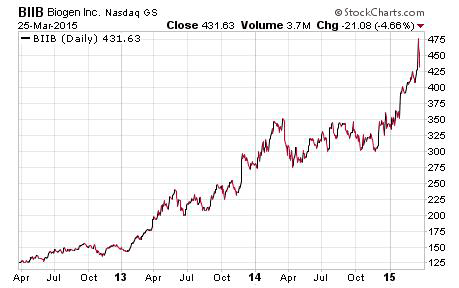 Gilead Sciences $GILD is trading near its three year highs…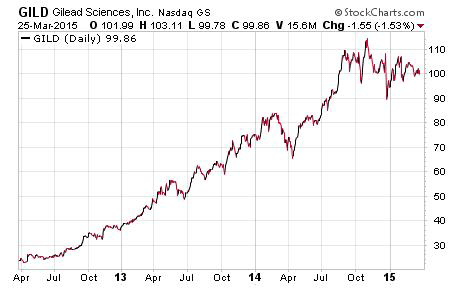 Even Novartis $NVS is reaching new highs!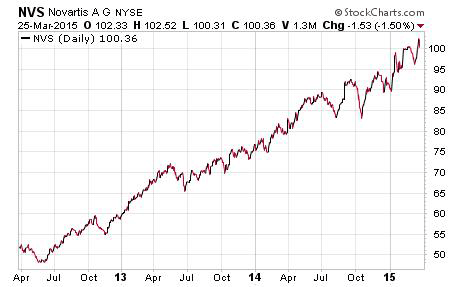 Is it any wonder biotech companies… especially penny stock biotech companies, are getting such attention?
With the valuations of the big payers through the roof, it makes them very acquisitive… And their meal of choice is the small capitalization – penny stocks in the biotech space.
If you want to capitalize on this multi-year trend, look for biotech penny stocks that are prime acquisition targets… any hint of an acquisition will send their stock prices to the stratosphere!
And while one industry is reaching new highs… another is reaching new lows…
Penny Stock Idea #2 – Oil & Gas
Look, you don't need me to tell you oil and gas companies have had the crap beat out of them.
Oil prices are down more than 50%… and it spells doom for many Penny Stocks in the Exploration & Production industry.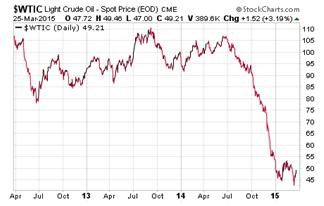 Let me tell you a hard truth.
Oil prices aren't going to recover any time soon.  And some companies are going to go BK – that's right, Bankrupt.  Small penny stock Oil & Gas players without a ton of cash are going to be crushed…
Many stock prices are at record lows…
I'm fearing for their very survival.
But this is the market.  As these companies struggle… as they get pushed closer and closer to bankruptcy, their supply will start to dry up.  Companies that aren't profitable at $50 a barrel will shut in wells and shut off supply.
Less supply… with stable demand… means prices have to eventually head higher.
It might be a while, but if you can find the stocks of the survivors, you will strike it rich in oil!
As prices come back, the survivors will be stronger and more profitable than ever… and those stock prices will scream higher.  As you look for great penny stock ideas, look no further than oil and gas.
To strike your own riches, look for oil and gas penny stocks that have the strength to survive a long term downturn on oil prices.  A strong balance sheet is critical here.
Then when oil prices rebound… you'll have your own Texas oil gusher!
So we have one industry at new highs… one at new lows… the last is reaching new limits!
Penny Stock Idea #3 – Tech
Tech stocks continue to drive the markets.  The latest string of technology companies is making a mint changing how everyone interacts with computers, tablets, and smartphones.
The latest trend is wearable technology.
Before long, we'll be talking to our computers like Capitan Kirk on Star Trek… no cell phone needed.
Driving these technology innovations are the big players in the industry… Facebook, Twitter, IBM, Google, Apple.
Bringing on new technology is something these companies strive for… but most of the time, they need to go outside their corporate walls and buy the technology they want.
Facebook has made a number of huge investments scooping up tiny companies for billions.
And that will help increase the value of many of the technology penny stocks out there.
Many are calling tech stocks a bubble – it's the backlash from the market blow up in 2000.  I don't see a bubble… I see an opportunity!
The key with technology penny stock ideas is to look for the fast growers… 100%, 200% growth is nothing… Investors should seek out technology that has the potential to grow to a hundred million or billion users in just a few years.
In Technology, it's not about the money or the balance sheet, but about growth!
If you ask me, these are the three critical trends we're seeing in the penny stock market for the remainder of 2015… if not longer.
Now as a side note… I'm following these trends closely for my premium newsletter – Penny Stock All-Stars.
In the coming months, I'm going to be sharing with paid up subscribers my favorite penny stocks in each of these categories.
I'd love to have you as a subscriber… to learn all about a premium subscription to Penny Stock All-Stars, click here.
Now, before you go… tell me something.  What are your thoughts on these huge trends?  Is there a big one I missed?  If so, leave me a comment on the blog below and let me know.  Thanks in advance to everyone who comments.
Good trading…
Brian Kent
Note:  Brian Kent has been trading the markets for more than two decades and now writes and edits for PennyStockResearch.com.  You can sign up for the penny stock research newsletter a trusted source for the truth about penny stocks! Sign up today and get a free research report – http://pennystockresearch.com/free-reports/.
Category: Penny Stocks to Watch