Do You Own These Hot Penny Stocks Today – April 2015? 
So, I was sitting at my computer, doing research like always… (or watching youtube videos… I can't remember which).
Anyway, I started thinking about penny stocks and how to find popular ones.
So I rolled over to the good old Nasdaq.com site and started poking around.
If you've never been there, give it a look, they have tons of information.
So one page I found was their most active stocks page… it shows you which stocks are trading the biggest volumes for the day.
Nothing too exciting… until…
My Big Discovery Of Hot Penny Stocks
I made a small discovery.
Nasdaq breaks down the big movers by market.
As you probably know, there are tons of different markets where stocks trade… The NYSE, the Nasdaq, The OTC…. To learn more about stock markets, check out my article on where to buy penny stocks.
Each market trades different types of stocks… and as a result, you'll find very different results for the top movers.
For example, when I looked up the top movers on the NASDAQ, the big three were:
Not exactly a hotbed of ideas and news.
But then I looked at the hot penny stocks today trading on the AMEX.
Let me tell you, it's a different world.
I found a number of stocks trading under $5 on this market… and some of them looked really interesting.
Hot Penny Stocks Today – $UEC…
Uranium Energy $UEC has been on quite the move over the last few days.  It's climbed from $1.50 to over $2.25 in just five days.  Take a look at the chart: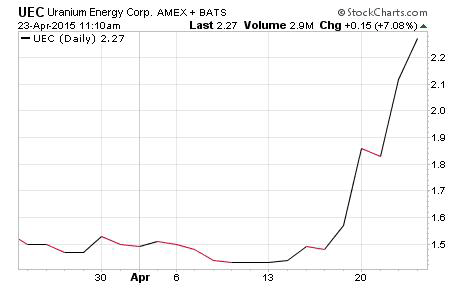 What's the big news moving the stock?
Japan's decided to restart its nuclear program and expects to source 20% of their energy needs from nuclear in the next 15 years.
Do you own this stock?  Tell me why you bought it in the comments section of the website… and tell me… would you buy more today?
But that wasn't the only interesting stock I found…
Hot Penny Stocks Today – $NGD…
NovaGold Resources $NGD also popped up on the radar.
Unlike $UEC… $NGD is heading the wrong direction.  Look at this chart.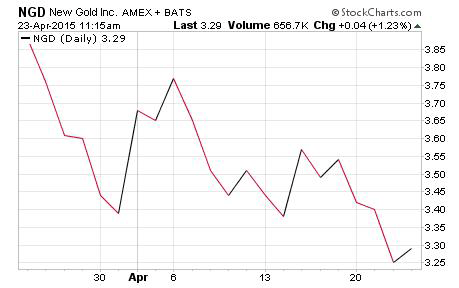 I searched the company news and didn't see a peep about the company.  It's quieter than a grave site.
So I looked at gold prices.
Now it's not quite trading on parity with gold, but since early April, $GOLD prices have been sliding and $NGD has been along for the ride.
Long term is this a stock to own?
I don't know yet, but I'm going to give it a closer look.  If you own this stock, please visit the website and leave a comment.  Tell me why you bought it and if you'd buy more today.
The last company I uncovered is downright UGLY…
Hot Penny Stocks Today – $AMPE…
Ampio Pharmaceuticals $AMPE made the list by trading over 500,000 shares in just the first few hours of trading today.  That makes it a hot penny stock today for sure…
But there's a reason why the stock is seeing so much action…
The company is working on a pain drug that recently "failed to reach its primary endpoint".
Let me translate for you.
It didn't work.
So the stock collapsed.  Just look at this soul crushing chart…
The stock plummeted from $8 to $3… ouch.
So is that the end?  Not quite.  The company says they have enough money to continue operations through 2016… and they plan on reviewing the data from the study.  There's a chance they can change the patient population and find a use for the pain drug.
I'm not holding my breath at this moment.
Are you a shareholder?  Why did you buy $AMPE… and would you buy it now?  Leave your comments on the website!
Good trading…
Brian Kent
Note: Brian Kent has been trading the markets for more than two decades and now writes and edits for PennyStockResearch.com.  You can sign up for the penny stock research newsletter a trusted source for the truth about penny stocks! Sign up today and get a free research report – http://pennystockresearch.com/free-reports/.
Category: Hot Penny Stocks