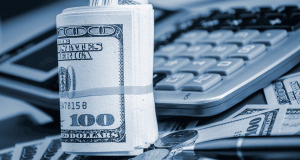 Two charts that show why we remain confident about small-cap value–even in the midst of increasing economic and market uncertainty.
A number of equity market observers have been talking about how the increasingly uncertain state of both the economy and capital markets is putting increased importance on earnings–a point we have made in recent months.
This is a potentially troublesome development for stocks as a whole in light of recent data from our friends at Furey Research Partners, which shows significant downward pressure on both earnings growth and expectations throughout much of the market.
Other savvy observers have employed the phrases "margin compression" and "downward revision" more and more frequently of late.
While we share some of these concerns, we are also confident about both the near- and long-term prospects for our value and core approaches.
Our encouragement rests primarily on two factors–the growing advantage of small-cap value relative to growth and the relatively attractive valuation and earnings picture for many cyclical stocks.
First, as the chart below shows, the times they are still a changin' when it comes to value and growth. The Russell 2000 Value Index remained ahead of the Russell 2000 Growth both year-to-date and from the Russell 2000 peak on 6/23/15 through 4/30/16, marking the reversal of a long run for growth and looking more and more like a long-term advantage for value.
Value Looks Poised To Outperform Growth
10-Year Annualized Spread between Russell 2000 Value and Growth Indexes through 4/30/16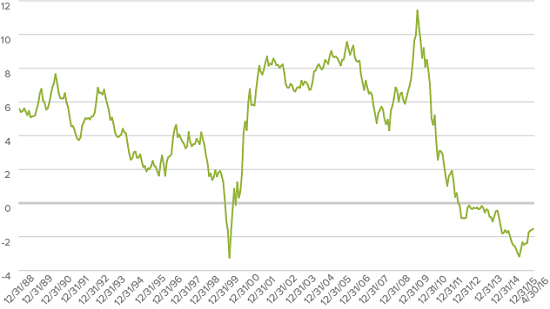 This shift has also seen growing demand for more conservatively capitalized companies with steady profitability in cyclical sectors. Many of these companies continue to look attractively valued to us, even after a solid run through the first four-plus months of 2016.
Small-Cap Cyclicals Looked Cheap vs Defensive Sectors Through 3/31/16
S&P 600 Shifted Median Relative Last Twelve Months (LTM) Enterprise Value to Earnings Before Interest and Tax (EV/EBIT)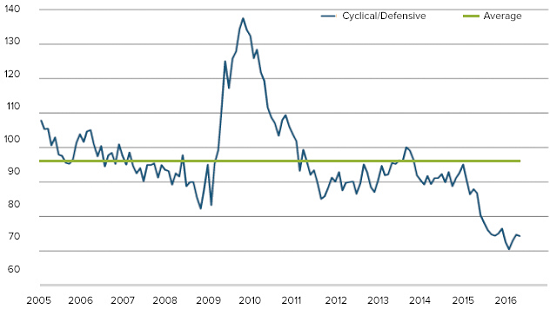 Small-Cap Value
The chart from Furey Research Associates shows the relative attractiveness of those cyclical, more economically sensitive sectors–Consumer Discretionary, Financials, Industrials, Information Technology, and Materials–compared to Consumer Staples, Health Care, Telecommunication Services, and Utilities, traditionally defensive sectors in the S&P SmallCap 600.
We used the S&P SmallCap 600 for this analysis because, unlike the Russell 2000 Index, it has a profitability requirement–and we want to show that among currently profitable small-cap companies, the more attractive valuations are found in cyclicals.
This data underscores our belief that an extended period of slow growth should be enough to keep profitable cyclicals climbing, especially after factoring in how low expectations and–for some industries–oversold conditions depressed the stock prices of so many small-caps that we see as terrific–that is, solidly profitable–businesses.
We saw this in both the closing months of 2015 and in the first six weeks of 2016.
To be sure, the market has only just begun to reward profitability and recognize how low valuations had become for a large number of cyclicals. Going forward, we remain confident that profitability and low leverage will matter more and more to investors through what could be a long-running cycle.
Note:  Francis Gannon of The Royce Funds is the author of this article. Royce Funds is a contributor to ValueWalk.com.
Category: Investing in Penny Stocks