How Reading Penny Stock Research Every Day Can Make You RICH!
Happy New Year!
I trust that your New Year is already off to a great start.  I know mine is…
It's this time of year that many people start making (and breaking) new year's resolutions.  One of the most popular resolutions every year is based around finance.
Popular topics include:
Getting out of debt
Spending less money
Setting up a retirement program
Saving more for retirement
Learning how to invest
And, investing better
And if you ask me, resolutions about money come in second… only to weight loss resolutions!
While I can't help you lose any weight this year, we can help you with some of your finance related New Year's resolutions.
How We Can Help With Your Penny Stock Trading
Maybe you're new to the markets…
Or maybe you're a grizzled old trading veteran who remembers when stocks were quoted in fractions!
Either way, we can help you with your penny stock trading & investing goals and objectives.
How?
I'm glad you asked.  The first thing we do is publish (FOR FREE) our Penny Stock Research newsletter.
A few times a week we email subscribers important information and news about the markets, trading techniques, market activity, ideas that can make you money, and even expose scams and scam artists!
You see, we offer a ton of free information because we've seen too many new investors and traders get caught up in the markets – they're chewed up and spit out.
And they lose their passion for trading.
It's like visiting the worst, most crime ridden, section of a big city and assuming the whole place is like that.
It's far from the truth.
Trading the markets… and trading penny stocks can be risky.  But it can be very lucrative.  Now I don't have time to share the great stories of big wins here… but stay tuned and I'll be talking about them in the coming weeks.
If you're interested at all in trading penny stocks, I've got a favor to ask…
Read Penny Stock Research Every Day For A MONTH!
Seriously, sign up and read every word we write.
It will be an education… trust me.
You don't even have to buy anything from me.
(We sell subscriptions – that's how we pay the bills – but you don't need to buy now… just read the free stuff and let me know what you think!)
In my mind, there are two critical topics we're going to cover in the next 30 days… how to analyze a great penny stock… and how to spot a pump & dump scam!
How To Do Your Penny Stock Research BEFORE Investing
We're going to introduce some critical steps every investor must take BEFORE buying a penny stock.  What to look at, what to ignore, what numbers matter a lot…and what numbers really don't matter.  It's a virtual how to guide in looking at penny stocks and making investments.
It could make you rich!
I've seen penny stocks return double and triple the money invested… and many times much, much more – can you say 10 times your money!
Just look at this one stock last year… ACHN jumped almost 400%!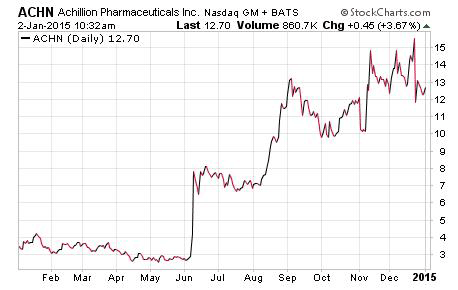 But you've got to find the right stocks first!
This is why you need to read the Penny Stock Research newsletter as often as you can.
The other big thing we're going to do is expose the scammers!
Exposing Scammers Is A Key Part Of Why You Read Penny Stock Research…
Scams have been around long before the first shares of a company were traded beneath the buttonwood tree on Wall Street.
The most popular scam these days is the Pump & Dump.
Modern technology has made it so easy, they're happening every day… multiple times a day.  And because of our virtual world we're living in, scammers can set up, run their scam, then shut down and disappear long before the authorities even get their first phone call.
You can't expect the government to protect you – the regulators are too slow and not tech savvy.
So it's up to you do understand what a penny stock scam is… why they're bad… how to identify them… how to avoid them… and what to do if you get caught up in one!
But that's not all…
Get Even More From Your Read Of Penny Stock Research
Our love of sharing information doesn't end there…
We're going to touch on and dig into many important things in the markets… like how the markets work, why the OTC and Pink sheet markets exist, how insiders like CEOs invest in their own companies, the importance of financials, the importance of news, how to tell good management from bad management… and much, much more.
So why cover all this information?
Because you'll start seeing the difference between good companies and bad ones… and that means bigger profits… and the potential to learn something by reading Penny Stock Research that might make you rich!
And who doesn't want to be rich!?!
So the next few months will be an exciting one… and I challenge you to make your new year's resolution a simple one… just read (for 30 days) what we write… and see if it doesn't impact you in a big way!
By the way, if you have a question, or want us to look at a specific company, shoot us an email, or add a comment on the website.  I read every comment, and this year, I'm working to respond to everyone who writes in…
Happy New Year, and thanks for being a reader!
Brian Kent
Penny Stock Research
——————————————————-
Brian Kent has been trading the markets for more than two decades and now writes and edits for PennyStockResearch.com.  You can sign up for the newsletter and get a free research report – http://pennystockresearch.com/free-reports/.  We are a trusted source for the truth about penny stocks!
Category: Penny Stock Tips