Penny Stocks To Buy In A Volatile Market
For the first time in 2015, we're dealing with some real, sustained market volatility.  This isn't your garden variety volatility either.  There has been real fear among investors.  And it's very obviously taken a toll on US stocks.
For instance, the S&P 500 has dropped 7.5% over the last month, and is 10% below the 52-week high.  The benchmark stock index is also down 5.5% for the year.
So how about penny stocks?  How have they handled the selloff?
Well, the closest thing we have to a penny stock indicator is the Russell 2000.  It's a popular index made up of small cap stocks.  As you may have guessed, the Russell 2000 has also sold off lately.  Here's a link to the Russell 2000 fact sheet for those interest in learning more.
However, something has happened during this selloff which is out of the ordinary.  In a surprising twist, the Russell has actually outperformed the S&P 500 this year!
Here's the chart: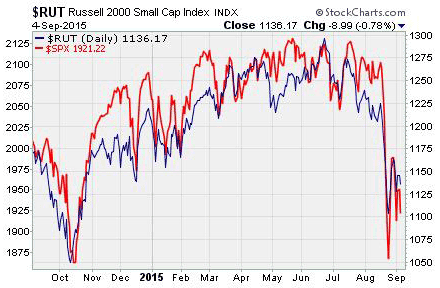 The chart above is a direct comparison between the S&P 500 (SPX) and the Russell 2000 (RUT) overlaid on top of each other.  The SPX is in red and RUT is in blue.  As you can see, SPX clearly sold off more sharply than RUT during the steep drop.
Moreover, the Russell 2000 has recovered more than the S&P 500 so far.  The small cap index is down 4.9%, a full half percent less than the SPX has dropped.
So what does this tell us about penny stocks?
Basically, this shows us that investors were worried about the market in general and not about individual stocks.  More likely, the selling was position/portfolio based, and not based on industries or sectors.
Moreover, it shows that value investors are still seeking value stocks.  Keep in mind, penny stocks (due to how cheap they are) are often targets for value investors.
Clearly, this is good news for penny stock buyers like us.
So then, what are the best penny stocks to buy in this kind of market?
Well, to understand what the best stocks are to buy, we need to first understand the problem.  In other words, why did we sell off to begin with?
In a nutshell, the reason is China. Or more specifically, it's due to the implosion of the Chinese economy.  You see, China is the second largest economy in the world.  It's been a massive consumer of global goods, especially raw materials.
There's a reason why commodity prices have collapsed lately – China's demand for them has slowed considerably.
So the first obvious point is to avoid raw materials or commodity stocks.  Among penny stocks that includes gold and precious metal miners and oil/gas drillers.
On the other hand, the US economy is doing quite well.  US consumers are still spending money.  And the unemployment rate has dropped substantially.
What's that mean?
It means that US-based stocks, with mostly US based customers, should be fine moving forward.  Among typical penny stock companies, it would include retail and tech companies.  There should be a fair amount of choices out there if you do your research.
Remember, big selloffs can be excellent opportunities to find good companies on the cheap (particularly penny stocks).   Just make sure you do your research, and don't jump blindly into penny stock investing without a plan.
As always, if you have a question about a stock or investment idea, shoot us an email or leave us a comment on the website.
Good investing…
Brian Kent
Note:  If you're interested in learning more about Brian Kent's Penny Stock All-Stars premium service… and learning about the stocks we're trading for profit… you can get the inside scoop on penny stocks here.
Category: Penny Stock Tips