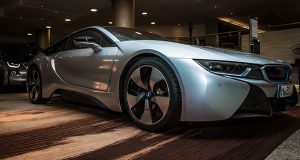 Nio is a new public offering for investors and so far, the stock has had a wild ride. Just like with Sonos, which I wrote about recently, Nio looks great from afar, but once you start digging into this company, you see red flags everywhere.
Still, many investors will ignore these red flags because they see this company as a cheaper alternative to Tesla. While there are comparisons between the two companies, they are worlds apart in where they currently stand.
In this post, I am going to walk you through Nio and show you why this stock is one to forget about.
Who Is Nio?
Nio (NYSE: NIO) is an electric car manufacturer based in China and the stock recently when public here in the United States.
The company is in its infancy in terms of manufacturing cars. The company began making deliveries of its first production vehicle, the ES8, in June and through the end of August, they shipped just under 2,000 vehicles.
They already have plans to begin work on a second model, the ES6, with initial plans to have it in production by the end of 2018 and start making deliveries in the first half of 2019.
While pricing has not yet been announced for the ES6, the price for the ES8, which is comparable to the Tesla Model X, has a price tag of just under $68,000.
This is a steep discount when compared to the Model X.
Looking longer term, Nio has the goal of selling 50,000 vehicles annually by 2020.
The Red Flags With Nio
Now that you know a little more about Nio, we need to dive into the red flags that should make you run away fast from this stock.
First is the bottom line. The positive news is that Nio began to produce revenue this year, $7 million through the first half to be exact.
But the problem is the cost of doing business. During this same time, the company reported a net loss of over $500 million.
Making matters worse, for the entire year of 2017, the net loss for Nio was roughly $760 million. If the second half of 2018 is like the first half, the company's net loss is going to shatter the loss from last year.
And it gets worse. Nio burned through close to $550 million in cash to operate in the first six months of 2018 versus $691 million for all of 2017.
The company is also expected to spend considerable more on capital expenditures too. As of this writing, Nio estimates capital expenditures to total $1.8 billion for the next 3 years.
For example, for producing the ES8, Nio buys 1,700 parts from over 160 suppliers. This lack of streamlining is only going to cost the company more money in the years to come.
Why You Should Run From Nio
The above numbers should tell you all you need to know about this company. There is zero reason to invest in this stock. Yes, electric cars are the future, but they are still too early in the game.
Just look at Tesla, which is years ahead in terms of production versus Nio. They finally were able to produce a car that the general public could afford and still their costs are sky high.
Until the cost of production drops and vehicles can be sold for a price that matches what is currently on the market, it is going to be a long time until electric cars become the norm.
But there is one more thing about Nio that should make you think twice. They are quoted as saying they have "limited experience" in producing vehicles at a high volume rate.
This means that you can expect many pricey hiccups along the way, including missed earnings reports estimates and an incredibly volatile stock price.
Final Thoughts
There is no reason to invest in Nio at this stage. Don't fall for the trap of thinking this a cheap way to invest in the electric vehicle segment compared to Tesla.
Nio is miles behind and has major battles to overcome.
If you really want in on this segment, consider investing in traditional car manufacturers. They are slowly embracing electric vehicles and this is a good thing. As they sell gas powered vehicles, the revenue helps to soften the blow of research and development of electric vehicles.
The result is a smoother ride along the journey.
This author has no positions in any stock mentioned and does not plan to open any positions in any stocks mentioned for at least 72 hours after publication of this article.
Note: The author of this article is Jon Dulin. Jon writes for Money Smart Guides, a personal finance blog that helps readers get out of debt and start investing for their future. He has been investing since he was 16 and has learned a lot through the years. He uses these investment lessons to help him be a more successful investor today. This article originally appeared at Modest Money.
Category: Cheap Stocks