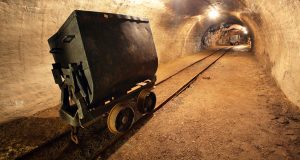 Gold has been in something of a funk recently.  After reaching nearly $1,800 an ounce in February, the price has dropped all the way to just over $1,600.
But the pullback in gold is about to reverse.
In fact, we could be on the verge of a brand new rally in the yellow metal.  Everyone's favorite safe-haven investment is back in play after a disappointing jobs report last week.
In case you didn't see the news, March jobs came in substantially less than expected.  In a nutshell, employers added 120,000 jobs in March.  Estimates called for 205,000.
That's a significant downside miss.  And, it could mean the economy isn't growing as strongly as expected.  Or maybe it's just a blip.  Keep in mind, initial jobless claims are still decreasing every week – and claims are a forward looking indicator.
The important thing is, for gold, it doesn't matter.
You see, the employment picture has been muddied by this recent jobs report.  We won't know if it's an outlier or the start of a trend for at least another month.
In the meantime, investors are likely to allocate at least a portion of their funds into a safe-haven investment… such as gold.
So does that mean I'm recommending gold for your portfolio?
Not necessarily.
Gold itself has been pretty volatile lately, not to mention expensive.  On the other hand, gold miners have significantly underperformed the physical commodity.
As a matter of fact, Market Vectors Gold Miners ETF (GDX) has fallen 10% year to date.  Meanwhile, gold has climbed roughly 4% over the same period.  That's quite the difference.
But wait, I'm not recommending GDX either.  This is, after all, a penny stock site.
That's exactly why I like Market Vectors Junior Gold Miners ETF (GDXJ) instead.  Like GDX, the junior miners ETF has underperformed gold year to date.  It's down roughly 9%.
Even better, GDXJ is made up of first-class junior mining companies… many of which are penny stocks.  Not only should junior gold miners get a nice bump with the expected rise in gold, they also have a lot of ground to make up from their recent decoupling with the commodity.
To put it another way, GDXJ is in perfect position for a big climb.  Now's the time to add this underappreciated ETF to your portfolio.
Yours in profit,
Gordon Lewis
Category: Commodity Stocks, Gold Stocks