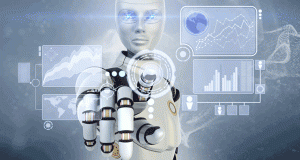 The following is a summary of our recent FS Insider podcast, "Investing in Global Robotics – Interview With ROBO Global's Bill Studebaker"… 
Society Needs to Get Ready
For investors looking to gain exposure to the fast-growing robotics industry, there are very few pure-play companies, says Bill Studebaker of ROBO Global (Nasdaq: ROBO). For that reason, he and his team created an index to diversify among a wide range of companies across the globe, hand selected by robotics experts, that are key players in the robotics and automation industries.
"The advances in robotics, artificial intelligence, and machine learning are heralding a new era of breakthrough innovation and opportunity," he said. "We are truly entering a new automation age."
With new performance capabilities and rapidly falling costs, we're seeing a new array of use cases and applications for robotics emerging.
Though some innovations are appearing faster than others, the trend is happening across the board. From robotic-assisted surgery to order fulfillment on Amazon or driving on streets, use cases are growing dramatically, he noted.
"The best way to think about robotics is that it's a foundational technology that's being applied to all industries and all markets," Studebaker said. "Society really needs to get ready for a massive disruption in industries."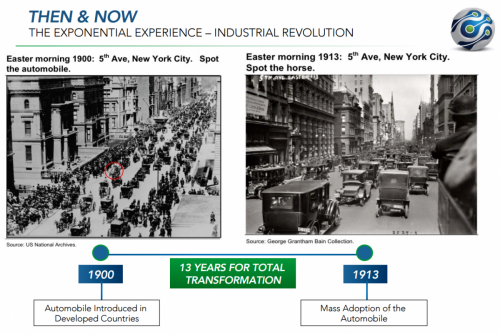 Source: ROBO Global
Impacts Will Be Substantial
The real benefit will be greater productivity and new sources of growth for the world economy, Studebaker stated. It's very hard to predict where and when the greatest impacts are going to be felt, but he sees widespread disruption across nearly all segments.
"Obviously, the autonomous vehicle market is a massive market, and there's going to be a lot of disruption there," he said.
But we can identify other opportunities by looking at specific use cases and subsectors. The segment he pays the most attention to is warehouses and logistics, where he sees a lot of potential for automation to have a huge impact.
For example, there are 17,000 warehouses and logistics facilities in North America alone, and less than 1 percent are fully automated, Studebaker noted. Amazon bought a robotics technology company named Kiva Systems, which has 50,000 robots used for fulfillment.
"This really … catalyzed the robotics arms race that we're seeing right now," Studebaker said. "The industry is at an inflection point with the boom in e-commerce dramatically raising the bar on supply chain efficiency."
Ubiquitous AI
Artificial intelligence – especially brain-based AI – is the game changer.
"As Jeff Bezos said, we are really in the golden age of machine learning," Studebaker noted. "Machine learning and AI is really a horizontal enabling layer…it's going to empower and improve every business, every government organization, every philanthropy."
There are three factors driving the pace of innovation. Machine learning algorithms have progressed dramatically. Also, the computing capacity has grown exponentially, especially with more and more companies piling into quantum computing. But what's really fueling rapid innovation is the generation of massive amounts of data that can be used to train machine learning models.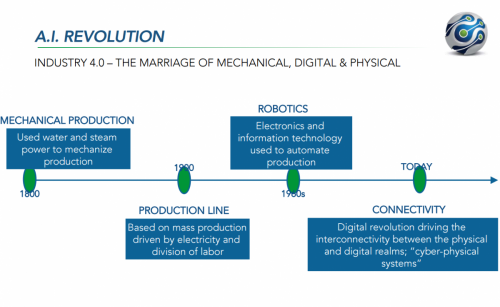 Source: ROBO Global
Studebaker expects that AI will be found everywhere, and that we will be able to connect to remote systems in the future with applications reaching into every aspect of the global economy. Several applications stand out, but the most important are advances in vision robotics, which are accelerating and enabling other advances.
"Vision is one of the most powerful tools of living systems to survive and thrive," Studebaker said. "The only path to build intelligent machines is to enable them with the power of visual intelligence. Vision really is the killer app of AI computing that's allowing a lot of this massive transformation that's occurring today."
Note: This article was contributed to ValueWalk.com by FinancialSense.
Category: Breaking News