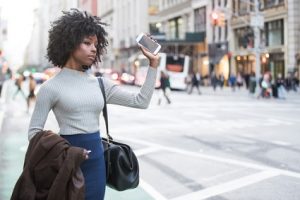 When I say names like Uber and Lyft, chances are that not only do you know these names, but they elicit a sort of emotional response. After all, when we see or hear things that we're familiar with, we tend to get excited, and Uber and Lyft are the pioneers that changed the way we view the taxi business. In fact, if you live in a big city, chances are that you've used one of these services at least once. Nonetheless, another transformative change is taking place in the industry and soon, the name HyreCar Inc. (NASDAQ: HYRE) may elicit the same type of response as names like Uber and Lyft.
Recently, I had the opportunity to sit down with Joe Furnari, Chief Executive Officer and Chief Financial Officer at HyreCar, and I have to say, these guys are onto something. Before we get too deep into the details, I wanted to share an analogy that Joe shared with me that outlines the potential opportunity. Here's the analogy:
It started with Joe asking: "During the gold rush, who made all the money?"
Remembering what I know about the gold rush, I said no one. After all, the gold rush was fueled by fool's gold, essentially bankrupting just about everyone that took part. However, as Mr. Furnari pointed out, I was wrong. There was someone making money? So, who was it? As Mr. Furnari said to me:
"It was the guys selling the picks and shovels. The people selling the tools were the ones making the big bucks while the miners were losing their shirts."
Then, Joe tied it all together, explaining where HYRE fits in all of this, saying:
"That's what we are! With the ride-share business booming and Uber and Lyft exploding with popularity, we're the guys selling the tools that make this all possible."
What Exactly Is HyreCar?
HyreCar is in the business of connecting Uber, Lyft and drivers for other services with the vehicles that they use in order to make their money every day. The company has built an overwhelmingly intuitive platform designed to connect drivers with cars, giving them the opportunity to earn an income, while everyone in the circle, from the driver to the car owner and HYRE themselves makes money.
The platform is essentially a match-maker that matches those with the tools to those that need them. However, it goes a bit deeper than that. While HYRE takes what they call a "haircut" from the fees paid by the driver and charges the car owner a small fee, the real money for the company comes from the insurance.
HYRE Has Monopolized A New Niche Within The Insurance Industry
In our opinion, one of the biggest points of value for HYRE has to do with their insurance product; a product that we believe offers a key competitive advantage to the company. The company's proprietary insurance product is a commercial automobile insurance policy that covers both the car owners and the drivers of the vehicles.
The insurance policy is designed to cover a pre-determined period of time in which the driver is using an owner's automobile while not actively driving for a ride-share platform like Uber or Lyft. This covers gaps in the state-mandated insurance provided by the ride sharing services. After all, when the vehicle isn't being used for work at the time of an accident, drivers and car owners may find themselves in a bit of a financial bind.
With HyreCar, this is no longer an issue. The company's proprietary commercial insurance keeps drivers covered with one of the 5 largest insurance providers in the United States by market capitalization, AIG.
Every time a driver rents a car using the HyreCar platform, the fee includes insurance at a cost of about $13 per day. This fee is collected by HyreCar and makes up a substantial portion of their revenue.
Reinventing Ride-Sharing With Residual Income In Mind
Ride-sharing platforms have become overwhelmingly popular, and for good reason. They give the average Joe a way to break free from the nine to five lifestyle, making a decent income in the process. However, there has been one big problem that hinders the growth of these types of services since the inception of the industry.
At the end of the day, there are plenty of people out there that want to be drivers, but don't have the tools to do so. Either they simply don't have a vehicle, or they have a vehicle that doesn't qualify to be used as part of these services. In fact, it is estimated that 30% of Uber and Lyft drivers need car rentals. This massive chunk of the market pays a pretty high price to rent vehicles every day.
Seeing that the ride-sharing industry had such a massive opportunity, HyreCar decided to step in and provide a solution that falls right in line with the very nature of the ride-sharing industry itself. Instead of going to a business in a box, the company has pioneered an option that provides consumers with the ability to provide income to their own community members and reduce the cost of doing so in the process.
Ultimately, this has created a residual opportunity for HYRE and all involved. Consumers who work for ride-sharing platforms that do not have their own qualifying vehicle, or do not want to put the wear and tear on their own vehicle, will need to continue to rent vehicles on a regular basis. By providing such an attractive solution, more and more drivers are likely to continue looking toward HyreCar as their broker in the rental car space. Because these drivers need vehicles nearly on a daily basis, each one will generate residual revenue for the company on a regular basis and likely over a long period of time.
Breaking Down The Revenue Model
The revenue model at HyreCar is a simple one to follow. While rental rates will vary based on geolocations, driving holidays and supply and demand dynamics, we can go with the example provided in the company's investor deck. This example is at a rate of $200 per week. The revenue that comes in at this rate is as follows:
Weekly Rental Rate – $200
10% HyreCar Fee (paid by driver) – $20
Total Weekly Revenue – $311
From the weekly revenue HYRE not only holds onto $111 from direct insurance and the fee paid by the driver, it also keeps an additional 15% of the rental cost, which is paid by the vehicle owner. This brings the total net revenue on a $200 per week rental to $141. At the moment, the company is operating with a net revenue margin of between 35% and 45% and a gross profit margin of between 10% and 24%.
HYRE Is Seeing Incredible Growth
HyreCar is off to an incredible start so far this year, with first quarter metrics that are something to be reckoned with. In the first quarter of 2018, the company closed with more than 175,000 driver profiles across 35 active states and Washington D.C. As a result, HYRE generated revenue in the amount of $1.7 million for the quarter. That figure represented growth in the amount of 525% on a year over year basis.
Looking Into The Future
Moving forward, HYRE has incredible potential for growth in a relatively untapped market. At the moment, the company's target market is drivers within transportation network companies (TNCs) like Uber, Lyft, Hop Skip Drive, and Juno. With Uber and Lyft alone adding approximately 50,000 new drivers, this large, untapped market is ripe for monopolization. However, the TNC market isn't the only one in which HyreCar has opportunity.
In fact, the ride share market is expanding into several new niches. Here are some examples of niches in which drivers may need HyreCar's services:
Package Delivery – More and more companies like Postmates, eaze, and even Amazon are looking to the rideshare model in the world of package delivery.
Food Delivery – Food delivery is another place where rideshare services seem to be creating a transformative change. Companies like instacart, DoorDash and GrubHub are becoming more popular with each passing day. Even Uber is getting involved in rideshare related food delivery with Ubereats!
Tasks – While the tasks market is still a relatively small one. TaskRabbit seems to be making waves, offering a rideshare style errand running service.
Leisure Rentals – Finally, the leisure rental services like Turo and Getaround are becoming popular rideshare platforms as well.
At the end of the day, each one of these niches within a niche creates a potential opportunity for HYRE as many drivers in each one of these niches will likely have the need to rent vehicles to do their jobs.
The Bottom Line
The bottom line here is that HyreCar is a pioneer in a relatively untapped market. Through its proprietary insurance product, the company's services will likely continue to grab the attention of vehicle owners and rideshare drivers, generating revenue each step of the way. This combined with the monumental growth that we're seeing in the rideshare market as a whole suggests HYRE and its shareholders will see momentous growth ahead!
Note: This article was contributed to Modest Money after originally being featured on CNA Finance. The author has no positions in any stock mentioned herein nor plans to open any positions within the next 72 hours. To view the full disclosure, click here.
Category: Cheap Stocks