Top Penny Stocks Today… Where You Can Find Them
I get the question it seems every day:
"Where can I find the top penny stocks today?"
It's a great question but not one that can be answered easily.  You see, the top penny stocks are constantly changing… a stock that looks strong today, may be weak tomorrow.
And a weak stock today… may become tomorrow's rock star.
That's why when I'm looking at penny stocks for my own portfolio, I start with a longer term trend.  I don't want a flash in the pan.
Stocks that get super hot then burn out often do so quickly.  And unless you're set to get in and get out quickly, you might miss the entry or exit and lose your money.
I prefer a more measured approach.
How we do it in Penny Stock All-Stars
In our premium service, we look first for a big trend.
Something we can really sink our teeth into.
A few articles back, I talked about the top three penny stock trends for 2015 we were seeing.  Trends like strength in the biotech market, weakness in oil & gas, and technological evolution in… what else… technology!
Then we start scouring the universe for the stocks that can ride the bigger wave of the trend.
Remember, the idea isn't to find today's top penny stock… it's to find great companies that have the potential to grow and grow and grow.  We want stock values to increase exponentially.
This process can take days to do… you start pulling on a thread and the next thing you know the whole sweater is unraveled.  You'll end up with 30, 50, sometimes a 100 stocks to research.
Once you've identified the universe, we start digging.
This is where the rubber hits the road… the shovel hits the rock pile… where the real work gets done.
This is how you start your research on penny stocks…
We look at each stock individually.
What's the business look like?  (Is there one?)
What do the financials tell us?  (Are they making money?)
Do they have enough capital? (How much debt is there?)
There are about 1,000 other questions – those are the big ones to start with… and if you don't get good answers… it's time to move onto the next company.
After kicking out most of the stocks because of a crap business or bad financials, we then start looking for catalysts.
What's going to propel this stock to the next level?
It's not easy… and it takes time… but so far the results speak for themselves.
What our results look like…
When I look at the Penny Stock All-Stars portfolio, a few things jump out at me… we have more than a dozen stocks in the portfolio – which is big…
But more importantly, as I write this, our average return is a gain of 17%!
That's right… we're up on the overall portfolio… and the big winners are still running.
As I do the math… buying each of the stocks we'd recommended would be showing you a nice gain right now!
As a matter of fact… just a few days ago, we published an important update.  We'd established a position in Travel Centers of America $TA and the stock is up over 100%.
Just look at this chart.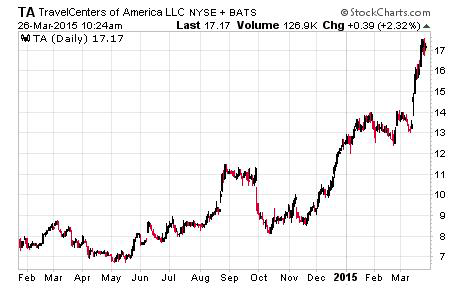 We bought near the start of this chart (at about $8.27)… and we told investors to pull their money off the table when the price was over $17 a share!
Not a bad run if you ask me.
Now don't worry… we have other stocks in the portfolio doing well too… as a matter of fact, two other stocks are up 99% and 101%!
That's right – a number of trades would have doubled your money!
Of course, we're not perfect…
But we're always working hard to find you the best penny stocks to trade.  As you know, finding the top penny stocks to trade today can be a challenge… but we think we've done quite well.
If you'd like to join us… and see the types of trades that are working for us, you can learn all about our program right here…
Good trading…
Brian Kent
Note:  Brian Kent has been trading the markets for more than two decades and now writes and edits for PennyStockResearch.com.  You can sign up for the penny stock research newsletter a trusted source for the truth about penny stocks! Sign up today and get a free research report – http://pennystockresearch.com/free-reports/.
Category: Top Penny Stocks