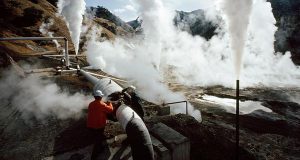 2011 has been a wild year in the stock market.  Over the past year, we've seen huge swings in the major averages.  And after all of the volatility, the major averages are plus or minus just a few percent. 
However, there's one sector set to not only beat the overall market averages, but every other sector as well…
The top performing sector of 2011 is undoubtedly utilities.  In fact, it's up nearly 8.5% on the year.  Even better, the Utilities Select Sector SPDR (XLU) is up over 15%!  Clearly, utility investors are enjoying a good return in 2011.
Now, normally I love digging up penny stock investments in virtually any industry.  But as luck would have it, there really are no good utility penny stocks out there right now.  In fact, the utility stocks now trading in the penny stock range are ones you should avoid like the plague! 
A prime example of this is Dynegy (DYN).  You remember Dynegy… from the 2001 Enron meltdown.  DYN's energy trading business brought the company to the brink of collapse soon after.  You know that didn't turn out pretty for investors. 
Well, it seems DYN is disappointing investors once again… 
In addition to multiple business units filing for bankruptcy, last week the company posted a wider third-quarter loss than analysts expected.  In their announcement, DYN said they were hurt by reduced selling prices and lower sales at their coal and gas segments.
As a result, the stock is now trading at $2.81… down near 52-week lows.  It's nearly 60% below a 52-week high of $6.92.  Obviously, DYN is not following the rest of the utilities sector.
While there may be a dearth of penny stocks investments in the utilities sector, there are still ways we can profit from the utility boom…
As you know, many of the major power supply companies are in need of energy supply.  And with over 50% of the power plants in the US fired by coal, they've been looking for cheaper, greener energy alternatives.  Their hope is to both increase energy supply and improve profit margin. 
And as utility companies grow and expand their power supply, there are two industries posed to profit… the solar and geothermal industries. 
Now, I've already pointed out there's little opportunity to buy utility penny stocks.  But on the other side of the coin, there are plenty of quality solar and geothermal companies to choose from.  And many of these companies are penny stocks… and great investments!
Here's the thing… as big utility companies continue to rack up profits, they'll have plenty of cash on hand to secure future power supply.  And that means smaller geothermal and solar companies will become prime acquisition targets for the deep pockets of utilities companies. 
There's no doubt solar and geothermal companies offer great upside potential for 2012 and beyond.  Consider adding some of these penny stocks to your portfolio now.
Until next time,
Brian Walker
Category: Energy Stocks, Penny Stock Tips, Penny Stocks to Buy, Solar Stocks