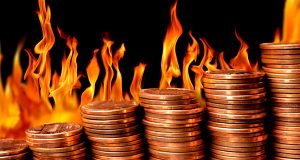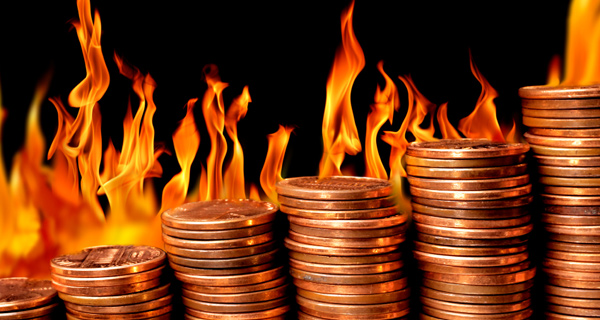 It's an exciting time for penny stocks, especially hot penny stocks like Harvest Natural Resources (HNR), Thompson Creek Metals (TC), and MadCatz Interactive (MCZ)…
Harvest Natural Resources (NYSE: HNR)
HNR jumped last week on good news…
As you can see, the stock had been moving steadily lower in a steep downtrend for several months.  But last week it reversed course and shot up like a rocket over a three-day span.  By close of trading on Friday, HNR had gained 21% for the week.
That's not too bad considering it was a down week for the market.
The rally was sparked by an announcement from Wunderlich Securities on Friday, April 4th.  One of the firm's analysts reiterated his Buy rating on HNR and said he is maintaining his $8 price target for the stock.
Harvest Natural Resources is an energy company based in Houston, Texas.  The firm's principal operations are in Venezuela, but it also has exploration assets in Indonesia, West Africa, and China.
The analysts' bullish comments followed news that Harvest Natural will hold a special meeting next month.  At the meeting, shareholders will vote on a proposal to authorize the sale of Harvest Natural's Venezuelan interests.
If the deal goes through, Harvest Natural expects to receive $400 million.
The Wunderlich analyst believes scheduling the shareholder meeting is bullish for the stock.  It removes the cloud of uncertainty that has been hanging over the shares for months.  And he fully expects the proposal to be approved as the deal is 50% higher than the enterprise value of the entire company.
While HNR has gained significant ground in short order, there may be another up-leg to this rally coming soon.  Take a closer look at HNR for a quick trade.  
Thompson Creek Metals (NYSE: TC)
Thompson Creek Metals is a North American mining company based in Denver, Colorado.  The company produces molybdenum, copper, and gold from its mining properties in Idaho and British Columbia.  And it produces molybdenum oxide and ferromolybdenum at its metallurgical facility in Pennsylvania.
The company's proven and probable reserves include 197.9 million pounds of molybdenum, 2.1 billion pounds of copper, and 6 million ounces of gold.   
TC jumped last week on exciting news…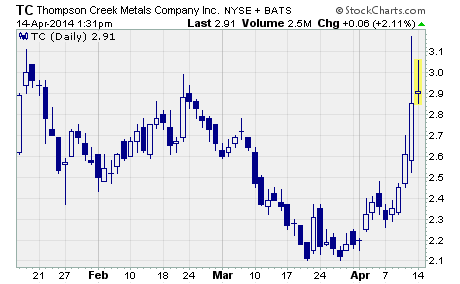 As you can see, the stock shot up from the prior week's close of $2.36 to a high of $3.17 before finishing the week at $2.85.  The sharp rally produced a stellar rise of 34% to the high.  And while the stock failed to hold onto all of those gains, it ended the week with a solid 21% gain.
Why did the stock take off?
Investors drove the shares higher after the company reported strong first quarter results.  Compared to fourth quarter 2013 levels, copper production increased by 37% and gold production nearly doubled.
That's impressive sequential growth to be sure.   
What's more, management said the "ramp-up at Mt. Milligan continues to progress with mine pit grades as expected, metal recoveries in the mill currently above expectations, and mill throughput steadily improving."  The early success at Mt. Milligan appears to vindicate the company's strategy to move beyond molybdenum into copper and gold.
Investors appear to believe the stock offers even more upside ahead as the rally in TC has picked up right where it left off last week.  The stock is up more than 3% intra-day at $2.96 per share as I write.         
MadCatz Interactive (NYSE: MCZ)
MCZ moved higher last week…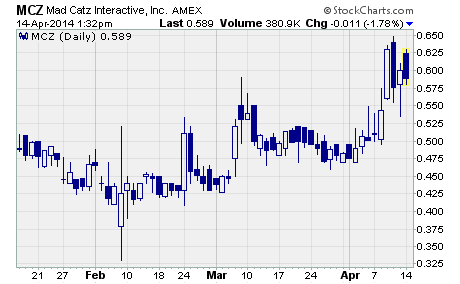 The stock traded up from $0.50 to a high of $0.65 before ending the week at $0.60 per share.  That's a 20% gain in just one week's time.  And the shares have now gained more than 80% off the early February low of $0.33.
Mad Catz is a global provider of innovative interactive entertainment products under its Mad Catz® (gaming), Tritton® (audio), and Saitek® (simulation) brands.  The company also develops flight simulation software through its internal ThunderHawk Studios™, publishes games under its Mad Catz brand, and distributes games and video game products for third parties. 
What's going on with the stock?
It appears investors have finally caught on to the big news announced by Amazon earlier this month.  On April 2nd, the online retail giant said it will sell a traditional game-controller made by Mad Catz for its latest new gadget… Amazon Fire TV.
The new controllers will retail for $40 apiece.
In case you missed the recent fanfare surrounding the launch, Fire TV is a small box that connects to your television.  It allows users to stream movies and TV shows from Amazon, Netflix, Hulu, and other content providers.  And it lets users play casual, online video games. 
The device is intended to compete with popular set-top boxes from Apple and Google as well as significantly more expensive video game consoles from Sony and Microsoft.
Investors are clearly excited about the future of Mad Catz. 
The company is just beginning a whole new product cycle with the recent launch of the PlayStation 4 and Xbox One video game consoles.  Its making rapid progress on its mobile gaming initiative thanks to its MOJO Micro-Console for Android.  And it now has a new product to go along with the brand new Amazon Fire TV device.
With all the new product opportunities at Mad Catz, it's hard to disagree with management's claim the company will return to profitability next year.
Take a closer look at MCZ for your own portfolio.  This is one true penny stock that has major upside potential over the next several years.        
Profitably Yours,
Robert Morris
Category: Hot Penny Stocks