List Of Hot Penny Stocks In The Basic Materials Industry!
You know I love digging up lists of hot penny stocks, and now's a fantastic time… you can look back on the first half of the year and find stocks… penny stocks that are skyrocketing.
These are great stocks to add to your penny stock list.
You know you should have a penny stock list… if you're at all curious about how to create one, I give you all the details here… Why Keep A Penny Stock List.
Anyway, I found myself with a bit of free time… so I jumped on my favorite screening tool and uncovered a bunch of hot penny stocks.  What's a hot penny stock?
In my mind, it's a stock that's reaching new 52-week highs in an exciting industry.
So, I did my screen and I dug up 35 different penny stocks all showing gains of 100% or more from their 52- week lows.
As I dug through the list, I found an interesting pattern… there were lots of biotech companies on the list…
But there was also a bunch of Basic Materials companies too.
I thought this was strange given the recent weakness in commodity prices over the last few months…
We've talked at length about biotech stocks, so this time I thought I'd focus on the Basic Materials companies.  I'm planning on digging into these companies a bit more deeply – Due diligence is always critical with microcap stocks.
But I wanted to share the list with you… As you do your research, let me know what you uncover on these companies… and if you decide to invest… leave me a note on the website and tell me why.
So without further delay, here's…
The Second Half 2015 Hot Penny Stocks List
Like I mentioned, the companies that came up on my screen were all over the map… but I decided to focus on the ones in the Basic Materials industry.
Shockingly, 5 of the stocks are in the Energy space… yet only 3 are in the traditional Oil & Gas Exploration space.  We even have one Materials company!
So, without further delay, here's the penny stock list…
Hot Penny Stock July 2015 – Torchlight Energy $TRCH
Torchlight is an oil and gas exploration company and they recently announced they "might" have uncovered a new oil field in Texas!
Prior to that… In mid-June, they also cleared the listing hurdles for Nasdaq.
That was after announcing the closure of a nearly $10 million round of funding.  Things are looking up for this oil & gas play despite a difficult commodity environment.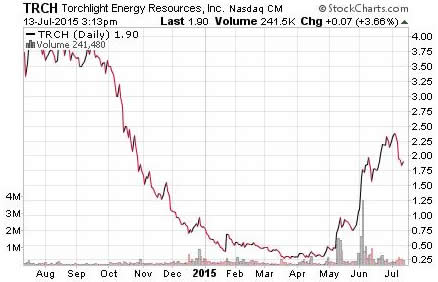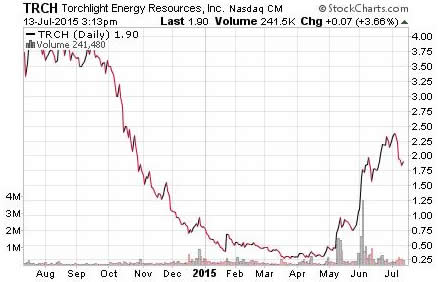 Hot Penny Stock July 2015 – Synthesis Energy $SYMX
On June 29th, Synthesis announced new funding deals for its gasification plant.  The news looks good on the surface, but I haven't dug into the details yet.
The stock's been on a rally for the last few months… and despite headwinds in the Energy industry and recent market turmoil in China, the stock is looking strong.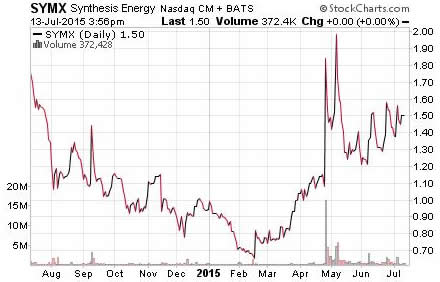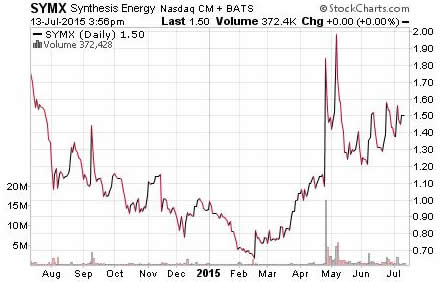 Hot Penny Stock July 2015 – Post Rock Energy $PSTR
Post Rock Energy only has a $16 million market cap, but they're a decent sized player in the Cherokee Basin producing natural gas.  Nat Gas has been under pressure, so I'm not sure why this stock is up off the lows…
As best I can figure, the recent price spike in February was due to the announcement of a "strategic review".  And the bump in April was from meeting NASDAQ compliance.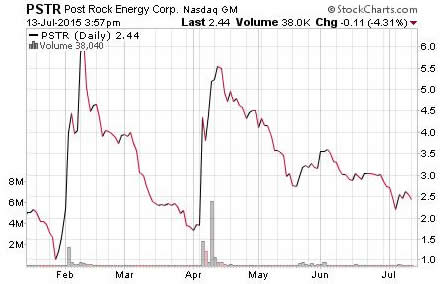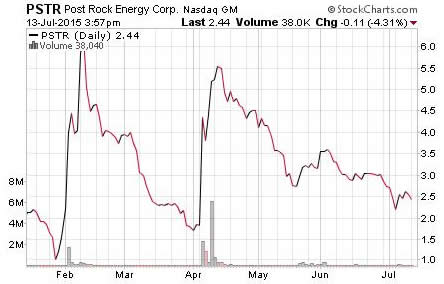 Hot Penny Stock July 2015 – MagneGas $MNGA
MagneGas is a liquid to fuel conversion technology company.  They're nearly $40 million market cap seems a bit strong given the substantial losses they've had over the past years.
Good news, retaining the NASDAQ listing and a distribution agreement, have helped prop up the stock.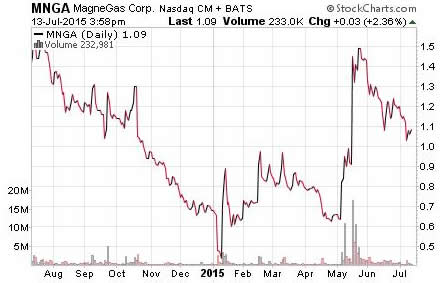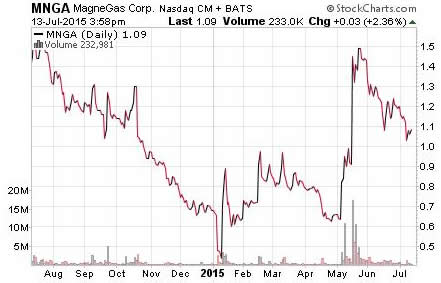 Hot Penny Stock July 2015 – Harvest Natural Resources $HNR
Harvest Natural Resources is an aggressive oil and gas player… with operations in Venezuela.  They recently found a $32 million funding agreement for operations, which is great… but it's for their facilities in Venezuela!
I'm not sure how to wrap my head around that kind of international risk exposure.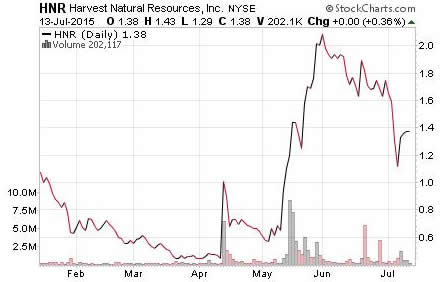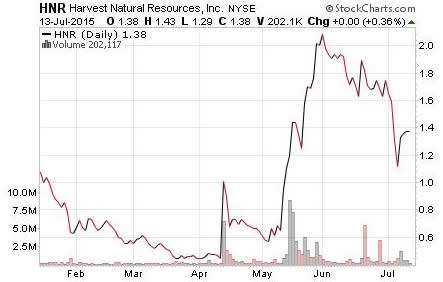 Hot Penny Stock July 2015 – General Moly $GMO
General Moly has seen their stock bounce off of last year lows of near $0.30.  And shareholders recently approved the issuance of more than 20% of the company's stock.
I'm not seeing a lot of news out to really move this stock.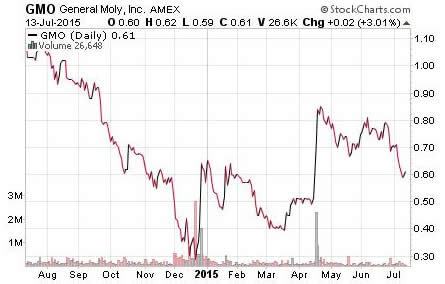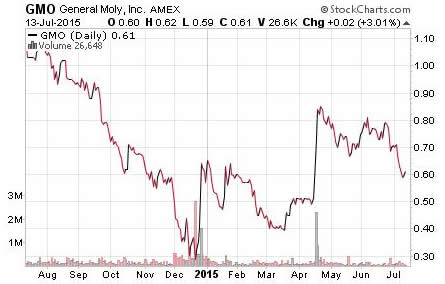 So there you have it… some of the hottest penny stocks around.  Use this list to start your research… and let me know what you uncover in your diligence.
Remember to leave a comment on the website, or shoot me an email.
Good investing…
Brian Kent
Note:  If you're interested in learning more about Brian Kent's Penny Stock All-Stars premium service… and learning about the stocks we're trading for profit… you can get the inside scoop on penny stocks here.
Category: Hot Penny Stocks