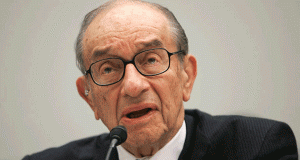 Alan Greenspan is at it again.
I must say, I used to be a big fan of the former Fed chief.  However, his role in the housing bubble is undeniable.  And while I still have some respect for his overall accomplishments at the Fed, I think he messed things up pretty bad prior to the financial crisis.
Of course, Greenspan always loved his time in the spotlight.  So, it's no surprise when he pops up in the news every now and then.
But this time around, I think he caught many investors off guard.
You see, Greenspan thinks stocks are "very cheap" and are a good value right now.  He also believes they're likely to rise as corporate earnings continue to improve.
With the latest round of negative economic news – not to mention the European debt crisis rearing its head again – I imagine the last thing investors expected to hear were bullish comments from Greenspan.
Here's the deal…
The reason Greenspan thinks stocks are so cheap is because their overall valuations are historically low.
For instance, the S&P 500 is trading at roughly 14x reported income of the companies making up the index.  That's 13% below the average since 1954, according to Bloomberg News.
That's a significant amount below historical averages.
And that's not all…
Another metric, known as the Fed model, paints an even more compelling picture.
The Fed model compares the earnings yield for stocks to Treasury rates.  Currently, profit for S&P 500 companies represents 7.2% of the index's price on average.  That's almost 6% more than the yield on the 10-year Treasury.
Meanwhile, the average historical difference between earnings yields and Treasury rates is 0.03 percentage points.
What's more, the highest the difference has ever been was 6.99 percentage points, after the market bottomed out in 2009… and right before a substantial rally in the stock market.
In other words, either the earnings yield should be a much smaller percentage of the S&P 500's price (which would happen if the price goes up), or bond yields should be a lot higher.
And since we know interest rates will remain low for some time to come, it's far more likely that the S&P 500's price is going to rise.
Here's the bottom line…
Despite having a lower level of credibility than he's had in the past, I can't argue with Greenspan on this point.  Stocks do appear cheap compared to historical levels.  And, as long as earnings continue to come in strong for many companies, we could be on the verge of another leg higher.
Yours in profit,
Gordon Lewis
Category: Investing in Penny Stocks