Free Stock Quotes – My List Of Resources
I get the question all the time…
Where do I go to do my research?  What resources do I use?  What websites do I read?  Who do I follow?
The list is endless… but one seems to come up more often than not… where to get free stock quotes.
And there are a number of ways to answer this question.
My primary answer is my trading account.
I believe I get the most up to date and real time information from my broker… so I log in and look at the current trading information.
But the problem is… first, you've got to have a brokerage account set up.  Then you have to log in… then you have to do a search.
It's not hard, but it's a bunch of extra steps.
Maybe you don't have a trading account yet… or maybe you don't want to log into your account…
I can think of one reason not to log in off the bat… if I'm using a strange computer.  Maybe I'm at the library or a friend's house… I'd never log into an important account like that from anything other than one of my own personal devices.
Anyway, you're in a pinch and want free stock quotes…
A List Of Places To Get Free Stock Quotes
Here's my shameless plug… use my site:  pennystockresearch.com
On the right hand side, you'll see a quote box… just type in your ticker symbol and click the submit button.
This is what the results look like…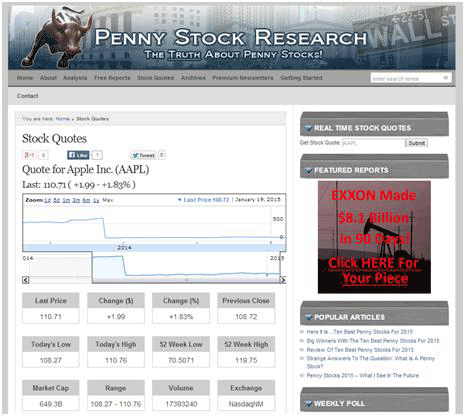 You'll see a chart you can change the time frame and get basic information about how a stock is trading… and it's free!
There are others…
I often use http://finance.yahoo.com/
They have real time quotes and offer a ton of information on the penny stocks I'm researching.
You can also try the exchange website.
For example, the http://www.nasdaq.com/
The site has a link for free stock quotes right on their home page… again, lots of great information including pre-market trading activity!
Now sometimes it's hard to get free quotes on penny stocks.
When I struggle to find quotes, I often go to the http://www.otcmarkets.com/home
This is the best resource I've found for penny stock quotes and information… and it's free too!
Other Free Resources You Should Use
As you know, the internet is overflowing with free information on penny stocks and the markets.
Sometimes it's hard to separate the important stuff from the crap.
Do you know what to read and focus on?
Well, I spend all day, every day researching the markets and focusing on the penny stock information that's important to you!
So, if you or a friend is struggling with their trading, don't hesitate to pass along this link.
http://pennystockresearch.com/free-reports/
It's a list of all the free reports we've written for our readers.  Along with a subscription to our free newsletter – Penny Stock Research – subscribers also get access to all of the critical reports.
Do you have a great free resource to share?
Email us, or comment on the website below!
Good trading…
Brian Kent
Penny Stock Research
Note:  Brian Kent has been trading the markets for more than two decades and now writes and edits for PennyStockResearch.com.  You can sign up for the penny stock research newsletter a trusted source for the truth about penny stocks!  Sign up today and get a free research report – http://pennystockresearch.com/free-reports/.
Category: Penny Stock List