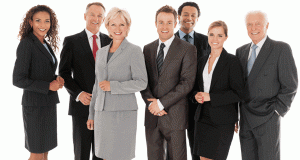 Who knows a stock's growth prospects better than an executive? Chances are not many people, so that's why Bret Jensen is profiling eight companies seeing huge insider buying over the last couple of months. Such large purchases signal insider confidence that can lead to huge share price gains. 
The unexpected Trump election victory is still sinking in within the electorate as well as with investors. The early returns for the latter are exceedingly positive contrary to what was predicted by pundits in the unlikely case that The Donald became the 45th president of the United States. The Dow just had its best one-week gain since 2011 and is at all-time highs.
Small caps and infrastructure stocks did even better on the week and the beaten down biotech indices rose 14%, their best one-week gain since 2000 as the specter of drug price legislation from the likes of Bernie Sanders and Elizabeth Warren was dismissed. Defensive sectors like Consumer Staples and Utilities sold off as did the so-called FANG stocks. The only areas of the market that behaved as predicted on a Trump victory were ten-year treasuries, which sold off as yields rose, and Emerging Markets, which pulled back as the greenback had its strongest three-day rally in five years.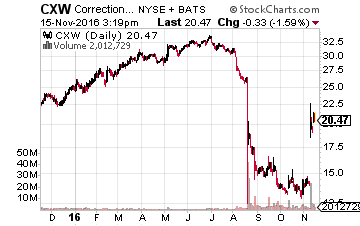 Two of the best-performing stocks in the market this week were Corrections Corporation of America (NYSE: CXW) and Health Insurance Innovations (NASDAQ: HIIQ) which were up approximately 30% and 50% on the week respectfully. Both stocks had been hurt recently thanks to newly proposed rules from federal government agencies. With a Trump administration, those new restrictions on these companies' business models are basically null and void.
These two stocks share something else in common, insiders were buying the shares during their recent declines. Insider buying is one of the things I look for as I search for new small and mid-cap stocks for my portfolio. These types of stocks have much sparser analyst coverage than their larger brethren and I often found it quite profitable to follow the insiders into these types of smaller equities. Some previously beaten down stocks I have profiled on these pages that have since soared, like Sterling Construction (NASDAQ: STRL) and Aerie Pharmaceuticals (NASDAQ: AERI), first popped onto my radar screen thanks to insider buying in their stocks.
So which attractive small caps have seen robust insiders buying as of late? Here are a couple that I like now.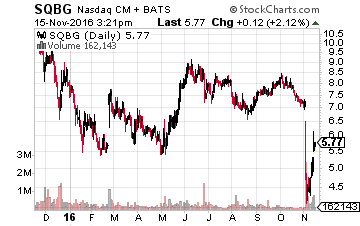 Sequential Brands Group (NASDAQ: SQBG) has had a tough year in 2016 as four acquisitions made in 2015 that doubled its sales footprint are digested into its core operations. The stock is selling at half of its 52-week highs. Evidently, that is enough to get the insiders off the bench, as two insiders bought almost $500,000 worth of shares last week for the first insider purchases of the year. The company should deliver a 25% rise in earnings in 2017 on the back of sales increases in the low teens. At 10 times those forward earnings, the stock does seem substantially undervalued, so I added shares to my core stake in this unique retail play on the back of these insider purchases.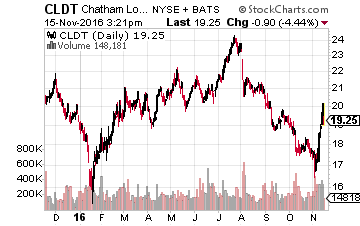 I also added some shares recently to one of my favorite yield plays, Chatham Lodging Trust (NASDAQ: CLDT), this month. I have had this REIT since 2012, and it has roughly doubled in price and more than doubled its dividend payouts over that time. I tend to add a few shares every time the stock dips 20% or more, which seems to happen once or twice every year. It has been a strategy that has paid off well in recent years.
The Lodging REIT area has been hit pretty hard lately as RevPAR (Revenue per available room) growth has started to slow, and so Chatham is down 20% from highs a few months ago. As a result, the CEO and CIO bought over $500,000 worth of new shares last week in the first insider activity in over a year and a half. The REIT seems to have solid value here, selling at nine times FFO (Funds from Operations) and yielding nearly seven percent.  Hersha Hospitality Trust (NYSE: HT) is another lodging REIT I have recently picked up that provides solid value, has good dividend yield, and has seen insider buying of late.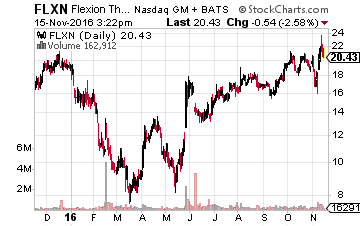 Flexion Therapetics (NASDAQ: FLXN) is an attractive biotech name that saw significant insider buying in June and should benefit from the shift in sentiment on biotech since the election. Adamas Pharmaceuticals (NASDAQ: ADMS) is another attractive biotech name with upcoming catalysts that has had more recent insider buying.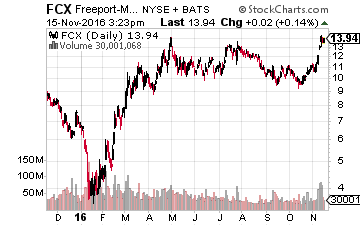 While certainly not a small cap, mining giant, Freeport McMoran (NYSE: FCX), saw big insider purchases in both September and late October. Not coincidentally, these purchases were in front of what has been a big move in commodities like iron and copper and the stocks in miners. The company has made divestitures, suspended dividend payouts, and improved its balance sheet in recent quarters. Free cash flow should improve substantially in the quarters ahead, provided that commodity prices don't slip again. The shares have had a big rally to around $14.00 a share, but they are far below the $35 level they went for two years ago. I don't think I would chase the current rally. However, if the stock drifted back down to the $11.00 level or so, I would probably accumulate a position.
Since the election, the iShares Nasdaq Biotechnology ETF (NASDAQ: IBB) has rocketed up to an impressive 10% gain. That's far ahead of the 1.5% rise by the broad market benchmark S&P 500 over the same period.
And, in my Biotech Gems advisory, we saw two stocks shoot up over 50% and three more shot up 20% and higher. These gains are only just the beginning as the market digests what positive effects a Republican government will have on the sector.
I forsee even more gains through yearend and beyond, and there's still time for you to take a 60-day risk-free test drive of the Biotech Gems newsletter that offers weekly updates on the sector and a portfolio consisting of 20 of the market's most promising biotech stocks both large and small. To find out more, click the link below.
Click here to gain immediate access to 20 of the market's most promising biotech investments.
Proposed Headline: Long ADMS CLDT, FLXN, HT, and SQBG
Category: Biotech Stocks, Penny Stock Alerts