Picking penny stocks on the rise is all about momentum…
Finding the perfect penny stocks on the rise is a tricky skill.  It takes research, timing, and strategy to make a profit from stock trading. Part of the problem is the internet simultaneously offers immense resources and overwhelming amounts of misinformation.
Trying to find objective, unbiased information is the best way to maximize gains when investing in penny stocks on the rise. But it can be like finding a needle in a haystack.
But there are a few online resources to help you make informed decisions about your penny stock investment… once you know which sources you can trust.
Websites to Help You Find Penny Stocks on the Rise
There are many online resources to help you navigate the penny stock market and gain valuable information on company finances and revenue.
Sifting out the reliable sources from the ones designed to scam you into buying weak stocks can be confusing, but we've put together a list of trusted sources so you know where to start.
Here are our five top choices for free, unbiased information to find penny stocks on the rise:
Google Finance – Google.com/finance provides financial news, stock quotes, real-time stock charts, and portfolio tracking for investors.
Yahoo Finance – Finance.yahoo.com offers free stock quotes, news, portfolio management resources, market data, and more.
Investopedia.com – This site offers the most comprehensive financial online dictionary.
Marketwatch.com – Offers financial and business news, stock quotes, market analysis, and a stock screener.
Bloomberg.com – Similar to other broad-based websites, Bloomberg.com covers business, economic, market, and financial news as well as stock quotes.
Now you're probably looking at that list and saying, sure those are great stock sites… but what about penny stocks!
More Resources for Finding Penny Stocks on the Rise
Well, you're right.  The sites listed above are great resources for stocks in general, but for specialty stocks, like penny stocks, you want to check out sites like:
Pinksheets.com or otcmarkets.com – This is the marketplace where many penny stocks are traded. Here you'll find information on not only stock prices, but also on company financials and news updates.  They often have information when the SEC has nothing!
eoddata.com – They provide great market data on all kinds of stocks and have great info on many penny stocks.
At otcbb.com / Finra.com, click on the Daily list link… this will take you to a great resource covering stock actions – things like splits, halts, suspensions, reinstatements, and all the great info on small companies.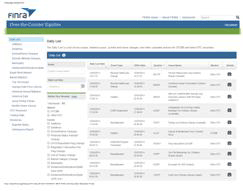 And what list wouldn't be complete without mentioning our own site – pennystockresearch.com. We provide unbiased research and commentary on trading penny stocks and occasionally throw out a great penny stock pick or two!
Remember, finding unbiased information on the internet can be difficult, but reputable sites all provide important data to help you make good decisions as you strategically buy penny stocks on the rise and sell your shares for gains.
Once you have a few reliable sources of information, you can use these sources for your penny share trading needs.
How Finding Penny Stocks on the Rise Makes Money
Use the above resources to help you make an informed decision about what penny stocks to buy.
The key is riding the momentum wave.
Now I don't have a lot more room to go into it here, but what you want to do is look for stocks already making a move… their business can be growing, their profits growing, or the stock price might already be moving.
Find that company already reaching higher and jump on board and rid it for as long as you can.  Sometimes you'll own a stock for a few days or weeks, other times the ride will last for years!
Profitably Yours,
Brian Kent
Penny Stock Research
BIO:  Brian Kent has been trading the markets for more than 2 decades and he now writes and edits for PennyStockResearch.com.  You can sign up for the newsletter and get a free research report – http://pennystockresearch.com/free-reports/.  We are a trusted source for the truth about penny stocks!
Category: Penny Stock Tips