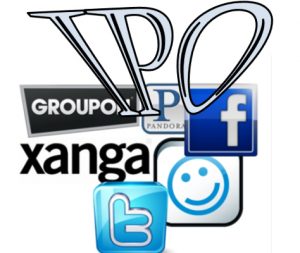 2011 was chalked full of high profile internet and social media IPOs.  Companies like LinkedIn (LNKD), Groupon (GRPN), Pandora (P), and Zynga (ZNGA) all debuted with much fanfare.
For each IPO, the companies either raised big dollar amounts or had very big stock moves.  In other words, regardless of the current stock price, each one of these IPOs was a success.
But 2011 doesn't hold a candle to what we'll see in 2012.
You see, there's a host of new internet and social media companies set to go public.  And of course, 2012 is the year we'll see the IPO of the granddaddy of social media companies.
I'm sure you're all aware Facebook plans to go public next year.  It's going to be the biggest internet IPO of all time… even bigger than Google (GOOG).
Of course that's what happens when you have over 800 million users.  In case you were wondering – and I know you are – that would make Facebook the third most populous country in the world.
Can you imagine a country going public?  Hey, let's buy shares in Brazil!  It's going public next week!
Okay, not really, but you get the point.  Facebook is huge.  It may end up being the biggest IPO of all time when all is said and done.
And that's not all…
While Facebook leads the pack, several other internet and social media companies are planning their 2012 IPOs.
LivingSocial, a Groupon competitor, will likely seek IPO by the end of 2012.  It's a well funded company with multiple venture capital investors, including Amazon (AMZN).  Surely Amazon isn't going to be investing in a dud.
Another company with plans for an IPO in 2012 is ExactTarget.  This email marketing giant plans to raise $100 million.  The company boasts an impressive list of clients and is on pace to generate $200 million in revenue this year.
And don't forget Yelp.
The online consumer-review company's IPO is set for next year.  And it could value the company at up to $2 billion.  Yelp is also strongly supported by venture capital… another good sign.
In fact, Yelp may end up being the second biggest IPO of 2012.  Second, of course, to Facebook. 
Bottom line… it's going to be an exciting year for internet and social media IPOs.  But make no mistake, the Facebook IPO will be something special. 
Hey, you may even want to start stashing money for a "Facebook IPO Fund".  It very well could be one of the most sought after IPOs in history.
Yours in profit,
Gordon Lewis
Category: Internet Stocks, Technology Stocks