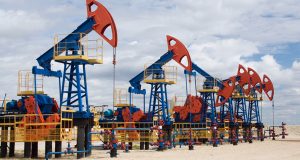 I may sound like a broken record, but energy stocks are the place to be right now…
Just last month, I was pounding the table for natural gas stocks, and sure enough, natural gas has done nothing but climb since it traded briefly below $2.
Even after an almost 20% climb off decade lows, natural gas and now the entire energy sector… are a screaming "buy".   Next I'll tell you why energy looks so good and how you can use penny stocks to play energy for big gains.
First, looking at the overall energy sector, you can see it's down over 4% year-to date.  Take a look at the Select Sector SPDR Energy Fund (XLE) chart below…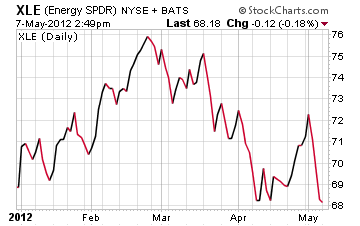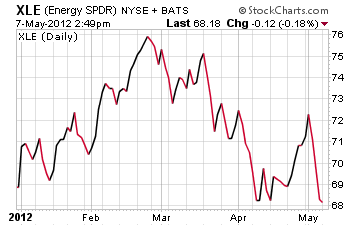 Right now, energy stocks are trading at a low for 2012.  And that's saying something for a market that's up over 7.5%, even after last week's big selloff.
Why are energy stocks lagging the overall market?
There are quite a few factors that influence energy trading, but two of the biggest have to be supply and demand factors, and trader rationale…
As far as supply and demand goes, the biggest catalyst affecting prices this year has been the lack of demand for oil and natural gas.  With one of the warmest winters on record, consumers in most parts of the country avoided paying huge energy bills to heat their homes.
Making matters worse, the active production of natural gas has been documented at record levels.   Natural gas storage levels have been well above five year averages as reported by the US Energy Information Administration (EIA).   When you combine less demand with more supply, sit back and watch prices plummet.
As bad as it's been for natural gas, oil has seen a very different set of trading catalysts.  For much of this year, oil has avoided the ill-fated overproduction issue of natural gas.
In addition, political tensions in the Middle East over the Iranian oil embargo have kept crude prices elevated over $100 for much of the year.  As more countries signed on to protest importing Iranian oil, the leadership in Tehran ratcheted up their aggressive rhetoric, causing a spike in oil prices.
After finally coming to their senses, leaders in Iran decided it wasn't in their best interest to threaten to blow up the world.  As such, oil prices have gradually declined… that is up until last week.
Suddenly, oil prices have fallen to lows for the year, and even traded under $95 a barrel!  What's happened is overall global growth forecasts seem to be cooling off a bit.  And without Middle East tensions, traders have turned their attention back to sluggish global growth.
The real problem has been traders in energy markets…
Their overall philosophy is to shoot first and ask questions later.  They'll buy, buy, buy in excess… and then turn around and sell, sell, sell until the floor falls out beneath them.
In my opinion, the aggressive selling has put oil prices in oversold territory.  Better still, natural gas producers have been shutting down production until prices come back up to a profitable level.
But prices aren't there yet…
So with natural gas on the rise (even as oil has been falling) and oil prices in oversold territory… we're looking at a great overall buying opportunity in energy stocks.
Here's the deal…
Even if various countries report GDP growth less than forecast, most of the world is still growing.  And that includes the two largest economies in the world, the United States and China.
With energy prices trading just off the lows for the year, now's a great time to buy energy stocks.  Penny stocks historically move much faster than the market, so you'll be able to capture even bigger percentage gains as the energy sector recovers this year's losses.
For those of us in the penny stock world, there are dozens of solid energy exploration, production, and service providers.  Take a look at buying small cap energy stocks now to capture the coming move higher in the energy sector.
Editor's Note:  If you want to find winning penny stock trades both in and out of the energy space, Gordon Lewis, has the answer!  Discover his secret to finding winning penny stocks…
Until next time,
Brian Walker
Category: Energy Stocks, Natural Gas Stocks