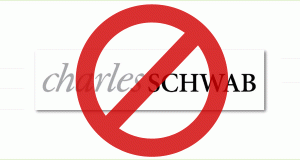 Recently, I had a long conversation with a close friend who used to work at Charles Schwab (SCHW).
Today, Schwab is one of the nation's largest brokerage, banking, and asset management firms.  In fact, they currently hold over $1.4 trillion dollars of client assets.
But as the story continued, I shook my head as I listened to customer service horror stories… wondering how Schwab keeps nearly 8 million clients from sprinting out the door.
You'd think a company of their size and stature would have their act together. I'd expect nothing less than teams of staff bending over backward for the customer… not to mention, expert broker services.
But clearly this isn't the case.
Now, I'm sure you've heard the saying, "too big to fail."  Well, allow me to give you a new one, "too big to be any good."
Let me explain…
The Schwab monster has been struggling to earn profits for the past few years.  In fact, since 2007, their net income has plummeted by more than 80%. Ouch!
So, they've taken extreme measures both in cutting costs and generating revenue.  They've attempted to turn this tug boat in several ways.
First, they've reduced the number of licensed Financial Advisors on staff.  And to take up the slack, they added hundreds of low paid Customer Service Representatives (CSR'S).
Second, these new CSRs have been instructed to steer customers into buying portfolio management solutions or Schwab funds.  And just so you know, these are unlicensed drones pushing high fee products… when the clients have called for simple account help.
But these efforts have only irritated customers – causing client runoff – and pushing profits even lower.  I must say, I'd be out the door too!
And honestly, pulling the covers back exposed huge concerns about the company.  You see, Executive Chairman Charles Schwab doesn't normally sell his shares… but things clearly aren't normal.
In April of 2011, He cashed out nearly $55 million of his shares – I sure would like to "Talk with Chuck" to see what he knows!
Now listen, there really are exciting profit opportunities in the investment banking space… Charles Schwab just isn't one of them.
But I do have some good news for you!
I've uncovered a company that's truly got the "right stuff," so let's take a closer look.
Introducing… JMP Group (JMP).
This company is a full-service investment banking, asset management, and equity research firm.  They focus on penny stocks and mid-caps, identifying winning opportunities for investors.
JMP is a research driven, growth oriented company.  They combined entrepreneurial spirit with extensive research, navigating hundreds of investment opportunities.
And only the highest quality companies are considered.   Businesses with defensible business models, strong management teams, and superior cash flows.  Now, that's a winning strategy!
Here's the thing…
JMP only recommends the best of the best to their clients…because their reputation is their brand! It's no wonder after 11 successful years in business, the company's client list keeps growing… along with their profits.
Make no mistake JMP is performing like a superstar!
What's more, the company has weathered the economic storm. And they're increasing profits by doing exceptional work – Not by raising fees or juicing their clients for cash.
In fact, first quarter 2011 results were so good, they increased their cash dividend by 25%! Yes, you heard me right!
But there's more…
Analysts are forecasting an incredible 18% growth rate over the next several years. Still further, JMP is trading at just 9x earnings…that's less than half of what Schwab trades for!
Now here's the icing on the cake…
Earlier, I revealed that Chuck sold millions of dollars of his shares.  But guess what?
JMP executives are buying theirs back… to the tune of almost 5 million shares since 2007.
Clearly JMP's management team believes in their company. I do too.
Let me put it this way…
JMP beats the pants off of Charles Schwab.
You should consider buying shares in JMP Group… you'll be sprinting for the door to bank your sizeable profits!
Until next time,
Brian Walker
Category: Bank Stocks, Financial Stocks, Penny Stock Alerts, Penny Stocks to Buy