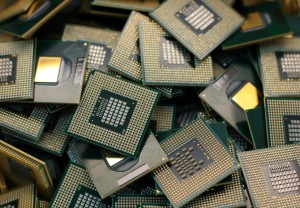 In the semiconductor industry, bigger doesn't always mean better.  It may seem that a huge semiconductor company with nearly unlimited resources – like Intel (INTC) – would be the best way to invest in the industry.
But that's not always the case.
Smaller chip companies often have higher sales and earnings growth rates.  And more of them trade at cheaper valuations than the big boys.  You just have to dig a little deeper to find them.
Here's a perfect example of a large cap chip maker that's not deserving of your investment dollars… check out NXP Semiconductors (NXPI).
NXPI is a broad-line semiconductor company.  They provide high performance mixed signal and standard product solutions for power management, digital processing, security, and more.  The company's technology is used in a wide range of industries such as automotive, industrial, lighting, wireless communication, identification, and computing applications.
But being a fairly large company, with a market cap of around $6 billion, doesn't make NXPI a good investment.  In fact, the financial numbers are screaming "stay away" to investors.
Take a look at this…
NXPI pulls in over $4 billion in revenue per year, but it hasn't translated to a growing, healthy company.
You see, sales are actually shrinking.  And the company has posted a loss in three out of the last five quarters.  That's not a good sign.
What's more, the company is buried in debt.  We're talking about $4.6 billion worth of debt.  That's a heavy weight on NXPI's shoulders.
And here's the worst part…
As of this writing, the company's trading at a ridiculous 73x earnings! How can you justify investing in a stock that's so expensive… particularly when revenues are dropping, earnings are negative, and debt is overwhelming?
Clearly, there are much better alternatives in the semiconductor industry.  And in this case, smaller is better…
Introducing Entropic Communications (ENTR).
Like NXPI, Entropic is a broad-line semiconductor company.  But besides being a lot smaller – their market cap is a mere $738 million – their products are more specialized.  ENTR's semiconductors are targeted for the home entertainment space.  In a nutshell, their chips are used for enhanced digital broadcasting, home networking, and high speed broadband access.
What I really like about ENTR is they're a fabless chip producer.  In other words, they outsource the actual manufacturing of their products.  And that allows them to keep their costs down.
So what's that mean?
ENTR's financial numbers are superior to NXPI's virtually across the board.
For one, Entropic's revenues are growing.  Last quarter, revenues climbed a stellar 91% year over year.  Moreover, their profit growth is even more impressive.  Net income soared 574% over the same period.
Now that's the kind of growth worth investing in!
And that's not all…
ENTR's balance sheet is rock solid.
The company's sitting on $142 million in cash.  Even better, they have zero debt.  Clearly, management is focused on running a healthy company.
Here's the best part…
ENTR shares are trading at just 9.5x earnings.  That's quite a bit lower than the industry average P/E of 13x.  And of course, it's dramatically lower than NXPI's sky high valuation.
Here's the bottom line…
Being bigger isn't always better in the semiconductor industry, as is clear from the recent  success of some of some major semiconductor penny stocks.  On the surface, NXPI and ENTR are similar companies, operating in the same industry.  But in reality, the companies are nothing alike.  And without a doubt, when it comes to investing, ENTR is the way to go.
Yours in profit,
Gordon Lewis
Category: Penny Stock Alerts, Penny Stocks to Buy, Semiconductor Stocks