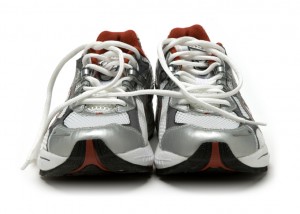 Growth or Income?  It's one of the age old questions investors ask before buying a stock.
It comes down to this…
As an investor, do you prefer a stable company paying a steady dividend or a riskier company with the potential for significant share price appreciation?
Of course, there's no right answer – it all depends on your personal financial situation and tolerance for risk.  But generally, penny stock investors like us are seeking growth.
Penny stocks are the type of investments with the potential to skyrocket. 
With that in mind, let's take a look at two very different companies that make shoes…
I'm sure you've all heard of Nike (NKE).  Who hasn't heard of the shoe giant?  They're one of America's iconic brands.
Make no mistake, Nike is a great company.  They pay a quarterly dividend that's in no danger of going away.  And the stock has had an excellent run over the past two years, climbing 80% since July of 2009.
But now, I think the stock has run its course.  The shares are trading right at the industry average P/E.  Not to mention, over $90 a share is an expensive proposition for the average investor.
With earnings growth expected to slow, NKE could be headed for a lengthy period of range bound trading.
If you're looking for a stable stock that pays a dividend, by all means, grab shares of NKE.  But if you're looking for significant upside potential, I have another shoe company in mind that fits the bill (or the foot).
Introducing, Heelys (HLYS).
HLYS develops action sports-inspired footwear, primarily for the youth market.  You've probably seen their products – they make those wheeled shoes that are very popular with kids.
Here's the thing…
HLYS' income statement isn't very good.
Last quarter's revenues decreased 8% year over year.  And the company hasn't turned a profit for two straight quarters.  The challenging economic conditions are clearly taking a toll on the company.
So why would I recommend a poorly performing company over a safe powerhouse like Nike?
Simple…  HLYS' balance sheet.
You see, the company is sitting on a cash hoard of over $62 million.  And they have zero debt.  It's rare to find such a healthy balance sheet for a company this small.
And if you think that's impressive, check this out…
HLYS cash per share works out to $2.25.  Currently, the stock is trading at $2.20.  The company's cash position alone is worth more than the current share price!
This is an absurd aberration in the market… and one that won't hold.  With no debt, the company could be liquidated for its cash value plus whatever other assets they have.  We're talking a liquidation value of $2.80 per share!
What's more, the company has a popular product.  And they've been profitable in the past – particularly when the economy was in better shape.  One positive quarter and HLYS shares could soar.
Heck, the stock should already be trading for at least its book value of $2.80 a share.  Imagine what could happen if they turn a profit…
NKE is a good, dividend-paying company.  But the blue chip stock has run its course.  Now's the time to take a chance on penny stocks… one which is significantly mispriced by the market.  HLYS has a ton of cash, no debt, and a popular product.  The shares are perfectly positioned to take off – and earn the savvy investor huge profits.
Yours in profit,
Gordon Lewis
Category: Penny Stock Alerts